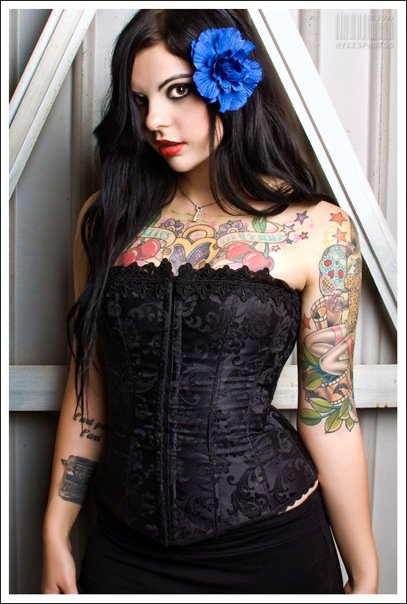 Pandie is a writer, music journalist/host, model and suicide girl, originally from beautiful Aotearoa, New Zealand, but currently based out of Los Angeles or wherever adventure has currently taken her. Music junkie (involved in the biz for years, with a particular appetite for death metal, black metal, "metal" metal, industrial, 80's music and a strange mixture of punk rock, hip hop and electropop) since being given her first cassette tapes (Tiffany and Kylie Minogue!) by her father who owned a record shop and brought her up on a steady diet of Zeppelin, Hendrix, Sabbath, Deep Purple, Bauhaus, Bowie, Depeche Mode and Sisters of Mercy, Pandie writes/blogs/interviews for music sites The Gauntlet, CWG Magazine, and Bare Bones Music as well as running her own music/adventure-related blog at The Adventures of Pandie and a food blog Raw on Tour, covering living raw and vegan, particularly on the road.
Pandie recently returned from a one month stint hosting the System of Freaks tour featuring the bands Mary Magdalan and Blue Felix, which took her MC'ing for crowds all over North America. She is tattooed, vegan (mostly raw), with a bachelor of Arts degree in media studies, and has a strange New Zealand accent.
As well as modeling for SuicideGirls since 2005, Zivity, SwollenSkateboards, the SG/PETA2 "I'd rather go naked than wear fur" campaign and working with numerous photographers, her tv/film credits include acting in a Jesse James parody on the Jimmy Kimmel show, small parts in music videos by artists from Against Me to Pink to The Academy is, and some co-hosting of the online punk rock/metal tv show "Poor Kid's Radio" on B Real of Cypress Hill's site, Breal.tv Saturday nights, whenever she is in town.