by SG's Team Agony feat. Rin
Let us answer life's questions – because great advice is even better when it comes from SuicideGirls.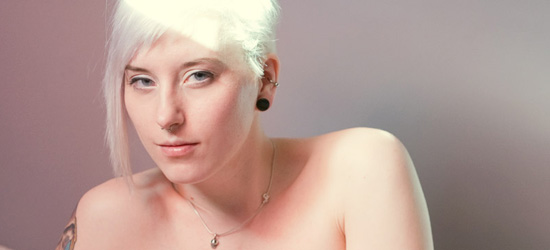 [Rin in Voyeur]
Q: I'll just jump right into it. I'm 24 and single, have been my entire life. It's definitely not by choice, just a long running series of me being an idiot, and saying the wrong thing at the right time.
Given, I am a nerd, always have been and always will be. But unlike the stereotype, I do have social graces. I can get along with pretty much anyone, short of them just generally being an asshole. It's not the fear of rejection either, I've overcome that a while ago. I just have no idea what the hell I'm doing. I'm too impatient and can be over-bearing at times, which I'm trying to work on. I'm not an ugly guy by any means, I'm fairly average, and have a pretty awesome beard. I guess my question is: How do I garner interest? How do I get a girl to be interested in me?
The overwhelming lack of response most of the time is disheartening (does that even make sense?). I won't whine about the "friend zone" either, because it doesn't really exist; I believe if something's there it could still happen, it's just another meek, nerd stereotype that doesn't lend itself to me. What do I do, hell, where should I even be looking? I appreciate any advice you can give me.
A: It sounds like you're doing okay in some aspects of dating –– you're not afraid of rejection, you get along with lots of different types of people, and you've got a beard (extra points!). It also really helps that you're self aware enough to realize some stuff about you that might be a barrier to getting close to the ladies.
Sure, some people like intense dudes, but for many of us it's a huge turnoff, so working really hard on improving your patience and intensity level should really help you connect with the girls you're interested in. Ladies generally like to be pursued, but if you push too hard it's easy for us to get scared off. Take it easy, and trust that your natural charm & good qualities are shining through.
How often do you meet new people? Are you often exposed to new ladies at friends' parties, work, sports clubs or anywhere else? If not, you may want to try internet dating? It's kind of nutty, on one hand, but I've found it an incredible way to meet people and practice my social skills. I've had the best and worst dates because of random dating sites! I definitely recommend this. You may not meet your dream girl, but you will probably have a lot of experiences that help hone your romantic senses. Internet dating is also great because you can find people who you connect with (on paper) and display yourself in a very straightforward way that makes it clear what you're into.
When you're interested in a lady, ask her questions about her likes and life. Don't go on and on about yourself, and remember, coming on hard with too many compliments can seem insincere/strange. Cultivate a wide variety of interests. Not only does that help when you're feeling bummed about not having a ladyfriend (it keeps you busy with things you're really into), but it helps to give you avenues to meet new people. If you're super boring, it's more difficult to attract people to you.
Ask her out on a date, but not something typical like dinner and a movie. Some ideas: visit an aquarium, play bingo, go for a walk/hike somewhere nice, go to a botanical garden, plan a picnic, play darts/pool/bowling/laser tag, go to an old-school arcade, visit a planetarium, go to an author reading or lecture series at a bookstore, library or university, etc.
Hopefully this helps and you soon find yourself having lots of fun dates!
Best wishes on your quest for love.
***
Got Problems? Let SuicideGirls' team of Agony Aunts provide solutions. Email questions to: gotproblems@suicidegirls.com