Got Problems? Sex, Love and Relationship Advice From SuicideGirls' Team Agony
by SG's Team Agony feat. Perdita
Let us answer life's questions – because great advice is even better when it comes from SuicideGirls.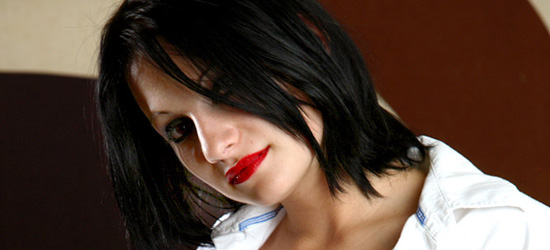 [Perdita in Eames]
Q. Hi, and first of all, thanks for bringing so much sunlight into my life! I forget how long I've followed your site, but it's been constantly reassuring to know that not everyone is hung up on the (double) standards we're surrounded by every day.
OK, here goes…My personal life's been in turmoil for a while now. After much fretting and moping, I broke up with my girlfriend last spring (we met just around my 19th birthday). Almost immediately, a not-very-close friend began showing interest in me. I started paying attention after a mutual friend arranged a date for us, which ended in sex (which, I have to say, was for me the best in maybe a decade, and she said the same).
I'm a responsible kind of guy and something of a sucker for vulnerability, and when after that first encounter she confessed she didn't want to be just a one-night stand, I fell for her. I started spending more time at her place. She told me about her life: she'd quit a very well-paid job a couple of years previously due to burnout, had been beaten to within an inch of her life by her ex-husband, and was deeply in debt thanks to the unscrupulous nature of said ex. She has a six-year-old son with him, who's the reason they keep in touch and are on cool but civil terms. I don't want any kids of my own, but I get along splendidly with the young man; everyone seems to agree my presence has been a helpful influence for him (he was put through hell by the ex too, back when they were still together).
One thing led to another, and within a couple of months, I found myself married to her. (Which is something I hadn't thought I'd ever do, but when the question was put to me, it seemed natural enough.) I don't exactly make enough to support all of us, so I quickly started developing heavy debts, but my wife kept reassuring me her consulting firm would more than make up the deficit once it got off the ground. I supported her efforts the best I could, naturally. But she never really got started; it was too much like the job that had burnt her out previously. We talked it over and agreed that we'd be able to make ends meet if she followed my lead and took a job doing what she loves, even though it doesn't pay well, because she'd be energized by it and wouldn't feel the need to do it in her free time.
Well, it didn't really happen. Her first paycheck paid for little besides the equipment she'd had to buy for the job. It's starting to look like we both need to quit the jobs we love and find something better paid. This is creating friction. We fight over trifles (as well as politics), the sex is dead, she's convinced I'm messing around (I'm not), we're both depressed while trying to keep up appearances for the son's benefit, and she's threatened suicide more than once (she claims one of the times was a misunderstanding, but I was convinced enough that I called the paramedics after I couldn't wake her up). I'm basically having a constant anxiety attack. All of it's looking a lot like what I had before with my ex-girlfriend. Frankly, I've started thinking that marriage may have been a hasty decision.
Now, I'm trying to be as unbiased as possible. I know I have to pull my weight financially. I'm aware we've only known one another for a short time. I wonder if everything seems so familiar because I'm causing it somehow –– in which case I could alter my behavior and make it better? And, most of all, I'm painfully aware that she's put a lot of faith in me after all the trouble she's been through, and I'd hate to disappoint her (not to mention all the people who were happy to see her find a decent guy, including my parents). I have to say I'm a pretty easygoing fellow who hates conflicts and is easily led, and I fear I may have let her convince me to get into something we both wished would work out, but is ultimately damaging.
I'm torn. What should I do? Endure the misery until we're better off and can be natural again? Or cut my losses and go back to being single, leaving her bitter and disappointed once again? Or even something else, like separate to let the air clear and then try again? (A lot of "agains" there.) Any advice or perspective would be most appreciated.
A: It sounds like there is a lot going on here and you seem to have a very clear understanding of the situation, however you need to make a decision. I do think you both need an outside and neutral mediator to help because it sounds like you want to make this work and you care enough to stick around, but you guys are constantly butting heads at this point. If you are able to seek professional help for this, I would highly recommend it, if more for your wife than yourself. A single suicide attempt is more than enough of an indication that someone is dealing with more than they can handle, and she is also clearly carrying baggage from her past relationship. If you're worried about the cost, many states have options for people seeking help with mental health issues that do not have insurance or the means to pay full price, so I would seek those out to see if you qualify.
You guys are also in financial straights right now in the middle of one of worst economies in 100 years. Believe me when I say that working a job you're burned out on is no fun, but neither is being homeless, or up to your eyeballs in debt. You also have the needs of a little boy to consider, and sometimes you have to take the job you don't love because it provides what you need. You both need to suck it up to an extent, and, if you have access to better jobs, now is the time to get them. I understand that it can be frustrating and unfulfilling to work at a job you hate, but this relationship would benefit from structure and stability. As for your finances, you need to sit down, take a look at all the debt you have and figure out how to manage it, make a budget and stick to it. Once you get a handle on your finances and get into a regular routine, there's no reason why you can't pursue your interests (together and separately) as hobbies, at least in the meantime.
Ultimately every relationship takes work, and while this relationship may take more work, it sounds like something you are willing to do. So get some professional help, start discussing your issues on a regular basis and concentrate on improving your financial situation, that way you'll be moving in the right direction for a healthier, happier relationship.
***
Got Problems? Let SuicideGirls' team of Agony Aunts provide solutions. Email questions to: gotproblems@suicidegirls.com