by Sash Suicide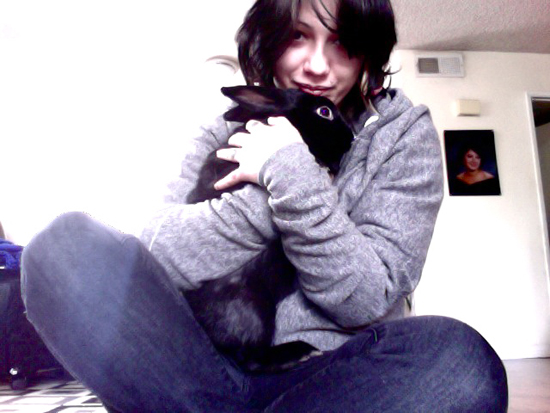 Pepper the Bunny (pictured with her mistress Exning Suicide)
INTO: Eating paper, licking the floor, pooping, skipping around.


NOT INTO: Green beans, cats and small birds.


MAKES ME HAPPPY: Jennifer Hudson's voice on the weight watchers commercial, loud music, shoes, attention from anybody, doing gymnastics in the living room.


MAKES ME SAD: When there's no food, or I'm being forced to go to bed.


HOBBIES: Flipping bowls and shoes over, playing chase, skipping on the rug, chewing walls, destroying magazines and important mail.


5 THINGS I CAN'T LIVE WITHOUT: Romaine, a rug to leap on, my mini condo (it's really a cat scratcher).


VICES: Chewing important things in general, lack of bowl control, not listening.


I SPEND MOST OF MY FREE TIME: Hiding behind the curtain and staring.
Get to know Pepper's mistress, Exning Suicide, over at SuicideGirls.com!