by Sash Suicide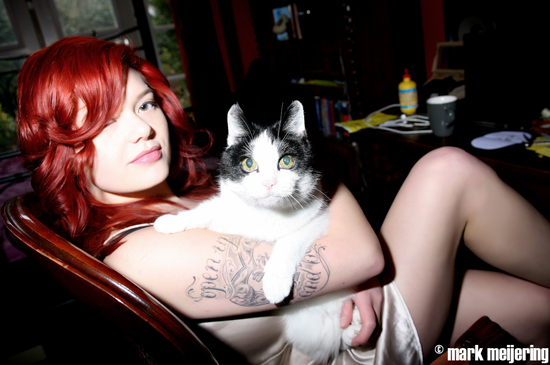 Minx the Cat (pictured with her mistress Clio Suicide)
INTO: Food, creeping around the garden, leaving white hair on black clothes.
NOT INTO: Chasing mice, canine intruders, vacuum cleaners.
MAKES ME HAPPPY: Human affection at the appropriate time, delicious treats.
MAKES ME SAD: Being rudely awoken from my beauty sleep, empty food bowls.
HOBBIES: Stalking potential prey, waking up unsuspecting owners in the middle of the night.
5 THINGS I CAN'T LIVE WITHOUT: Less than 15 hours of sleep a day, a scratching post (or the couch), a carnivorous diet, outdoor action, comfortable spots near central heating.
VICES: Snoring, occasionally peeing on expensive stuff, uncalled-for attacks.
I SPEND MOST OF MY FREE TIME: Sleeping, purring, keeping an eye on things.

Photography: Mark Meijering
Get to know Minx's mistress, Clio Suicide, over at SuicideGirls.com!