by Blogbot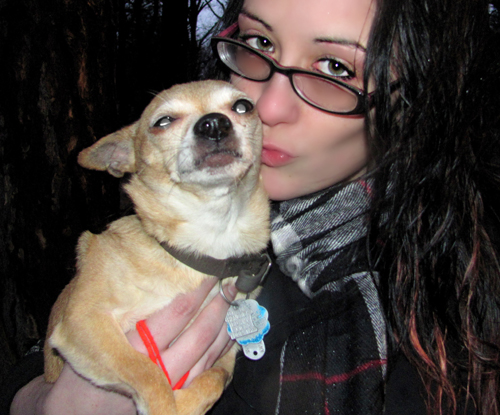 Bambi the Chihuahua (pictured with her mistress Shotgun Suicide)
INTO: Sleeping, and being a diva.
NOT INTO: People that don't pay attention to me.
MAKES ME HAPPY: Human food and belly rubs.
MAKES ME SAD: Being home alone.
HOBBIES: Sleeping.
5 THINGS I CAN'T LIVE WITHOUT: Belly rubs and love, treats and human food, outside time, toys, Star Wars.
VICES: I poop inside whenever it's raining 'cause I don't want to get my fur or feet wet.
I SPEND MOST OF MY FREE TIME: Making people laugh and begging for human food.
Get to know Bambi's mistress, Shotgun Suicide, over at SuicideGirls.com!