by A.J. Focht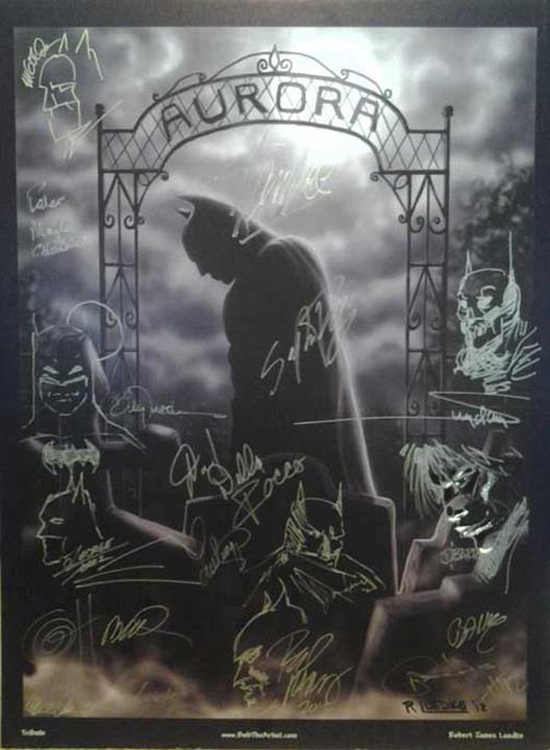 This weekend, August 25th and 26th, the Aurora Rise benefit is taking place at All C`s Collectibles to help raise money for the victims of the senseless shootings that occurred in the Century 16 theater in Aurora, Colorado just over a month ago.
There has been an outpour of generosity from across the comic world to help support the Aurora community in its time of need. Some major names in comics are coming out for a signing, including Mike Mignola, Matt Fraction, and Steve Niles. All of the major comic companies have made donations to a silent auction to be held on Saturday night (6.30 PM at the Embassy Suites), which will feature a vast amount of original artwork as well as statues, toys, comics, books, and more.
Various artists and creators that can't make the signing are taking it upon themselves to try and raise more money for the event. Bob Luedke got numerous big names to sketch on and sign a Batman-Tribute print (pictured above), which was posted on eBay with all proceeds going to the Aurora Victim Relief Fund.
SuicideGirls will also be there to express their condolences, solidarity, and support. Several local Colorado SGs will be taking photos and signing items to help raise funds. Dexter, Ladonna, Shyla and Lacey will be in store on Saturday, and Vice and Syko will be there on Sunday.
"I am happy to be helping out the community that I live in," says Ladonna. "I live five minutes from the theatre and have been there several times. It is such a tragic thing that has happened. This event will hopefully uplift hearts and honor those whose lives were taken."
Please join us this Saturday and Sunday. 100% of the money raised by Aurora Rise will go to aid the victims.
Where: All C`s Collectibles, 1250 S. Abilene Street, Aurora, CO 80012
When: August 25 (10 AM til 4 PM) & August 26 (11AM til 4 PM)
Info: 303-751-6882 / facebook.com/pages/Aurora-Rise-Benefit-Event/479465245414113
Related Posts:
Aurora Rise Benefit Event
Back Row Perspective Part 1: An Aurora Theater Survivor's Message To The Media
Back Row Perspective Part 2: An Aurora Theater Survivor's Message To The Politicians
Back Row Perspective Part 3: An Aurora Theater Survivor's Message To The Online Community