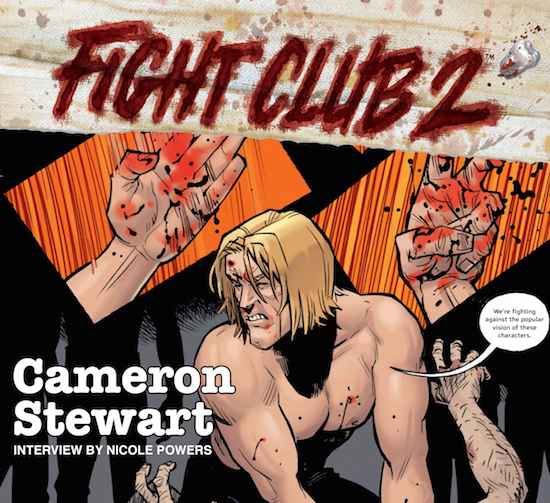 It's hard enough when a beloved book is made into a film for a director to overcome people's preconceived notions of the characters. But when you're working on the visual elements of a project that's based on a cult-turned-contemporary classic book that's been made into an acclaimed and highly stylized film, it's exponentially harder to compete with the cherished visions people hold in their head. And when you factor in that the protagonist in the movie was played by Brad Pitt at peak cool, improving on veritable perfection is nigh on impossible.
That's the challenge comic artist Cameron Stewart faced when he got the gig to turn Fight Club, which was first a book written by Chuck Palahniuk and then a film directed by David Fincher, into a comic series — a concept in and of itself that many deemed to be inconceivable when Palahniuk first announced it. Such an endeavor could only be accomplished by a true comic book superhero, and Stewart certainly qualifies as one. The multi-award winning artist has a résumé that includes Batgirl, Catwoman, Scooby Doo, Seaguy, Batman & Robin, Assassin's Creed, Amazing X-Men, and Guardians of the Galaxy, to name but a few. He also just happens to be the man responsible for transforming SuicideGirls into comic form!
We caught up with Stewart to talk about Fight Club 2 just after its release as a hardcover graphic novel. Stewart, who was busy packing for a transatlantic move from Glasgow back to his hometown of Toronto, was kind enough to take our call.
Read the full interview on SuicideGirls.com/.