by A.J. Focht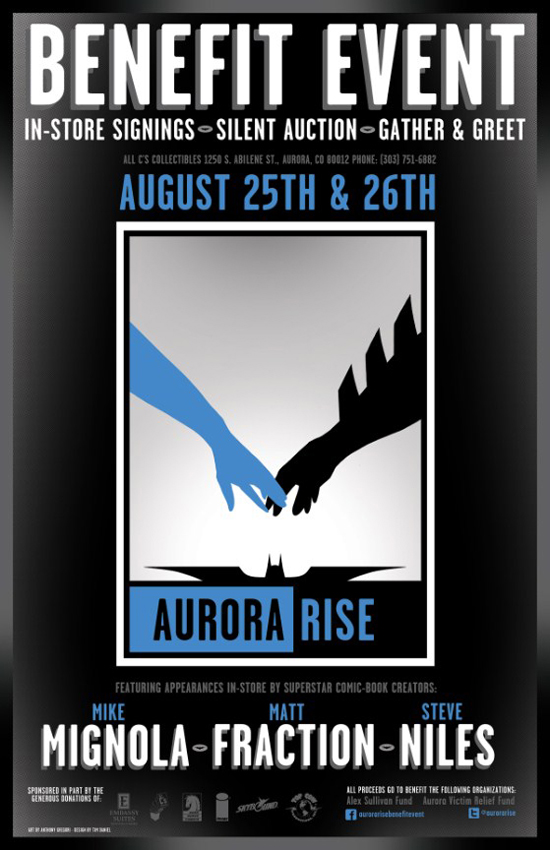 A benefit in aid of the Aurora shooting victims is being put together by All C's Collectibles, a local comic shop which is not far from the theater where the tragic event took place. There has been a tremendous outpour of support to help get the event off the ground. It will be held over two days on August 25th and 26th, and will include a silent auction and in store appearances by several fantastic comic creators. Many amazing supporters have stepped up and made donations towards the silent auction, including most of the major comic companies.
DC Comics, Marvel Comics, Dark Horse Comics, Image Comics, POW Entertainment, Top Cow Comics and many more have all made contributions. There have been some fantastic donations so far including a signed Amazing Spider-Man movie poster from Stan Lee, and a poster and guitar donated and signed by Scott Ian from Anthrax. Several comic artists have also given original artworks for the auction. These incredible items and more will be auctioned off on Saturday, August 25 at 6:30 PM. The silent auction will be located at a donated space in the Embassy Suites. All the proceeds from the auction will go to the Alex Sullivan Fund and the Aurora Victims Relief Fund.
Many prominent comic writers and artists have agreed to come out for an in-store signing on Sunday, August 26. Comic icon Steve Niles, author of 30 Days of Night, Dark Days, Criminal Macabre, and many more, will be in attendance. Dark Horse Comics legend and creator of Hellboy, Mike Mignola has been confirmed. Writer of the current The Invincible Iron Man run, Matt Fraction will also be joining, as well as All-Star Western artist Mortitat. More writers and artists have been in contact with the benefit and there are more appearances to be announced over the coming weeks.
Aurora Rise has begun to spread far beyond the city limits of Aurora, Colorado. There has been an overwhelming interest across the comic community to extend the event to future conventions and throughout other cities. So far, there is talk of branches at Dragon Con in Chicago, and even in the UK. There will also likely be a second event held in Aurora at a later date, probably mid-September, to accommodate more artists and writers who could not make it out for the first benefit signing. Volunteers associated with Denver Comic Con have set up Aurora Rise on Facebook, Twitter, and with its own website. They are currently working on setting up the infrastructure to expand the charity program through the Community First Foundation.
Related Posts:
Back Row Perspective Part 1: An Aurora Theater Survivor's Message To The Media
Back Row Perspective Part 2: An Aurora Theater Survivor's Message To The Politicians
Back Row Perspective Part 3: An Aurora Theater Survivor's Message To The Online Community