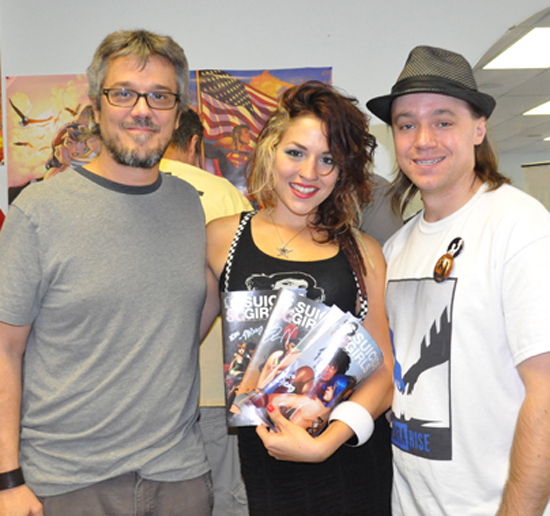 [SG Comic scribe Steve Niles, Syko Suicide, and W33K 1N G33K columnist A.J. Focht]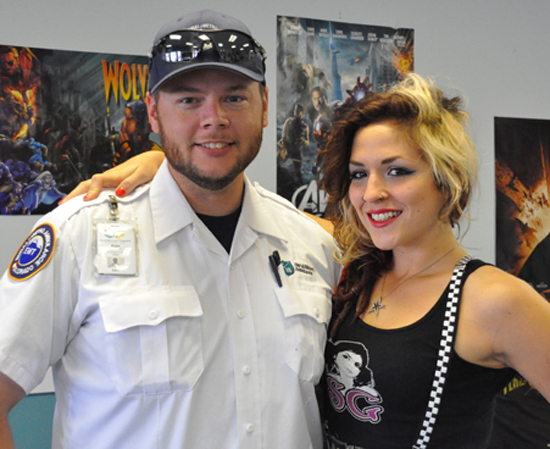 [Syko with Alan, one of the real life superheroes who came out to support the cause]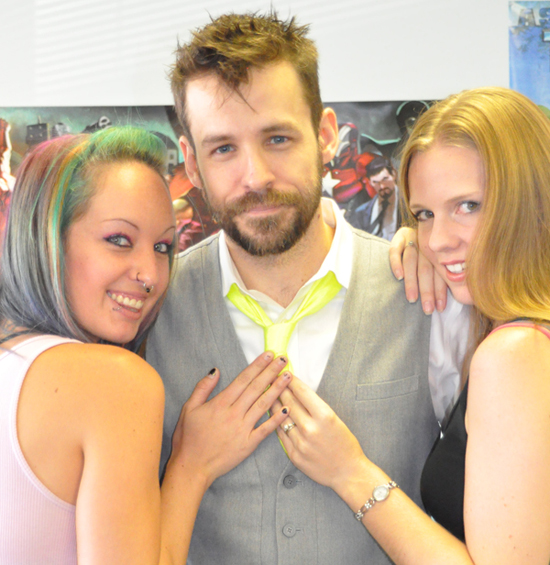 [Dexter, Matt Fraction, and Lacey]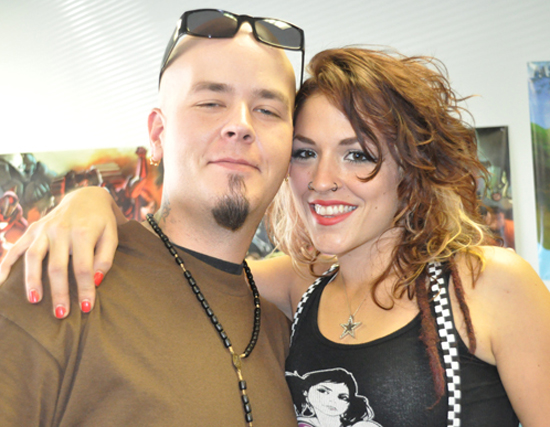 [This donor was "Born BadAss"]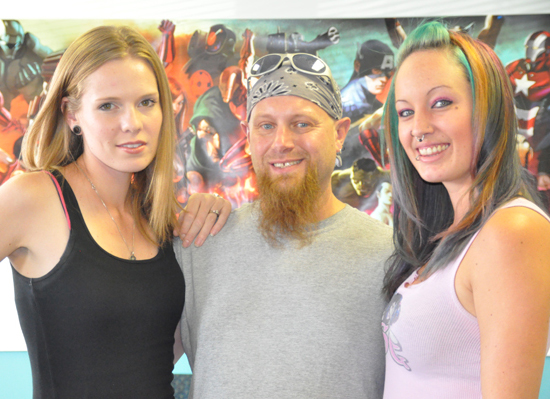 [Lacey and Dexter with Wes, another of our awesome donors]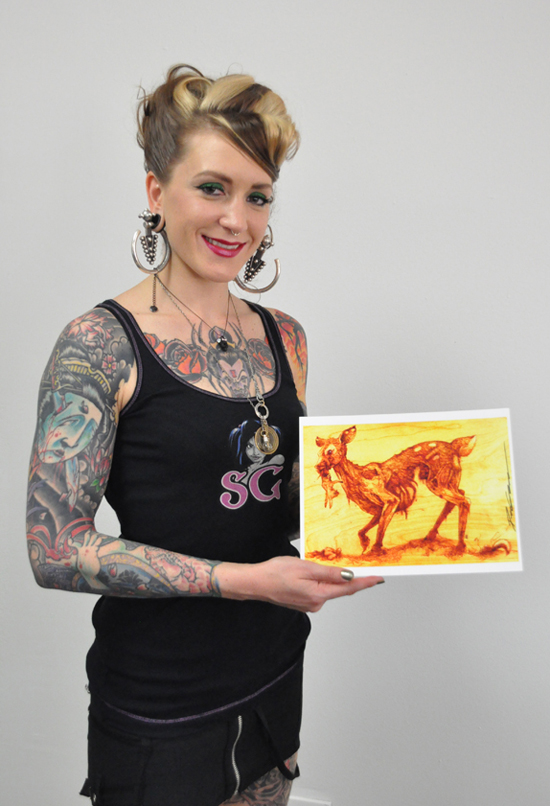 [Ladonna gets arty]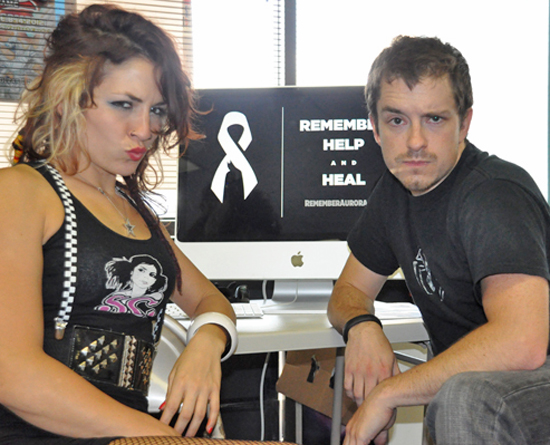 [Syko and the designer of the Aurora Rise ribbon logo Mark Rantal doing Blue Steel]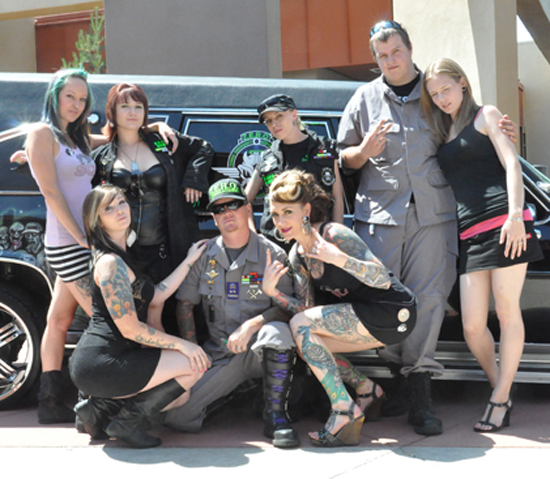 [Our ladies with Colorado's Zombie Emergency Response Operations team]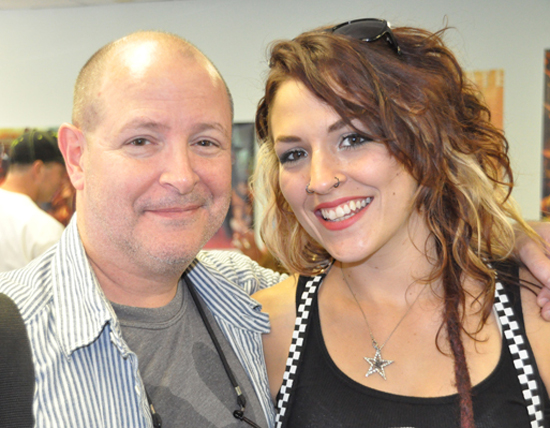 [Mike Mignola and Syko]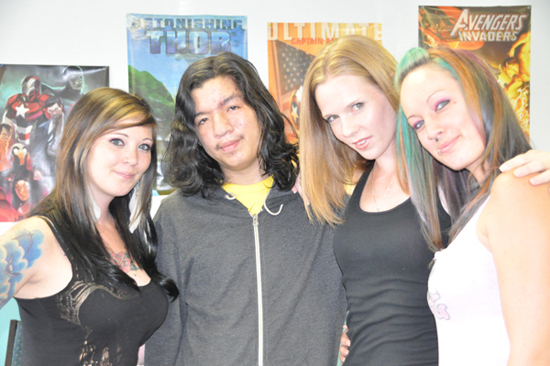 [Steven, another of our super generous donors, with Shyla, Lacey and Dexter]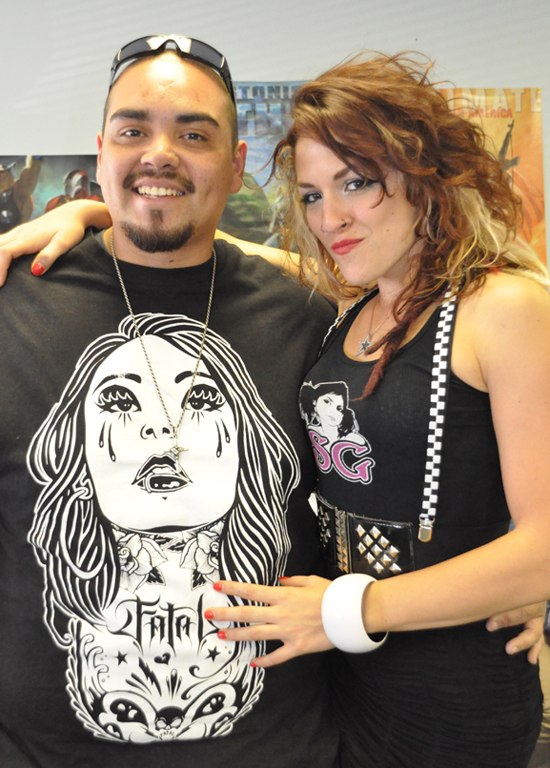 [Cute couple alert! Syko with B Sarabia, another of our fab donors]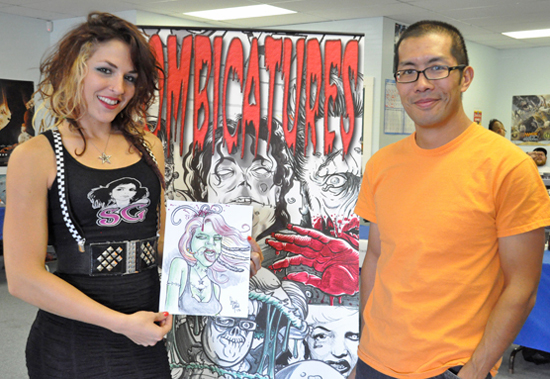 [Syko gets zombified by Stan Yan]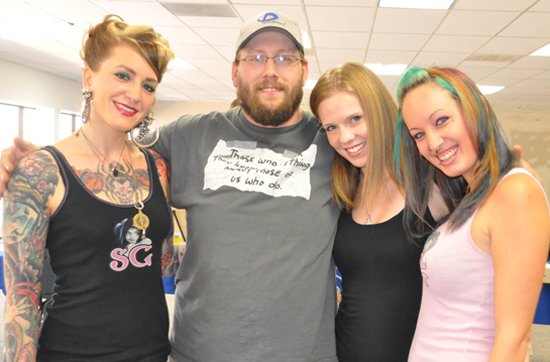 [Huge thanks to donor Jim Bean, pictured with Ladonna, Lacey, and Dexter]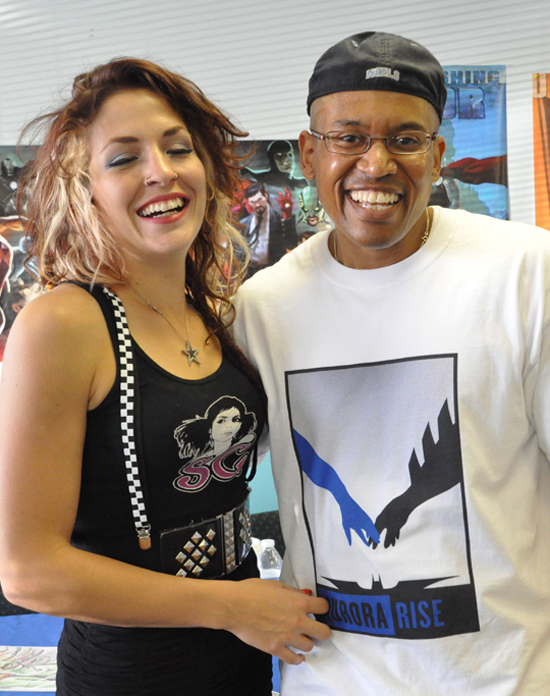 [Syko and All C's allstar Chris]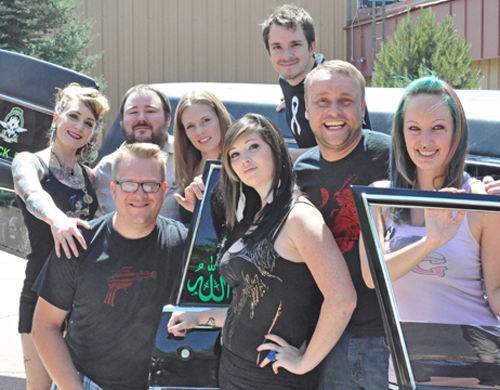 [Our ladies with a few of the many artists who came out to support]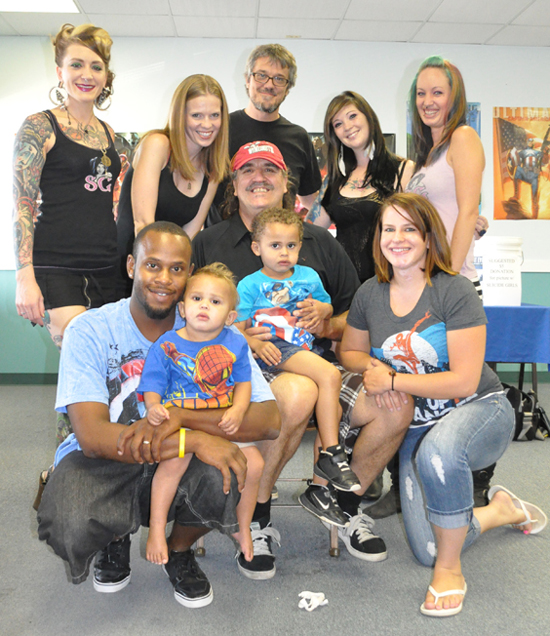 [Our ladies pictured with an entire family of comics fans]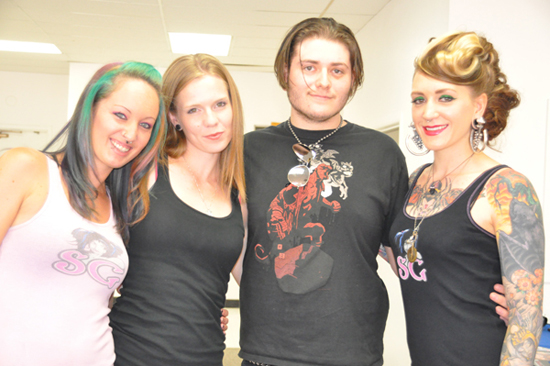 [Dexter, Lacey and Ladonna, with Brian, another of our big-hearted donors]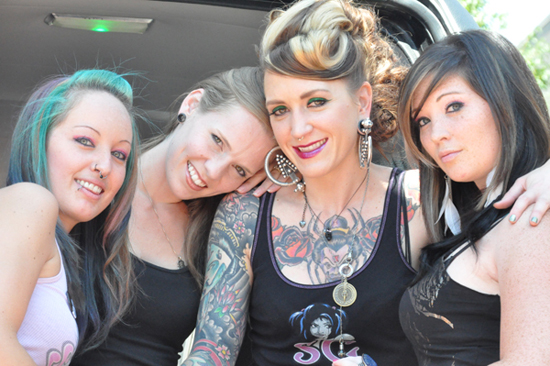 [Dexter, Lacey, Ladonna and Shyla]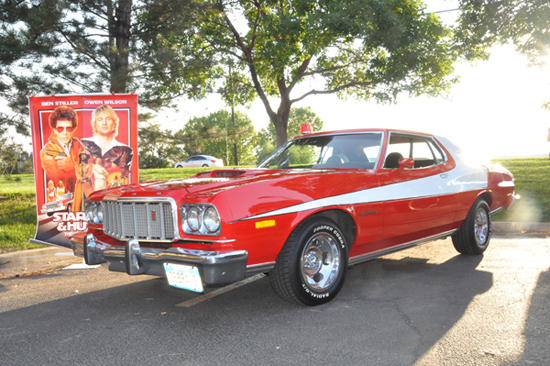 [iWant: One of the cool cars on display at the Aurora Rise Silent Auction]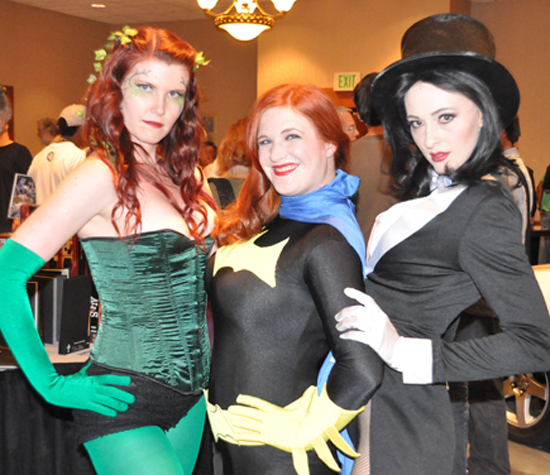 [All C's volunteer A-Team dress up to help raise funds]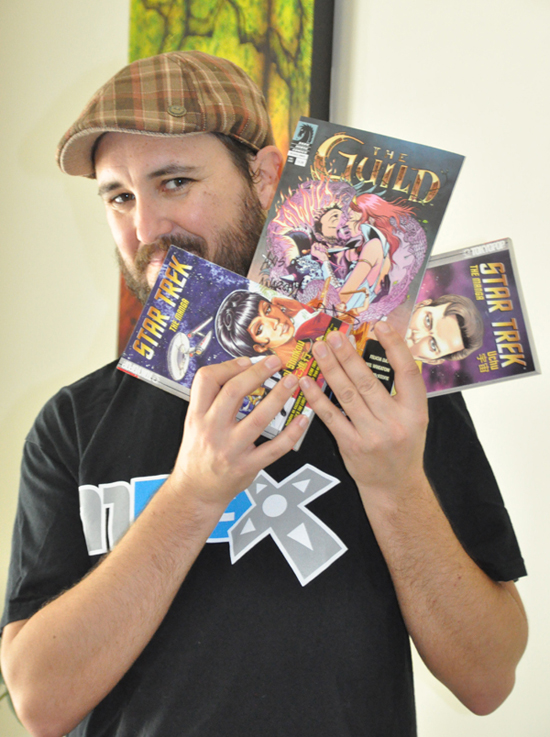 [Wil Wheaton donated signed Star Trek Manga books and a rare Guild:FAWKES comic]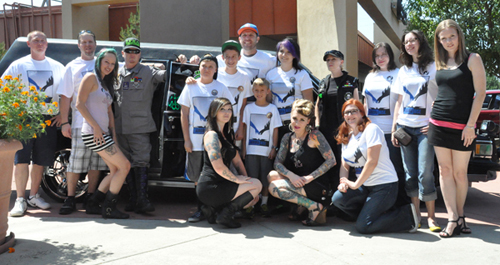 [Our ladies with the All C's superheroes who organized the event]
It was a profound honor and a privilege to be able to help the Aurora community raise funds for the victims of the tragic mass shooting that occurred on July 20 at the midnight screening of The Dark Knight Rises at the Century 16 multiplex in Aurora, Colorado.
W33K 1N G33K columnist A.J. Focht, who is a long time member of our community, was in the theater when the incident occurred, so the tragedy hit very close to home. Fortunately, A.J. made it out of the theater physically unscathed, but unfortunately one of his group didn't.
When he's not studying or writing for SG, A.J. works at All C's Collectables, an Aurora based comic and gaming emporium which is not far from theater. Many of the store's staff and customers were directly affected by the shooting, and, as a hub for the local comics community, All C's therefore felt compelled to act, organizing a two day Aurora Rise benefit which took place this past weekend.
The response from the comics community had been so generous that All C's had taken over a couple of extra adjacent retail spaces to accommodate everyone. Renowned comic writers Matt Fraction (The Invincible Iron Man), Mike Mignola (Hellboy), and Steve Niles (Batman: Gotham County Line and the SG Comic series) flew in to do signings, and many other local artists donated their services. Colorado Suicide Girls Dexter, Lacey, Ladonna, Shyla, and Syko donated their time over the weekend, and raised funds by taking pictures, doing signings, and selling special autographed SG comic and subscription packs. In addition, the state's Zombie Emergency Response Operations team were on hand, providing their own unique kind of tactical support.
On the Saturday evening there was also a silent auction at a nearby Embassy Suites, where many of the higher value donated items were sold. Friends of SG Scott Ian of Anthrax and Wil Wheaton were kind enough to donate items, as were most of the major comics companies. Sale items included a signed Seth Green DVD and a very real looking Flux Capacitor – both of which were coveted by us. The event also featured some very special vehicles, reproductions of the Starsky & Hutch car, the Ghostbusters' van, and the Scooby Doo Mystery Incorporated machine being our faves.
In the wake of such a tragic incident, it was heartening to see how the Aurora community had pulled together to help its own. Several of those who'd been shot and/or lost friends and family were in attendance. Though the event was primarily organized to raise funds for the victims, it also provided an opportunity for the worldwide comics community to show solidarity. It was very humbling to be in the presence of those that had experienced such profound trauma and loss, and yet were so open, generous, and loving in the welcome they gave us.
Steve Niles perhaps summed this up best in a series of tweets he posted after the event: "Sitting here thinking about ‪@AuroraRise and I'm struck by how strong all the people I met are after what they experienced. Inspirational," he wrote. "Spoke with a man who lost his son. I still have chills. I don't think I've ever met a stronger human."
SuicideGirls would like to extend our sincere thanks to A.J., Jason, and the All C's staff and volunteers for organizing such an awesome event and for making us feel so welcome, to all that came out and donated so generously, and to our Anonymous friends who went above and beyond with their support. Those that couldn't make it out in person can donate to the Victim Relief Fund here.
**UPDATE**
Aurora Rise has a brand new website for information on their ongoing fundraising efforts. You'll find it at: aurorarise.org/
Related Posts:
ComicBook.com: Aurora Rise Photo Gallery – Day One
ComicBook.com: Aurora Rise Photo Gallery – Day Two
Aurora Rise Benefit: August 25th And 26th
Aurora Rise Benefit Event
Back Row Perspective Part 1: An Aurora Theater Survivor's Message To The Media
Back Row Perspective Part 2: An Aurora Theater Survivor's Message To The Politicians
Back Row Perspective Part 3: An Aurora Theater Survivor's Message To The Online Community