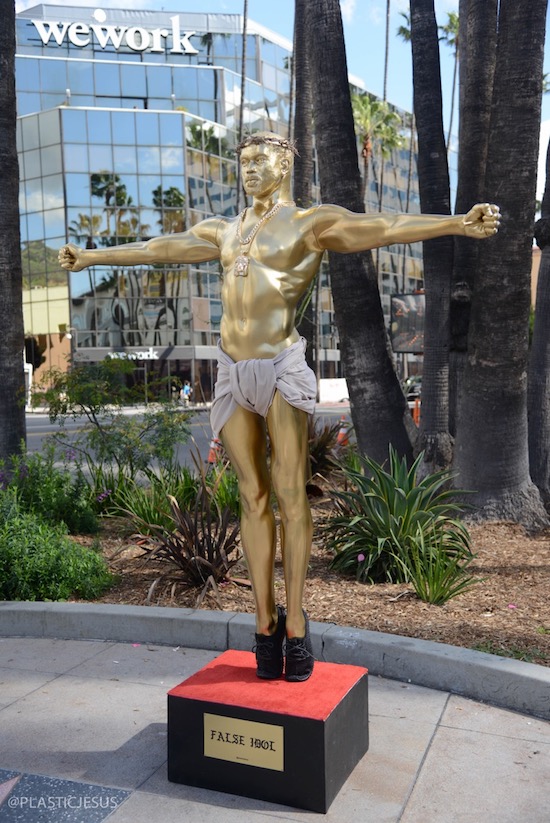 Notorious Los Angeles Street Artist Plastic Jesus has again caused Academy Award controversy by placing a life size Oscar statue on Hollywood Blvd. Unlike the official faceless gold figurines, this one is a likeness of Kanye West — and is entitled "False Idol"!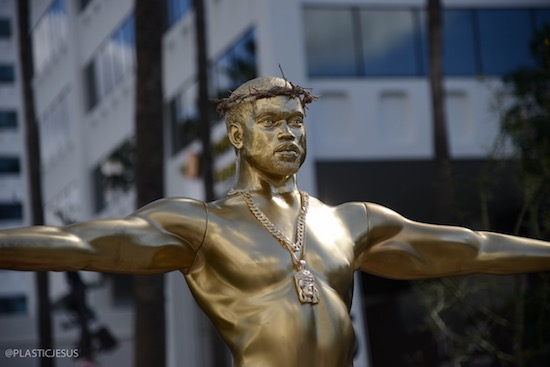 The Kanye likeness features tightly cropped hair, neck chains, and is wearing a pair of Yeezy shoes. In previous years the British born guerrilla artist has created a cocaine snorting Oscar statue, a gold plated stripper on a pole, and a heroin injecting figure following the drug-related death of actor Philip Seymour Hoffman. The artist claims his street installations are to highlight issues which are going unnoticed in the glitzy world of Hollywood.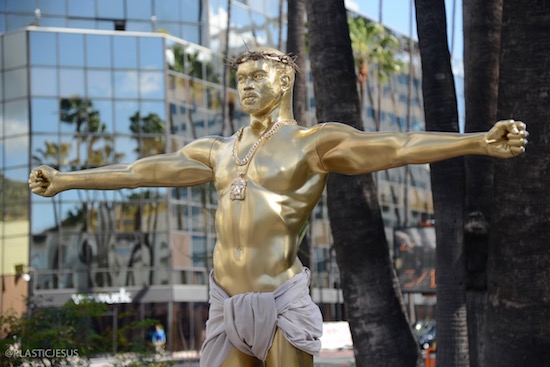 The installation appeared on the famous Boulevard on Wednesday morning, closely guarded by two burly security guards.
In a Statement on his website the artist said:
"We have built Kanye West into some kind of god-like idol, I believe he's a genius when it comes to writing and producing but he's human. When we build people into idols we have expectations, and if they fail to meet those expectations we crucify them. We saw this last year when Kanye was admitted to a medical facility to get treatment for stress, anxiety, and paranoia. We need to take a step back and remember our idols are only human and as such we need to give them space to err."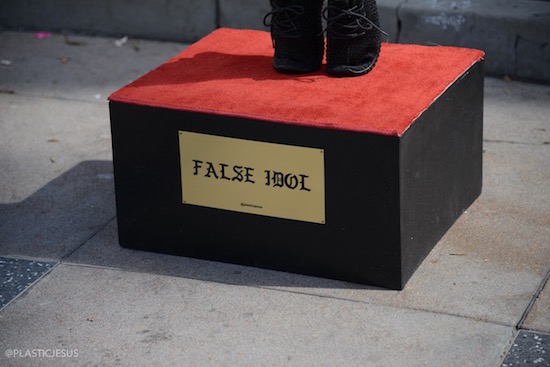 Plastic Jesus had the custom figure moulded from resin specially for this year's event by a Los Angeles based mannequin company. For this year's Oscar installation, Plastic Jesus collaborated with another "Ginger" — the sculptor who created the naked Donald Trump figures that appeared on the streets at the end of 2016. Ginger spent four weeks carefully crafting the head and then moulding the final piece to produce an amazing likeness of the rapper.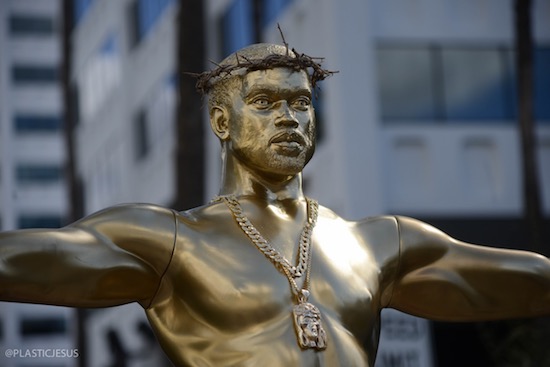 The life size figure took about 6 weeks to produce in total but will only be on Hollywood Blvd for one day. If fans wish to see the statue in person they can see it at Plastic Jesus' forthcoming show — Anesthesia – The Art of Oblivion — on Feb 25th at Gibson headquarters located at the former Tower Records store at 8801 Sunset Blvd in Los Angeles.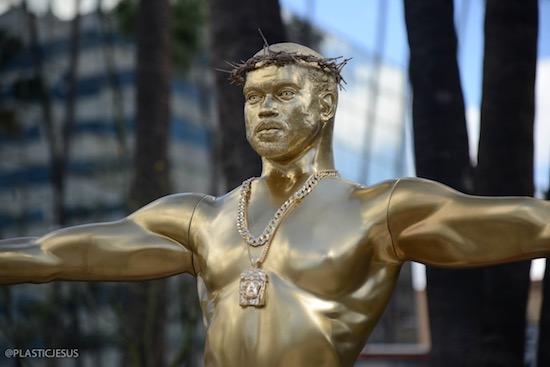 Plastic Jesus will be appearing this evening (Wednesday, February 22) on SuicideGirls Radio. Tune in from 8 til 9 PM at our state-of-the-art, all digital home on zinna.tv or via Facebook LIVE. For more info via: sgradio.info/1/sg-radio-feat-plastic-jesus/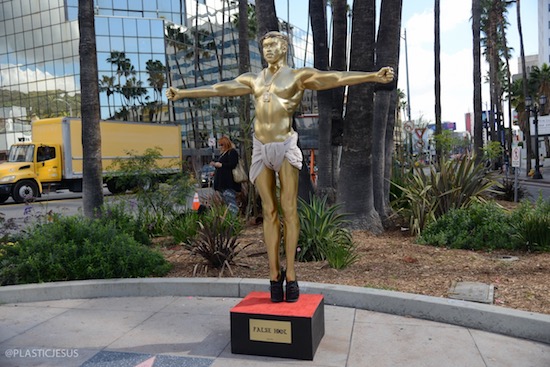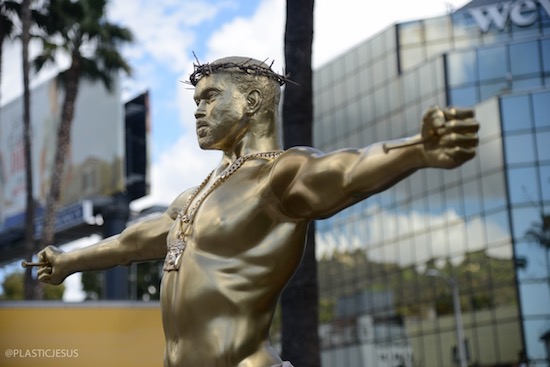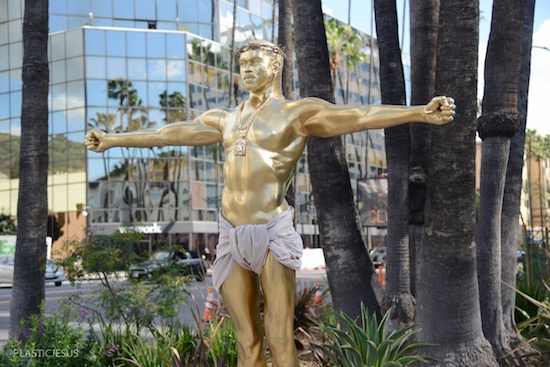 UPDATE: SG Radio feat. Plastic Jesus
Hosts Nicole Powers and Bradley, Kylie and Wolf Suicide are joined by Plastic Jesus, who tells the ladies about his new Kanye West-inspired "Oscar" installation on Hollywood Blvd and his upcoming Sunset Strip show with collaborator Billy Morrison entitled Anesthesia – The Art of Oblivion.