by Damon Martin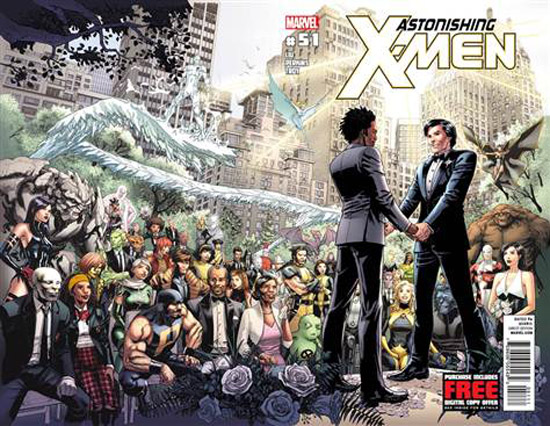 The comic book industry has never been afraid to tackle tough and somewhat controversial subjects. They've featured stories of alcoholism, drug abuse, rape, and many other difficult themes that may have seemed somewhat taboo for a world that mostly involves spandex clad super heroes and mystical villains. The comic book world is more about fantasy than reality, but sometimes reality collides with their fantasy world.
Following President Barack Obama's historic speech recently, in which he became the first sitting American president to endorse gay marriage, the topic has become a hot button subject on every talk show, news show and press outlet in the world. And now it appears the comic book industry is getting on board as well.
In 1992, Marvel revealed that Northstar, a character that was featured at the time in the Alpha Flight comic book, was indeed gay. Now 20 years later, in issue #50 of the Astonishing X-Men, Northstar (real name Jean-Paul Beaubier) proposed to his long time boyfriend Kyle Jinadu. They will marry in issue #51 set to hit stores in June.
"The Marvel Universe has always reflected the world outside your window, so we strive to make sure our characters, relationships and stories are grounded in that reality," Marvel editor-in-chief, Axel Alonso said in a press release. "We've been working on this story for over a year to ensure Northstar and Kyle's wedding reflects Marvel's 'world outside your window' tradition."
In addition to the wedding between X-Man Northstar and the love of his life Kyle Jinadu, DC Comics is set to reveal a major character as gay in the coming months in one of their books.
DC has tackled the subject previously, including with the relaunch of the Batwoman series in 2006 that revealed lead character Kathy Kane was a lesbian. The Batwoman comic has remained a top seller for DC over the last few years, and J.H. Williams III has actually been named the 'Artist of the Year' for Batwoman the last two years running by SuicideGirls.
Now, a major male character is apparently set to come out of the closet. "One of the major iconic DC characters will reveal that he is gay in a storyline in June," said DC Comics co-publisher Dan DiDio earlier this month.
While no solid confirmation has been given by DC Comics regarding who it will be, most rumors have pointed to the original Green Lantern, Alan Scott, who was originally introduced to the DC Universe in 1941. He was the first ever Green Lantern, although in a much different incarnation than the Green Lantern Corps that survive today in most comic books.
The comic book industry as a whole has always been focused more towards the young male demographic, but these new characters help to broaden the comic book universe. It may sound hokey or somewhat old fashioned to think that way, but comic books are a real slice of pop culture and the introduction of more gay characters as well as the idea of gay marriage can only be seen as a positive step in the realm of science fiction, fantasy, comics, and real world social dynamics.