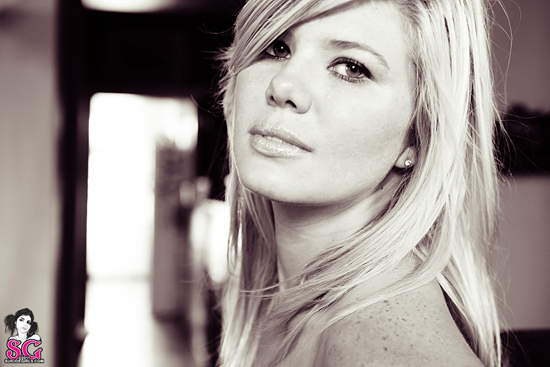 [Above: Bradley Suicide in Sugar Kitty]
I am generally the girl that thinks like a guy when it comes to matters of the heart. I try and turn off emotion and build up my walls as a matter of shear self preservation. I don't think this is the healthiest of things, but it is what it is, and at least for now it seems to work for me. That is until I run into that one dude who pulls at my heart strings.
I have a thing for boys with rockstar mentalities, who live life in the limelight. I must be a glutton for punishment. These are the only boys who are able to get under my skin, and with whom I let my guard down. Sadly, these are also the boys who drag me through the mud.
The worst part is that I can see how things will end from the very beginning. And yet I jump in head first anyways. I think a small part of my normally jaded brain wants to still believe in the fairytale ending.
I have recently found myself falling head over heels for someone that I have been seeing for some time now. However, I didn't know how deep I was into him emotionally until today. I guess I was in denial, telling myself that if I didn't want to have feelings for him that they just wouldn't formulate, a mind over matter sort of situation. Well that definitely didn't work.
I told myself from the beginning that I needed to tread lightly and not have any expectations. I thought that I was doing great at this and that I was walking into the whole situation with a good mindset. I told myself that I was just there for fun and if it led to something else great, but I wasn't going to count on it. Maybe I thought that if I told myself that enough I would be able to escape the fate that I knew in my heart of hearts was inevitable. I don't think I could have been more wrong.
The worst part is that there really isn't anything to be mad at him for, he is being a typical guy. Maybe this is all karma coming back around to bite me in the ass? After all, I am generally the one who, unintentionally mind you, will crush a dudes heart within a week's time.
Want to hear the worst part of all of it? This just makes me want him more. How screwed up am I? I am knowingly walking into a situation where I am going to get the living shit beat out of my emotions. My head is saying to cut and run, my heart is saying to stick around, and my pride is telling me that I am not a quitter and that this has become a conquest.
So here I go, embarking on a game of cat and mouse that is going to end with me either getting what I want, getting caught and squished, or, what generally tends to happen with me, a mixture of all of the above. Wish me luck in my endeavor. I know that I sound like a crazy person who doesn't have my head screwed on straight, and that is a pretty accurate assessment, after all I'm knowingly getting myself into this.
Someone get me a shot of Jack a let the games begin.
Until next time.
Bradley
xoxo
Related Posts
Confessions Of A Reluctant Dater