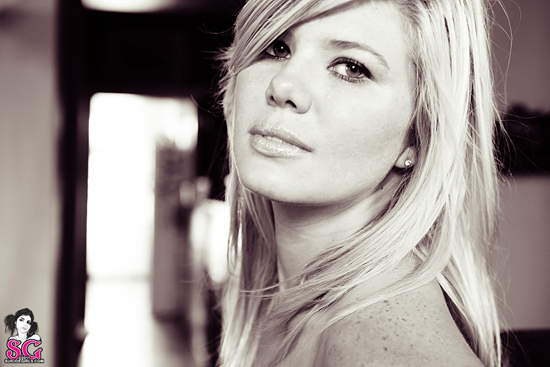 [Above: Bradley Suicide in Sugar Kitty]
Hot chicks and douchebags. What the hell is wrong with this picture? Does this really happen? I can attest to this phenomenon because up until very recently, I had an affinity for the west coast bro. The first step to recovery is admitting that you have a problem, right?
My "bro problem" was bad. One for the record books for sure. The only dudes that got into my jeggings during this period of my life wore Famous Star and Straps and drove lifted trucks. I know, this is an awful and disgusting admission, but I am laying it all out for you with the hopes that it will show you that I am not only credentialed in bro, but that I also speak their language, fluently. Thankfully the seasons of my life have since changed and I was able to get out of the bro vortex wiser and relatively unscathed.
The easiest way to avoid the above referenced bro vortex is to avoid bros and their hangouts as much as possible. This vortex has a strong gravitational pull and sometimes you don't know you're slowly entering the douchebag lair until it's too late. Below I have outlined the simplest ways to spot this ultra nutsackey breed of male in their natural habitat before it is too late. Don't make the same mistakes as I did, young grasshoppers, knowledge is power.
1. Clothing Is Key
The first, and easiest way to spot a bro is simple and straight forward. What are they wearing? When I am out on the town and a guy starts chatting me up, the first thing that I do is what I call the West Coast Once Over. Take a mental stock of his 'fit, from his hat all the way down to his shoes and socks. You do this not to see the value of what he has on, but to look for red flags. If he is wearing multiple pieces of clothing from Tapout, Metal Mulisha, Famous Stars and Straps, or any similar brands, chances are that this guy has bro written all over him and you should run for the hills. Look for things like Dickies shorts, fitted white v-necks, blinged out watches, and, of course, check to see if they have a straight billed hat on their most likely highlighted and perfectly styled hair. If these things are in place think of an exit strategy quickly or you, my friend, will be getting a one-way ticket to Bros-ville.
2. Scope out the Wheels
I know that this is not always a doable task, but if the opportunity presents itself make sure and take advantage of it. This exercise, similar to step #1, is not to attach a monetary value to the subject's vehicle, but to see what his ride or "whip" of choice is. If you find that he has a giant truck lifted to the point of absurdity there is no further investigation necessary. Also, make sure to keep an eye out for any Rockstar Energy Drink stickers or decals –– nothing else screams "Bro" quite as loudly.
3. Listen
This little gem always blew me away. Bros tend to develop their own language. The first time that you hear it, it really catches you off guard. You will at first think maybe its some new slang that you just aren't hip to yet. And then it will hit you; he is speaking bro. Listen for the guy in question to refer to his car/truck as his "whip", his clothing as his "'fit", his game as his "tech". The list goes on and on. Not only do they have their own special made up bro language, but bros also tend to call everyone "pal" and almost always, without fail, will refer to their closest friends as their BFFs. I'm sorry, there is no circumstance when a grown ass man should ever use the term BFF. Warning buzzers should be going off like crazy in your brain when you hear any of these words brought up in the conversation.
4. Home Away From Home
This is the last important step in the bro litmus test. Be very mindful of dudes who seem to be a little too in love with a certain hangout. Bros always have a bar that they post up at. And I do not mean that they are a regular at a bar, but rather that they are such a regular that the entire staff knows them by name, they act like they own the place, and they pretty much have a key to the front door. This hangout is always one of the trendiest bars in town, never a hole in the wall dive. After all, bros are all about flash, exerting their manliness, and showing off their game to their fellow bros –– all tasks that are best accomplished in front of a crowd of onlookers. If you meet the bro at said bar it means that you have somehow stumbled into the eye of the storm and you need GTFO. Immediately. Do not hesitate, do not stay to finish your drink, you close out your tab and haul ass out of that place.
Don't get me wrong, bros can be fun guys and can be great friends, but if you develop a love for dating them you are in for nothing but a lot of cheating, drama, and douchebaggery. Follow the steps. Work the program. You will thank me later.
Until next time.
Xoxo
Bradley
Related Posts
Confessions Of A Reluctant Dater: The Jake Ryan Theory
Confessions Of A Reluctant Dater: Penny Lane
Confessions Of A Reluctant Dater
Confessions Of A Reluctant Dater: Champagne Wishes And Rockstar Dreams