by Jensen
This post is going to be completely different than the usual Doing it with Jensen posts. I've got this friend, Ocell, who co-writes Food We Chew. He always posts all of this amazing looking food but I've never seen any real evidence that he can cook. So I proposed that we do a blog together. Basically, I wanted an excuse for a cute dude to make me food, and I saw pictures of these amazing looking bagels he had made and decided I needed them in my stomach. My life is tough! Anyways, I'm behind the camera this time, not in front! Sorry gentlemen, this one is for the ladies. Or something.
If you don't have a bread machine, you're pretty much fucked. And not in a good way. No bagels for you, sorry :[. I'm sure there are plenty of awesome non-bread machine bagel recipes, but this is not one of those.
If you want the full recipe and directions, check out AllRecipes.com.
What You'll Need
salt
sugar
bread flour
active dry yeast
cornmeal
eggs
coarse salt, poppy seeds, sesame seeds, whatever you want on your bagels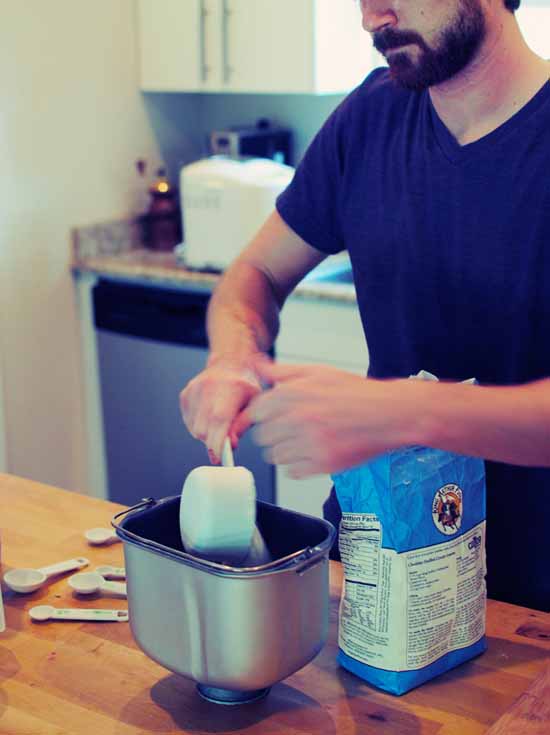 Add all of the ingredients into your breadmaker as per the directions on the AllRecipes website. Check out that beard, meow.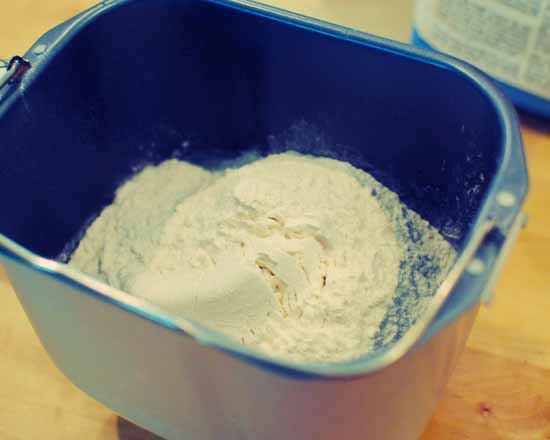 'I know you're going to taste all sorts of delicious after you get all mixed up and put into my mouth, random pile of ingredients.' The bread machine takes hella days. We played Candyland (he won, fuck you "stepped in a gooey gumdrop, lose a turn" square) and poker (we tied) in the meantime.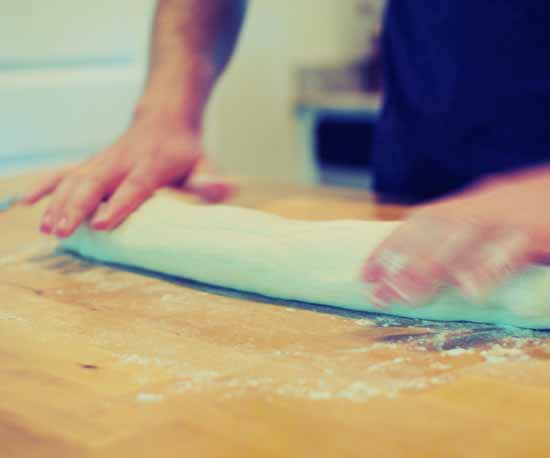 After the bread machine does its thing, take out the dough and knock it around a bit on a floured surface (so you don't get a big sticky mess). Then you roll it into a nice, thick rod. His rod is looking good in this picture.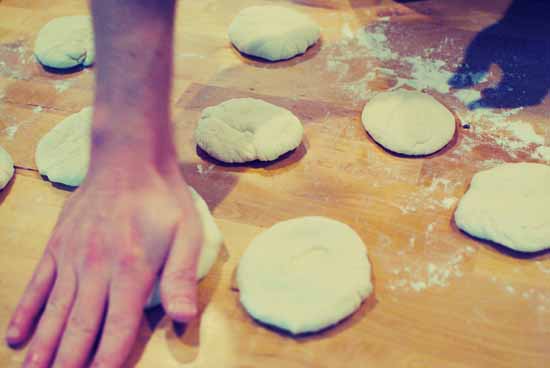 You then cut the rod (ouch!) into nine little balls and then smoosh them flat with your hand. This is all very scientific. Punch a hole in the middle of the ball with a finger and then stretch it out so it looks like, well, a bagel. Chris made a goatse comment during this action and I tried to take a picture but he said something about it ruining the bagel experience. Lamez!
Mix sugar and water (again, as per the AllRecipe directions) in a pot and bring it to a boil. You boil the bagels for about a minute (if I remember correctly) on each side and then take 'em out and let 'em dry for a couple of minutes on a CLOTH towel (not a paper towel, they'll stick a bit).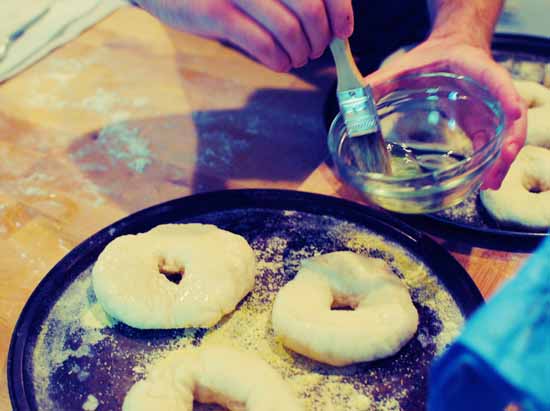 Sprinkle cornmeal on a pan and then place the bagels on top. Brush them with egg whites and then add whatever topping you like! We (well, he, I watched) topped them with sea salt and sesame seeds. After eating them, we both decided we liked the salt ones better. Throw them in the oven for a while!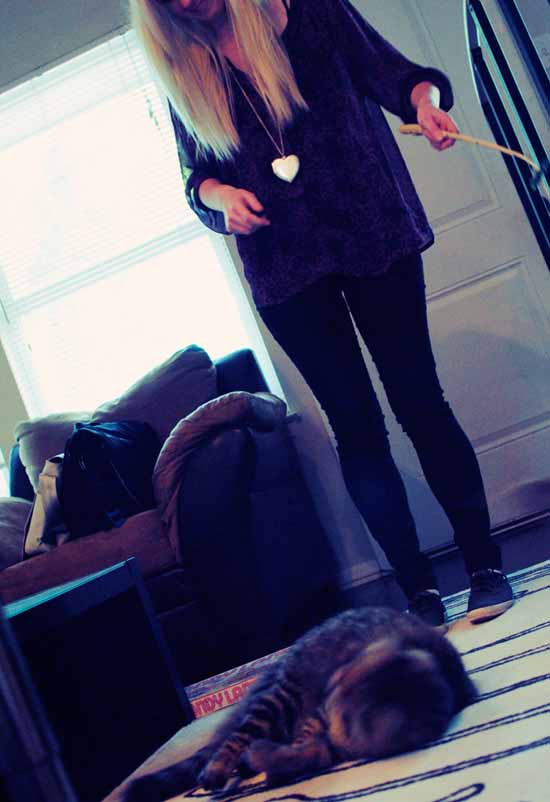 While the bagels baked, I played with Ocell's monstrous cat. Kind of just throwing this in there as proof that I was even on the bagel making scene, hah.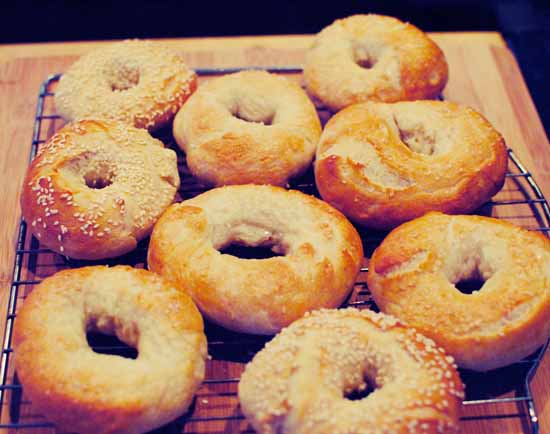 They were super super yummy! And didn't seem too hard to make. The salt ones tasted just like big salted pretzels, which we guessed is probably a very similar recipe, only they fold the dough into a knot.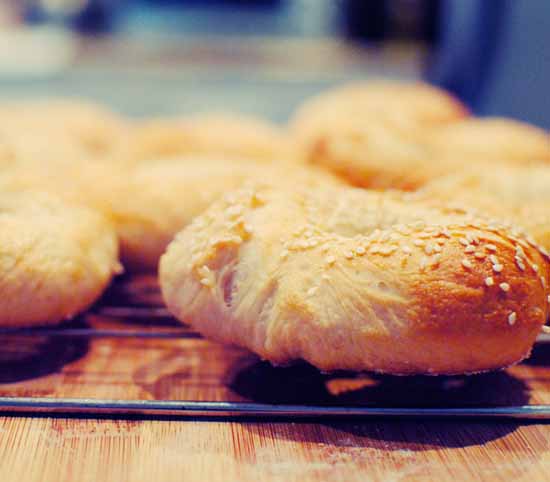 Sooooooo, you should definitely try your hand at bagel making :]. And you should go to Food We Chew, because they make way better shit than me (though they probably wear more clothes).
Thanks guys!
Related Posts:
Doing It With Jensen: Red Velvet Brownies
Doing It With Jensen: Homemade Ice Cream Redux – Herbal Peanut Butter Edition
Doing it with Jensen: Playing With 2 x 12 Inches On Video
Doing it with Jensen: Fried Chocolate Pies
Doing It With Jensen: Rockin' No-Sew T-Shirt Pillows
Doing It With Jensen: Haz A Cheeseburger Cupcake?
Doing It With Jensen: Chocolate Chip Beer Waffles
Doing it With Jensen: Homemade Hot Chocolate
Doing it With Jensen: Tangled Yarn Bulletin Board
Doing It With Tara: Jello Shots. Literally.
Doing It With Tara: String Lamp Thing
Doing it with Tara: Fluffy Balls
Doing It With Tara: Guess Who
Doing It With Tara: Chocolate Bacon Frostin
Doing it with Tara: Mutual Rasterbation
Doing It With Tara: A Very Cheesy Tutorial
Doing It With Tara: White Chocolate Eyeball Truffles
Doing it with Tara: Fun With 7 Inches and Caulk Blood
Doing it with Tara: Macaroni and Cheese
Doing it with Tara: Funnel Cakes at Home
Doing It With Tara: Contact Paper Décor
Doing It With Tara: Fun With Cream
Doing it with Tara: Space Invader Magnets