by Jensen
I tried to recreate these amazingly delicious mozzarella phyllo dough stick things from my favorite restaurant at a town I used to live in, and I failed miserably. Deciding I needed to try something different with my second roll of phyllo (fillo, whatever), I figured you can't really fuck anything up when butter, chocolate, and peanut butter are involved. So I made up this baklava type concoction that would surely piss off any old Russian grandma. It's super easy to make, you just have to be delicate with the dough. And it might be a little bit tedious.
What You'll Need
About 3 sticks (1 1/2 cups) salted butter
1 cup peanut butter (I used the kind with honey)
1 cup semi-sweet chocolate chips
1 roll of phyllo dough (it's in the freezer section of most grocery stores)
4 tablespoons of sugar
1 tablespoon of cocoa powder
A rectangular pan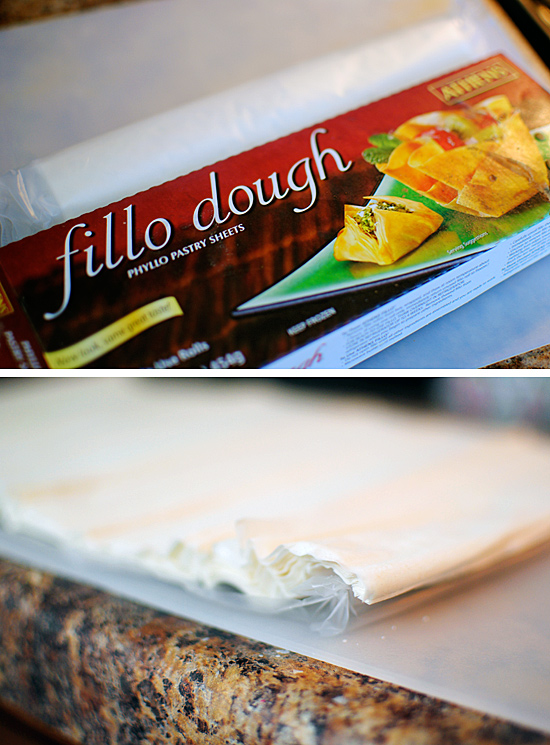 Phyllo dough is basically paper thin, almost flavorless pastry dough. Since it's so thin, it is very delicate and dries out easily. You need to work fast. Not OMGINEEDTOHURRYORITISRUINED fast, just don't stop to smoke a bowl or something while the dough is sitting out. So step one, unroll the dough and lay it out on a clean surface. And preheat your oven to 350.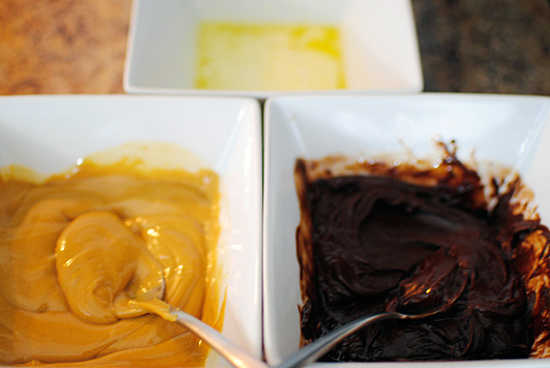 You need three bowls to fill with the various ingredients. Bowl one: 1 cup peanut butter and about two tablespoons of butter, microwaved until melted. Bowl two: 1 cup of semi-sweet chocolate chips, microwaved until melted. Bowl three: three sticks of butter, minus the two tablespoons you added to the peanut butter, microwaved until melted. Nom!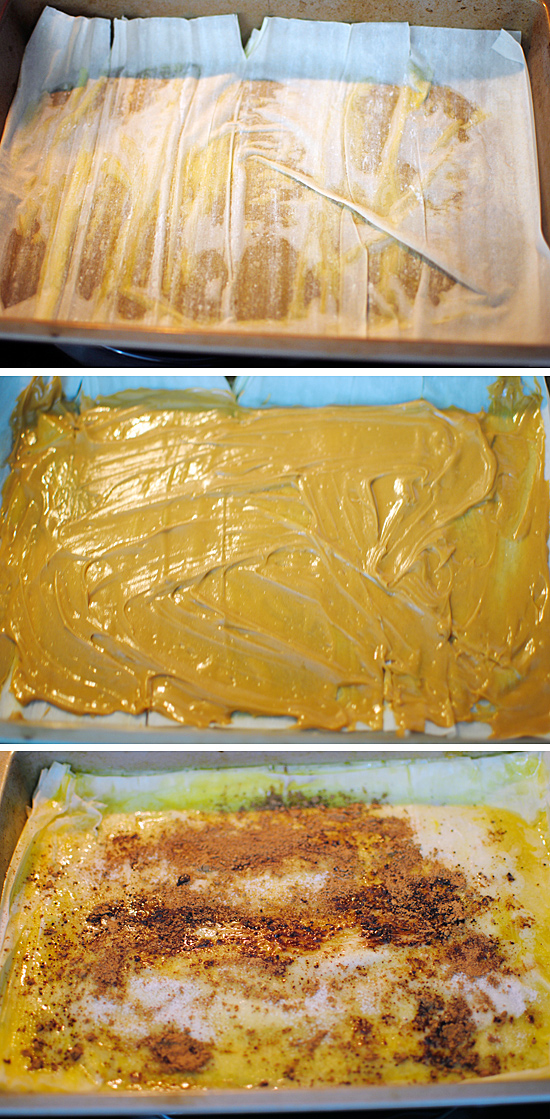 You're going to begin layering the ingredients into a bar, inside of the pan. There is no easy way to write out the order I used, so I just wrote it up in a very obnoxious and tedious fashion. Try to spread the ingredients out as evenly as you can, but keep in mind you have to be delicate or you'll rip the dough. Ripping the dough isn't the end of the world or anything, but it's best to try to avoid it! The layers that say "butter" are just enough butter to get the dough wet; about 1 tablespoon. I found it easiest to spread the butter with my finger or the back side of a spoon.
So, the order is: butter, dough, butter, dough, butter, dough, peanut butter (half of the peanut butter mixture), dough, butter, dough, butter, dough, chocolate (all of the chocolate), dough, butter, dough, butter, dough, butter, dough, peanut butter (the remaining peanut butter), dough, butter, dough, sugar butter (this is just butter with two tablespoons of sugar sprinkled over it). Then alternate dough and butter until the entire roll of dough is gone. Top with a little bit of butter, two tablespoons of sugar, and one tablespoon of cocoa powder. That last part is optional, but it makes the bars pretty ;]. So if you don't want to buy cocoa powder, don't trip potato chip.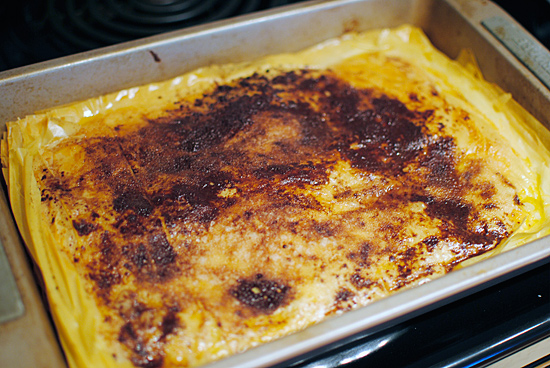 Bake it for about twenty minutes, then rotate the pan and bake it for another twenty minutes. It should be light golden brown when you take it out of the oven.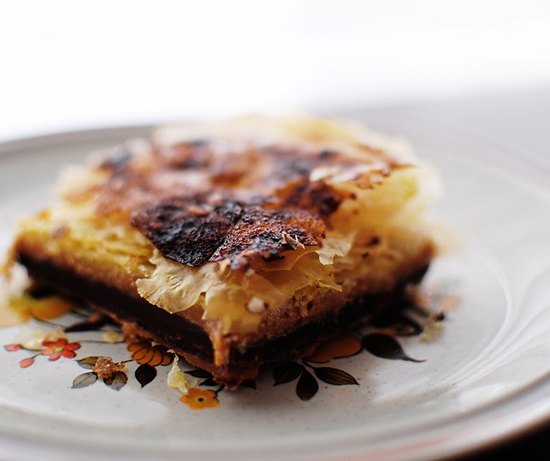 Let it COMPLTELY cool (actually, just keep it in the refrigerator like I did) and then cut it into two inch squares. They are super rich and delicious and amazing and heavy, but I wouldn't recommend cutting them any larger than that.
And that, my friends, is how I gain five pounds.
See you guys soon! Sorry I suck at blogging on a regular basis.
Related Posts:
Doing it with Jensen: Bagel Threesome With Ocell-icious
Doing It With Jensen: Red Velvet Brownies
Doing It With Jensen: Homemade Ice Cream Redux – Herbal Peanut Butter Edition
Doing it with Jensen: Playing With 2 x 12 Inches On Video
Doing it with Jensen: Fried Chocolate Pies
Doing It With Jensen: Rockin' No-Sew T-Shirt Pillows
Doing It With Jensen: Haz A Cheeseburger Cupcake?
Doing It With Jensen: Chocolate Chip Beer Waffles
Doing it With Jensen: Homemade Hot Chocolate
Doing it With Jensen: Tangled Yarn Bulletin Board
Doing It With Tara: Jello Shots. Literally.
Doing It With Tara: String Lamp Thing
Doing it with Tara: Fluffy Balls
Doing It With Tara: Guess Who
Doing It With Tara: Chocolate Bacon Frostin
Doing it with Tara: Mutual Rasterbation
Doing It With Tara: A Very Cheesy Tutorial
Doing It With Tara: White Chocolate Eyeball Truffles
Doing it with Tara: Fun With 7 Inches and Caulk Blood
Doing it with Tara: Macaroni and Cheese
Doing it with Tara: Funnel Cakes at Home
Doing It With Tara: Contact Paper Décor
Doing It With Tara: Fun With Cream
Doing it with Tara: Space Invader Magnets