A column which highlights Suicide Girls and their fave groups.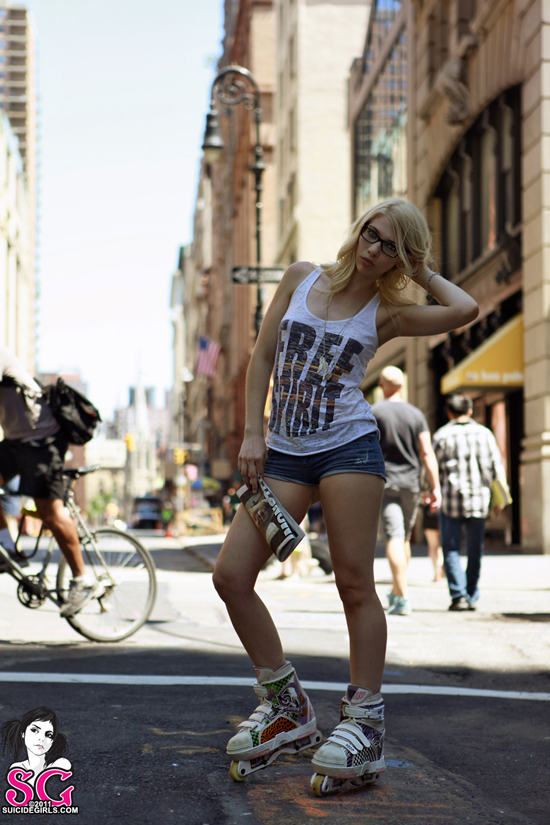 [Spliff_ Suicide in City Sights]
This week we chill with Spliff_ Suicide in the SG420 Group.
Members: 3,419 / Comments: 83,067
WHY DO YOU LOVE IT?: Besides the normal Hopefuls groups, SG420 was the first group I joined. It's no secret I am more than fond of sweet Mary Jane, but what actually drew me in was the group's main picture at the time. It was a little pink grinder with the group name "SG420″ etched in keif. I happen to have that exact same grinder and use it everyday. Once I joined though I fell in love with the members, and absolutely hilarious threads. I also really enjoyed the music that people have shared, and special recipes I've discovered.
DISCUSSION TIP: Smoke something before entering and it makes everything 10X better. Don't be afraid to be a total goofball stoner in this group.
BEST RANDOM QUOTE: My friend just broke the bong…Not sure how to handle this."
MOST HEATED DISCUSSION THREAD: The NEW "I'm Stoned" thread – just 'cause it's for those who've recently struck a match.
WHO'S WELCOME TO JOIN?: Any jokers, smokers, or midnight tokers. But really anyone who is a lover or supporter of marijuana, and anyone who is looking for a good laugh.
***
Related Posts:
SuicideGirls' Group Therapy – Jeckyl on SG Lounge
SuicideGirls' Group Therapy – Glitch on Robot Love
SuicideGirls' Group Therapy – Katherine on Aerial Dance
SuicideGirls' Group Therapy – Tarion on Zombie Hunters
SuicideGirls' Group Therapy – Rachelle on All Boobs Great And Small
SuicideGirls' Group Therapy – Oogie on Fan Art
SuicideGirls' Group Therapy – Jensen on Online Dating
SuicideGirls' Group Therapy – Gallows on Pen Pals
SuicideGirls' Group Therapy – Satya on Hip-Hop
SuicideGirls' Group Therapy – Tovi on Veggie


SuicideGirls' Group Therapy – Aadie on Suicide Boys
SuicideGirls' Group Therapy – Haydin on Ballet
SuicideGirls' Group Therapy – Psyche on Slut Pride
SuicideGirls' Group Therapy – Thistle on Yuppie Scum
SuicideGirls' Group Therapy – Eden on Tattoo
SuicideGirls' Group Therapy – Damsel on Dreadlocks


SuicideGirls' Group Therapy – Chrysis on Itty Bitty Titty Committee


SuicideGirls' Group Therapy – Otoki on Feminists
SuicideGirls' Group Therapy – Zephyr on Doctor Who
SuicideGirls' Group Therapy – Ryker on Harry Potter
SuicideGirls' Group Therapy – Bradley on The Kitchen
SuicideGirls' Group Therapy – Apple on All Your Base Are Belong To Us
SuicideGirls' Group Therapy – Setsuka on Ass Appreciation
SuicideGirls' Group Therapy – Noir on The Kitchen
SuicideGirls' Group Therapy – Exning on Body Mods
SuicideGirls' Group Therapy – Ceres on Girls Only
SuicideGirls' Group Therapy – Frolic on Celeb Worship
SuicideGirls' Group Therapy – Cheri on Skateboarders
SuicideGirls' Group Therapy – Noir on SG Military
SuicideGirls' Group Therapy – Exning on Weight Loss
SuicideGirls' Group Therapy – Aadie on Cute Overload
SuicideGirls' Group Therapy – Eevie, Luffy, and Praesepe on SG420
SuicideGirls' Group Therapy – All on Urban Art
SuicideGirls' Group Therapy – Clio on Hardcore Music
SuicideGirls' Group Therapy – Epiic on Hirsute
SuicideGirls' Group Therapy – Tarion on Atheists
SuicideGirls' Group Therapy – Rambo on Photography
SuicideGirls' Group Therapy – Thistle on Vamos Gigantes