by Laurelin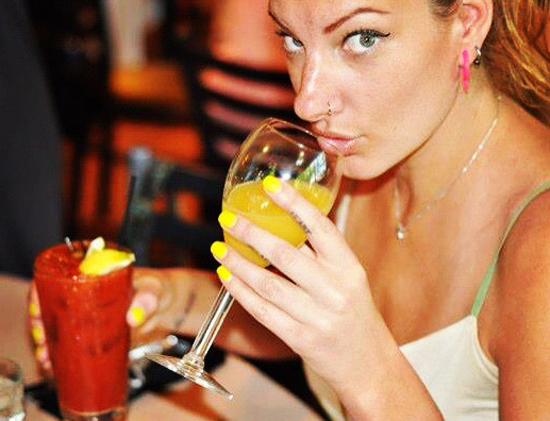 I enter this week with a heavy heart. Usually I have something to look forward to, some great event that with the passing of each shift at work I can say that I'm one day closer to. I enter this week with a heavy heart because I have no one, no increased heartbeat when my cell phone lights up on the end of the bar because it might be him. There is no him. I enter this week with a heavy heart because when I look ahead I see only the same thing day after day; I see only what I feel the majority of the world sees: plain and boring monotony. My heart is heavy, and it's crushing me.
This week is my chance to shine at work. With my boss on vacation for one week I am the next in line, so this building and everyone in it is mine to run. My walls, my liquor, my beer taps and kegs, my neon lights and my whole staff. Seven straight days of bartending to make sure nothing goes wrong, to make sure this place looks better than when it was left this past Monday. But with no days off to look forward to I can't help but feel like I'm in a war zone. No Boston waterfront for the fourth of July, no sunshine in my face at the beach, my tan lines fade and my eyes lose their spark as I adjust to sixty-three hours indoors. Even breathing becomes boring.
I fight the sinking realization that this means for one week I am left alone with my own head, my own abilities or inabilities. I have no time to drink with friends until it's all numb, until I can only laugh about everything that right now seems so overwhelming. I have only time to wonder if I am really upset about working so much, or if I am upset about being able to drink too little. I know it's only one week; after this weekend my schedule is back to normal, but for some reason the days seep by slowly like spilled molasses.
To make a change one must desire change and create change. I desire change. I also desire sunshine. I desire men, and I desire sangria. Instead, this week, I get sixty-three hours. This week I get discipline, ruling others, and myself. This week I bitch slap my liver and other neglected body parts so they don't fall into misuse. This week, it will take everything in me not to fade to dust…
***
Related Posts:
Life Beyond the Bar Scene: Contentment and Other Boring Possibilities
Life Beyond The Bar Scene: Last Friday
Life Beyond the Bar Scene: No One Nails the Cry Face and Other Tales of Woe
Life Beyond the Bar Scene: Of Lies and Half Truths
Life Beyond the Bar Scene: I Would Never Look Through Your Phone and Other Trust Issues
Life Beyond The Bar Scene: My Manager's Pants Look Better On The Floor And Other Tales Of Responsibility
Life Beyond the Bar Scene: Blonde Ambition
Life Beyond The Bar Scene: Love is Better Soaked in Tequila
Life Beyond the Bar Scene: It's Not You, It's Me and Other Tales of Woe
Life Beyond the Bar Scene: Winter is Coming
Life Beyond the Bar Scene: Digital vs. Analogue
Life Beyond the Bar Scene: A Long December
Life Beyond the Bar Scene: Strobe Lights and Glitter
Life Beyond the Bar Scene: Fake It 'Til You Make It
Life Beyond the Bar Scene: Apologies and Other Useless Utterances
Life Beyond the Bar Scene: Liquid Running
Life Beyond the Bar Scene: Anger and Other Mostly Useless Emotions
Life Beyond the Bar Scene: One of the Guys
Life Beyond the Bar Scene: A Case of the Crazies
Life Beyond the Bar Scene: Unsettled
Life Beyond the Bar Scene: Boys of Summer
Life Beyond the Bar Scene: Play On Playa'
Life Beyond the Bar Scene: How to Lose a Girl in Ten Minutes
Life Beyond the Bar Scene: Naked Laurelin Reading
Life Beyond the Bar Scene: Healthy Relationships are for Boring People and Other Mishaps
Life Beyond the Bar Scene: Letting Go
Life Beyond the Bar Scene: Does it Exist?
Life Beyond the Bar Scene: The Dating Game
Life Beyond the Bar Scene: After a Few Beers Everyone Looks Good and Other Love Stories
Life Beyond the Bar Scene: Getting Naked With Laurelin
Life Beyond the Bar Scene: Seven Days and Seven Nights of Sobriety
Life Beyond the Bar Scene: When it's Time to Move On
Life Beyond the Bar Scene: Starting Over and Other Stupid Resolutions
Life Beyond the Bar Scene: He Broke Up with Me on a Post-it and Other Travesties
Life Beyond the Bar Scene: The End of Four Loko As We Know It
Life Beyond the Bar Scene: Boston's Top 5 Dives