by Laurelin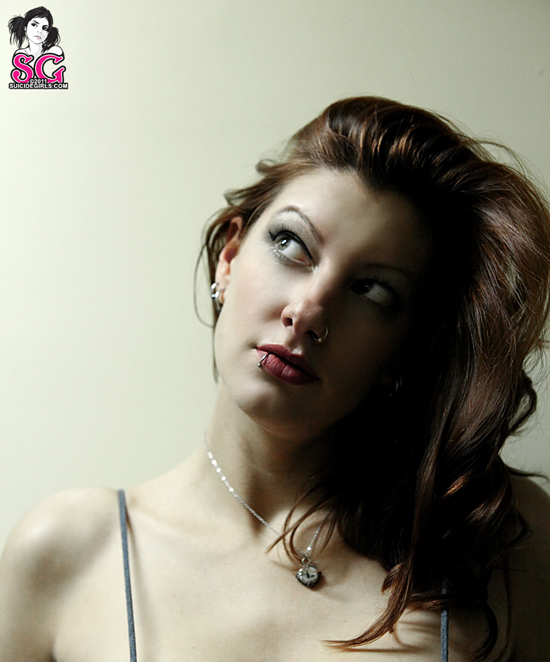 I remember in high school being obsessed with this one guy. Jackson was the epitome of everything I thought was cool: he rode BMX bikes and wore baggy jeans and flannel t-shirts with different band shirts underneath like NOFX and Pennywise. He didn't drink or do drugs or hang out with the cool kids, but he was always smiling and surrounded by people. He was different and I liked that.
We wound up dating for a while (it seems like a long time, but in retrospect it might have only been a few months; time is different now). He broke up with me at the end of my freshman year and I was devastated. My first heartbreak, my first bitter taste of a feeling I would in time become so familiar with. That being said, there is nothing to be done but move on, keep going to class, keep on smiling like nothing was wrong. Eventually I lost interest in Jackson and the feeling faded. I was moving on and Jackson was nothing more than a blip on my radar. That is, until Jackson started dating Jill.
Suddenly I missed him with a fierceness that can only be likened to the hunger a vampire feels after waking, born as a creature of the night for the first time. Suddenly it seemed like there was no one else, that Jackson was the only one for me, no one else should have him, especially not Jill. Who was Jill? Where the hell did she even come from? She was nothing like him; she didn't even LIKE the music that he liked, the music that he and I liked. It was all consuming, and soon Jackson was all I could think about. I wanted him back. I remember that feeling like it was yesterday; unhealthy obsession.
My cell phone buzzes and I glance down. My heartbeat increases when I see his name. This one I think I'll write back to, this intriguing man who isn't really like anyone I've ever met before. This has been one hell of a week for me and my buzzing cell phone, which is filled with messages from people I never expected to hear from. I have spent a lot of the past year unable to move forward constructively when it comes to a few kinds of relationships in my life and for whatever reason I have just totally and completely moved on. I simply woke up one day and stopped texting, stopped calling, stopped inviting these guys out with hopes of rekindling romance. I just stopped chasing them. And the second I stopped, all of a sudden they noticed.
If anyone had told me that these guys would be saying the things that they have been saying to me in the past few weeks I would have laughed. If you had told me they would be showing up at my bar, sitting and hanging out until closing and then asking to walk me home, I wouldn't have believed it for a second. Now, as I choose to go home alone, I acknowledge that they only want me the way I wanted Jackson back once I saw him with Jill. They liked me chasing them and once I stopped they finally looked back, circling back like a dog with a lost bone, sad that the game is finally over.
Related Posts:
Life Beyond the Bar Scene: I Knew You Were Trouble
Life Beyond the Bar Scene: Far From Ordinary
Life Beyond the Bar Scene: Picture Perfect
Life Beyond the Bar Scene: Tales of Heartbreak
Life Beyond the Bar Scene: I Almost Do and Other Nostalgic Melodies
Life Beyond the Bar Scene: Unanswered Texts, Missed Calls and Things That Glow in the Night
Life Beyond the Bar Scene: Rescued
Life Beyond the Bar Scene: Star Struck And Other Sly Tales
Life Beyond the Bar Scene: Dancing in the Rain
Life Beyond the Bar Scene: Almost Thirty
Life Beyond The Bar Scene: Just Friends
Life Beyond the Bar Scene: Contentment and Other Boring Possibilities
Life Beyond The Bar Scene: Last Friday
Life Beyond the Bar Scene: No One Nails the Cry Face and Other Tales of Woe
Life Beyond the Bar Scene: Of Lies and Half Truths
Life Beyond the Bar Scene: I Would Never Look Through Your Phone and Other Trust Issues
Life Beyond The Bar Scene: My Manager's Pants Look Better On The Floor And Other Tales Of Responsibility
Life Beyond the Bar Scene: Blonde Ambition
Life Beyond The Bar Scene: Love is Better Soaked in Tequila
Life Beyond the Bar Scene: It's Not You, It's Me and Other Tales of Woe
Life Beyond the Bar Scene: Winter is Coming
Life Beyond the Bar Scene: Digital vs. Analogue
Life Beyond the Bar Scene: A Long December
Life Beyond the Bar Scene: Strobe Lights and Glitter
Life Beyond the Bar Scene: Fake It 'Til You Make It
Life Beyond the Bar Scene: Apologies and Other Useless Utterances
Life Beyond the Bar Scene: Liquid Running
Life Beyond the Bar Scene: Anger and Other Mostly Useless Emotions
Life Beyond the Bar Scene: One of the Guys
Life Beyond the Bar Scene: A Case of the Crazies
Life Beyond the Bar Scene: Unsettled
Life Beyond the Bar Scene: Boys of Summer
Life Beyond the Bar Scene: Play On Playa'
Life Beyond the Bar Scene: How to Lose a Girl in Ten Minutes
Life Beyond the Bar Scene: Naked Laurelin Reading
Life Beyond the Bar Scene: Healthy Relationships are for Boring People and Other Mishaps
Life Beyond the Bar Scene: Letting Go
Life Beyond the Bar Scene: Does it Exist?
Life Beyond the Bar Scene: The Dating Game
Life Beyond the Bar Scene: After a Few Beers Everyone Looks Good and Other Love Stories
Life Beyond the Bar Scene: Getting Naked With Laurelin
Life Beyond the Bar Scene: Seven Days and Seven Nights of Sobriety
Life Beyond the Bar Scene: When it's Time to Move On
Life Beyond the Bar Scene: Starting Over and Other Stupid Resolutions
Life Beyond the Bar Scene: He Broke Up with Me on a Post-it and Other Travesties
Life Beyond the Bar Scene: The End of Four Loko As We Know It
Life Beyond the Bar Scene: Boston's Top 5 Dives