by Laurelin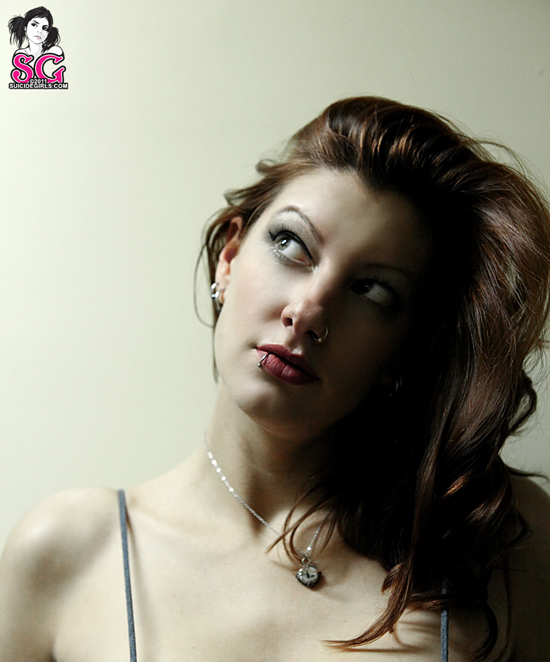 Butterflies. Every girl wants that feeling. We crave it: the thought of something new and exciting. That secretive smile that is just for you, your whole being just bursting with hope over the thought of something new. Those new guys, they're the skip in your step home from the bar after getting a phone number or that perfect first date kiss that leaves you feeling full to the brim with a feeling so wonderful you could just cease to exist.
It might be one of the best feelings in the world. While fleeting, it's when we feel the most innocent and yet the most powerful, the most indestructible, like our whole lives have led us to this point and nothing looks as beautiful as the whole freaking normally ugly awful world. (Enjoy this feeling while it lasts, because everybody knows butterflies can't survive amongst a stomach full of beer and cheeseburgers.)
Over time mine seem to have turned into something more along the lines of ragged moths dancing around a tired flame. A flame that might go out, but also might grow brighter, and burn all the little moths. It also might not even be a flame, perhaps just a touch of heartburn.
I can point out a number of men in Boston who have given me this feeling and each time the feeling faded, leaving room for failed relationships, broken hearts and (lucky for me) in most cases, solid friendships. It's gotten to the point where even if I meet someone who evokes this feeling I can't help but wonder how it's going to end. Should I even bother? (Of course I should.) Doesn't it make more sense just to stay the way I am and not risk getting hurt? (Of course it doesn't.)
It was thirty-four degrees last week and the wind was bitter as I walked to a cab, but for some reason I wasn't cold. I should have been in bed hours ago, but I wasn't. My cheeks were red, burning, and I smiled and looked up at the city, the whole skyline lit perfectly against the black sky. I had no idea where I was, besides far from home. I felt warm, and I was unsure if it was the booze or just remembering that kiss. Either way, I knew I was in trouble.
Related Posts:
Life Beyond the Bar Scene: Far From Ordinary
Life Beyond the Bar Scene: Picture Perfect
Life Beyond the Bar Scene: Tales of Heartbreak
Life Beyond the Bar Scene: I Almost Do and Other Nostalgic Melodies
Life Beyond the Bar Scene: Unanswered Texts, Missed Calls and Things That Glow in the Night
Life Beyond the Bar Scene: Rescued
Life Beyond the Bar Scene: Star Struck And Other Sly Tales
Life Beyond the Bar Scene: Dancing in the Rain
Life Beyond the Bar Scene: Almost Thirty
Life Beyond The Bar Scene: Just Friends
Life Beyond the Bar Scene: Contentment and Other Boring Possibilities
Life Beyond The Bar Scene: Last Friday
Life Beyond the Bar Scene: No One Nails the Cry Face and Other Tales of Woe
Life Beyond the Bar Scene: Of Lies and Half Truths
Life Beyond the Bar Scene: I Would Never Look Through Your Phone and Other Trust Issues
Life Beyond The Bar Scene: My Manager's Pants Look Better On The Floor And Other Tales Of Responsibility
Life Beyond the Bar Scene: Blonde Ambition
Life Beyond The Bar Scene: Love is Better Soaked in Tequila
Life Beyond the Bar Scene: It's Not You, It's Me and Other Tales of Woe
Life Beyond the Bar Scene: Winter is Coming
Life Beyond the Bar Scene: Digital vs. Analogue
Life Beyond the Bar Scene: A Long December
Life Beyond the Bar Scene: Strobe Lights and Glitter
Life Beyond the Bar Scene: Fake It 'Til You Make It
Life Beyond the Bar Scene: Apologies and Other Useless Utterances
Life Beyond the Bar Scene: Liquid Running
Life Beyond the Bar Scene: Anger and Other Mostly Useless Emotions
Life Beyond the Bar Scene: One of the Guys
Life Beyond the Bar Scene: A Case of the Crazies
Life Beyond the Bar Scene: Unsettled
Life Beyond the Bar Scene: Boys of Summer
Life Beyond the Bar Scene: Play On Playa'
Life Beyond the Bar Scene: How to Lose a Girl in Ten Minutes
Life Beyond the Bar Scene: Naked Laurelin Reading
Life Beyond the Bar Scene: Healthy Relationships are for Boring People and Other Mishaps
Life Beyond the Bar Scene: Letting Go
Life Beyond the Bar Scene: Does it Exist?
Life Beyond the Bar Scene: The Dating Game
Life Beyond the Bar Scene: After a Few Beers Everyone Looks Good and Other Love Stories
Life Beyond the Bar Scene: Getting Naked With Laurelin
Life Beyond the Bar Scene: Seven Days and Seven Nights of Sobriety
Life Beyond the Bar Scene: When it's Time to Move On
Life Beyond the Bar Scene: Starting Over and Other Stupid Resolutions
Life Beyond the Bar Scene: He Broke Up with Me on a Post-it and Other Travesties
Life Beyond the Bar Scene: The End of Four Loko As We Know It
Life Beyond the Bar Scene: Boston's Top 5 Dives