by Laurelin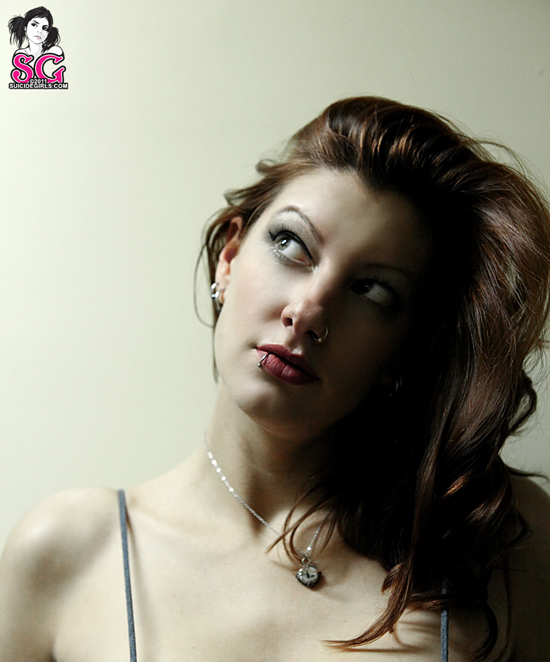 The old woman cupped my hand in hers. Narrowing her eyes and making a clicking noise in the back of her throat she looked up and smiled warmly. "You are untrusting in love," she said. "Why? What is there to worry about, you have had two great heartbreaks in your life and they are over, it's time to put the past behind you. I look in your eyes and see such warmth, too bad you cannot speak with your eyes." She lets my hand go and it falls into my lap. I guess that lady gets paid to say those things, but at 2 AM in New York City it suddenly seems so real, and I walk back through Times Square to my hotel wondering about what she said. Was she right? Was I totally untrusting?
I went on a date the other night with a bartender from a trendy bar downtown. He wasn't anything like me, and while once that would have really frightened me, now it seems really appealing, challenging, intriguing. I had a great time, and at the end of the night back home at my apartment I found myself smiling stupidly, wishing my roommate was home so I could talk her ear off about it. I never heard from that guy again, and it was a bit unsettling for a few days. What did I do wrong? This was so typical.
After a few days of not hearing back I moved on; not everyone gets an explanation as to why something doesn't work out. I couldn't help but laugh at myself a little bit — here I was wondering why everything seemed to click when it didn't really. Who does that? "You do that," my roommate points out. "You do that all the time. Have a great time and then freak out and run away and never tell the guy why. That's like, your favorite thing to do!" I think about it and I can't help but laugh, at myself, at the poor guys I have dated in the past five months, and at the whole situation in general. She's right, I have an inability to tell the truth when it comes to wanting to end something before it really starts; I just slither back to my bar scene life and immerse myself in work. One can always trust the reliability of a 45 hour work week. Does that make me untrusting? Easily bored? Non committal?
I have always considered trust in relationships to be something that is created over time once you find someone who doesn't drive you nuts. All of a sudden I realize that I'm looking at the cell phone you left on my nightstand when you were rushing to work and I roll over and go back to bed – instead of flipping through your texts. I'm left alone in your apartment and your computer is right there with your e-mail up on the screen, and I sign out and into mine without even a second glance. You want to go out with your friends to the strip club with an eight ball of cocaine in your pocket? Sure, have a good time. I trust you. See? I can be trusting.
That old lady was wrong. I have trust in a lot of things. I trust that my friends will get me through anything. I trust that I'm a good judge of character, and that even if something doesn't work out that I chose that person or that path because I saw something good in it, because I thought that it would make me a better person. I trust that I will not always do the right thing but that I will know the difference between the two, and that I will do better next time, be stronger and able to learn from my mistakes. I might be untrusting in love, but that is only because a lot of times the way it's ended up for me has left me feeling like I trusted something that wasn't real, or that was only real for a little while and that is devastating. I was never mislead, nor was I ever misleading to anyone I ever called mine. If I mislead you, you were never mine, nor I yours.
Untrusting in love seems normal to me to an extent; it's good to be cautious with your heart after you have spent so long learning to trust yourself. I'll open up when the time is right. For now, the only trust I need is from the bartender shaking my martini or muddling my mojito. It's almost summer time, and I smell some really poor life choices on the horizon. If there's one thing I can trust in, it's that.
***
Related Posts:
Life Beyond The Bar Scene: My Manager's Pants Look Better On The Floor And Other Tales Of Responsibility
Life Beyond the Bar Scene: Blonde Ambition
Life Beyond The Bar Scene: Love is Better Soaked in Tequila
Life Beyond the Bar Scene: It's Not You, It's Me and Other Tales of Woe
Life Beyond the Bar Scene: Winter is Coming
Life Beyond the Bar Scene: Digital vs. Analogue
Life Beyond the Bar Scene: A Long December
Life Beyond the Bar Scene: Strobe Lights and Glitter
Life Beyond the Bar Scene: Fake It 'Til You Make It
Life Beyond the Bar Scene: Apologies and Other Useless Utterances
Life Beyond the Bar Scene: Liquid Running
Life Beyond the Bar Scene: Anger and Other Mostly Useless Emotions
Life Beyond the Bar Scene: One of the Guys
Life Beyond the Bar Scene: A Case of the Crazies
Life Beyond the Bar Scene: Unsettled
Life Beyond the Bar Scene: Boys of Summer
Life Beyond the Bar Scene: Play On Playa'
Life Beyond the Bar Scene: How to Lose a Girl in Ten Minutes
Life Beyond the Bar Scene: Naked Laurelin Reading
Life Beyond the Bar Scene: Healthy Relationships are for Boring People and Other Mishaps
Life Beyond the Bar Scene: Letting Go
Life Beyond the Bar Scene: Does it Exist?
Life Beyond the Bar Scene: The Dating Game
Life Beyond the Bar Scene: After a Few Beers Everyone Looks Good and Other Love Stories
Life Beyond the Bar Scene: Getting Naked With Laurelin
Life Beyond the Bar Scene: Seven Days and Seven Nights of Sobriety
Life Beyond the Bar Scene: When it's Time to Move On
Life Beyond the Bar Scene: Starting Over and Other Stupid Resolutions
Life Beyond the Bar Scene: He Broke Up with Me on a Post-it and Other Travesties
Life Beyond the Bar Scene: The End of Four Loko As We Know It
Life Beyond the Bar Scene: Boston's Top 5 Dives