by Laurelin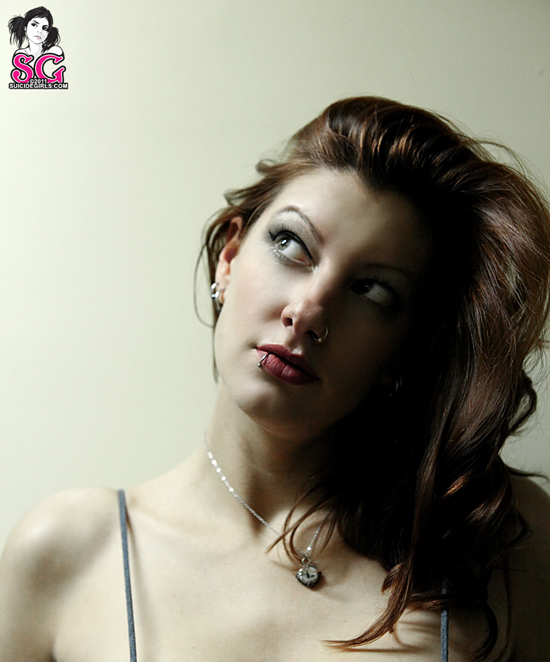 It doesn't take a rocket scientist to figure out that I've been in a serious rut lately. I don't know if it has to do with my approaching 30th birthday, my increased responsibility at work, my lack of any romantic interest in anyone besides an ex that I just want out of my head, or a lethal combination of all of these things. Either way, I haven't been very happy lately, and I really don't feel like myself. I feel…lost. Sad. Alone. Rejected. Like I'm standing in a crowded room screaming — and no one can hear me, or the ones who can just don't care.
I know it is nothing more than a temporary hiccup in an otherwise smooth existence, so I have been dealing with this the best way I know how: drinking, reading, working out, whatever. I'm choosing one night a week to do something really fun and taking it to the next level in a vain attempt to forget that for one second, when I go home, I will probably just start to cry about the same thing over and over again.
The one constant in my recent fall from my ever-perfect life is my ex-boyfriend from a few years ago. He was the person who inspired me to start writing this column; first in anger, then as time went on in friendship and in unwavering support. He moved to Los Angeles about five months ago. His leaving made me feel like a part of my life was seriously over. I felt conflicted; devastated and happy at the same time. This city eats bartenders alive, and he was ready for a change. We always said we would go together, and when we broke up I was the one dead set on leaving… but I wound up staying, and months later, he left, and I cried.
He knows me better than most of my girlfriends, and when I call him drunk and crying about another guy at 4 AM, he always answers and he always knows just what to say. Just hearing his voice on the other end of the line is like being thrown a rope, something to keep me hanging on for just a little bit longer.
"You were crying about birthday cake," he said the other morning, "it was cute, and sad." Birthday cake, the one that I had custom made for a guy who never showed up for his party I helped plan in Boston, and who shut off his phone when I called to ask what was going on. Instead, I carted the cake home to my apartment and my roommates and we tore it apart; ate half of it and threw the rest in the trash. And I got drunk and I cried, because I was an idiot to care about someone who never cared for me, again.
And then, a few weeks ago, my ex called from LA to say he was coming home. He had had enough of California, and for once, I didn't cry. He was coming home and finally, maybe, things could get back to normal. He's been back for two days, and when I woke up this morning I was tangled up in him and for once, I didn't feel lost.
I woke up, I took his clothes and I washed them with mine. I pulled his old dusty Tupperware container out of the closet and got him new socks and underwear and one of his T-shirts. I made coffee while he slept, and when he woke up he rubbed my back because I had run twelve miles in the rain the day before and I was cold and sore, and we were happy.
We might not be together anymore, and I don't want to be, to be honest. We're clearly both lost, but we take care of each other, for now. Sometimes, when you're in a rut it's nice to have someone throw you a rope. Other times it's nice to have someone climb down and sit there with you until you're ready to muster the strength to get out on your own.
***
Related Posts:
Life Beyond the Bar Scene: Of Lies and Half Truths
Life Beyond the Bar Scene: I Would Never Look Through Your Phone and Other Trust Issues
Life Beyond The Bar Scene: My Manager's Pants Look Better On The Floor And Other Tales Of Responsibility
Life Beyond the Bar Scene: Blonde Ambition
Life Beyond The Bar Scene: Love is Better Soaked in Tequila
Life Beyond the Bar Scene: It's Not You, It's Me and Other Tales of Woe
Life Beyond the Bar Scene: Winter is Coming
Life Beyond the Bar Scene: Digital vs. Analogue
Life Beyond the Bar Scene: A Long December
Life Beyond the Bar Scene: Strobe Lights and Glitter
Life Beyond the Bar Scene: Fake It 'Til You Make It
Life Beyond the Bar Scene: Apologies and Other Useless Utterances
Life Beyond the Bar Scene: Liquid Running
Life Beyond the Bar Scene: Anger and Other Mostly Useless Emotions
Life Beyond the Bar Scene: One of the Guys
Life Beyond the Bar Scene: A Case of the Crazies
Life Beyond the Bar Scene: Unsettled
Life Beyond the Bar Scene: Boys of Summer
Life Beyond the Bar Scene: Play On Playa'
Life Beyond the Bar Scene: How to Lose a Girl in Ten Minutes
Life Beyond the Bar Scene: Naked Laurelin Reading
Life Beyond the Bar Scene: Healthy Relationships are for Boring People and Other Mishaps
Life Beyond the Bar Scene: Letting Go
Life Beyond the Bar Scene: Does it Exist?
Life Beyond the Bar Scene: The Dating Game
Life Beyond the Bar Scene: After a Few Beers Everyone Looks Good and Other Love Stories
Life Beyond the Bar Scene: Getting Naked With Laurelin
Life Beyond the Bar Scene: Seven Days and Seven Nights of Sobriety
Life Beyond the Bar Scene: When it's Time to Move On
Life Beyond the Bar Scene: Starting Over and Other Stupid Resolutions
Life Beyond the Bar Scene: He Broke Up with Me on a Post-it and Other Travesties
Life Beyond the Bar Scene: The End of Four Loko As We Know It
Life Beyond the Bar Scene: Boston's Top 5 Dives