by Laurelin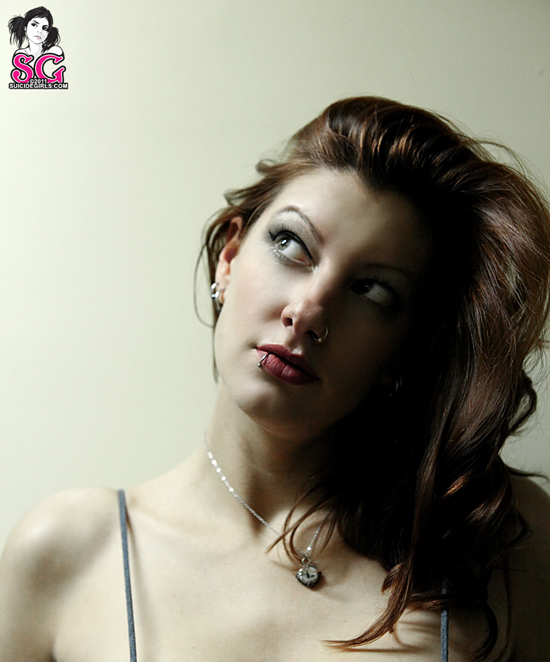 It's been a long time since I've done this. I remember the feeling like it was yesterday, a once sharp pain now only a memory that makes me cringe only because of the way I almost remember feeling. It's faded now, the sharp feeling of loss from so long ago to be replaced with this new experience, one that's a bit more bittersweet and almost entirely silly.
I remember the first time. I was standing at the Ocean Mist in Rhode Island at an all ages rock show. The bar was perfect; on stilts that went into the ocean so when you looked away from the crowded stage and sticker covered walls you could see only the blue of the ocean. The windows were open in the summer and you could taste the salt on your tongue while you breathed in the bass from the speakers. As a teenager, it was heaven.
I had had a crush on this guy forever, and I had decided that while we were all out that night I was finally going to tell him how I felt. The music faded to a dull pounding in my brain as I walked over to him, and my stomach flipped somersaults. I somehow managed to spit it out, not remembering exactly what I said but distinctly remembering his face, his blank expression that told me that I was wrong, he would never like me back, and I turned and ran. Later a friend told me that he was embarrassed, that I was too tall, disproportionate. I wanted to die.
All these years later, finally comfortable with who I am, how tall I am, my life and my choices. All these years later still struggling with the truth and just finally giving up and telling someone I still have feelings for them even though I know nothing good will come of it. I don't know why I said it. I don't know why I felt the need to tell him, it's not like I couldn't sleep or live without finally getting this off my chest. I know it was stupid and it does nothing but makes things awkward. (All these years later that still hasn't changed.)
I don't feel better. I don't know if I feel worse. I don't think things can be the same, but they shouldn't have to be different. I imagine that in the grand scheme of my life, this is going to be something I look back on and laugh at. A psychic once held my hand and said, "You have already been so lucky, you've had two great loves and two great heartbreaks. This thing you hold, this is neither. So why can't you move on?"
It's something that now, I can remedy with calling other ex-boyfriends and drinking with girlfriends, where as back then I cried myself to sleep for days. This time, only a train ride home with a bit of smudged mascara, a woeful realization that I'm not as tough as I make myself out to be. I feel bad for myself. I feel bad for making him struggle to find the right words to not hurt my feelings. I feel bad for the past three guys I've dated, because I have kicked them all to the curb with a handful of lies and half truths once we hit the one month period. Better off alone until I figure this out, don't like to be alone so I start things I can't finish.
"It's okay, because you know this is silly," my roommate says as I'm trying not to let anyone at the bar see me cry. "I know," I mumble, and I DO know. I don't even notice the guy walking up behind me and ordering shots. "Two please," he says and passes one to me with a kind smile. My eyes dry almost instantly, and I know how stupid I must look. We cheers and the shot goes down like fire, but I seem to have found my coy smile, and this guy is kind of cute.
"Rough night?" he asks.
"It's nothing," I say smoothly, and the lie spreads like butter on warm toast, so well that I almost believe it. Almost.
***
Related Posts:
Life Beyond the Bar Scene: I Would Never Look Through Your Phone and Other Trust Issues
Life Beyond The Bar Scene: My Manager's Pants Look Better On The Floor And Other Tales Of Responsibility
Life Beyond the Bar Scene: Blonde Ambition
Life Beyond The Bar Scene: Love is Better Soaked in Tequila
Life Beyond the Bar Scene: It's Not You, It's Me and Other Tales of Woe
Life Beyond the Bar Scene: Winter is Coming
Life Beyond the Bar Scene: Digital vs. Analogue
Life Beyond the Bar Scene: A Long December
Life Beyond the Bar Scene: Strobe Lights and Glitter
Life Beyond the Bar Scene: Fake It 'Til You Make It
Life Beyond the Bar Scene: Apologies and Other Useless Utterances
Life Beyond the Bar Scene: Liquid Running
Life Beyond the Bar Scene: Anger and Other Mostly Useless Emotions
Life Beyond the Bar Scene: One of the Guys
Life Beyond the Bar Scene: A Case of the Crazies
Life Beyond the Bar Scene: Unsettled
Life Beyond the Bar Scene: Boys of Summer
Life Beyond the Bar Scene: Play On Playa'
Life Beyond the Bar Scene: How to Lose a Girl in Ten Minutes
Life Beyond the Bar Scene: Naked Laurelin Reading
Life Beyond the Bar Scene: Healthy Relationships are for Boring People and Other Mishaps
Life Beyond the Bar Scene: Letting Go
Life Beyond the Bar Scene: Does it Exist?
Life Beyond the Bar Scene: The Dating Game
Life Beyond the Bar Scene: After a Few Beers Everyone Looks Good and Other Love Stories
Life Beyond the Bar Scene: Getting Naked With Laurelin
Life Beyond the Bar Scene: Seven Days and Seven Nights of Sobriety
Life Beyond the Bar Scene: When it's Time to Move On
Life Beyond the Bar Scene: Starting Over and Other Stupid Resolutions
Life Beyond the Bar Scene: He Broke Up with Me on a Post-it and Other Travesties
Life Beyond the Bar Scene: The End of Four Loko As We Know It
Life Beyond the Bar Scene: Boston's Top 5 Dives