by Laurelin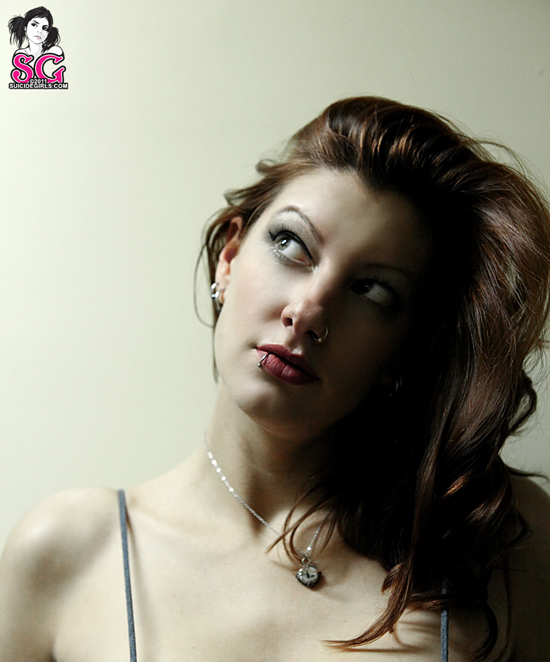 He looked just like he did on TV. Face, smooth and smiling, muscles pressing up against his huge T-shirt and his hat pulled down just enough so that I could still see his eyes. I had started to get up to refill my wine glass, but when I saw him I sunk back down, the air rushing from my lungs as though someone had just squeezed the life out of me. I could feel a flush traveling up my body and suddenly my face was burning, and I turned away so he wouldn't see me.
I rarely meet celebrities. Like every other girl in the world I have dreamt what it would have been like to meet Leonardo DiCaprio, staying calm and collected so that he would shake my hand and look me in the eye. You imagine that if they could just meet you, you would be best friends, they might even fall in love with you, and everything would be right in the world. But that's just in dreams. You will never meet Brad Pitt or Ben Affleck, and they will most certainly not fall in love with you. You are just you after all, a regular girl, who dates regular guys. You are common, and they are special.
He took his time walking around the room, signing autographs and taking pictures with everyone from old ladies to screaming teens to little kids. Still, I sat. I wonder what I'll say when it's my turn, would he remember me from a brief Twitter message I sent that he replied to? Will he think I'm crazy if I bring it up? He moves closer and as he approached I could finally stand and I shook my head, clearing the clouds. He is just a man after all.
I reached out my hand to find his and from somewhere in me comes a voice, and I said, "Hi, I'm Laurelin." He smiled and inside I melted, but outside I must have seemed okay because he started asking me questions, then we laughed and he said that he did remember me from a year ago on Twitter. I made a snarky remark about his clothing and he thought I was funny. I sat back down in my seat and I watched him continue to sign autographs. I clutched the stem of my wine glass and I looked at our photo and I smiled. I'm taller than him.
When I looked up he was sitting next to me.
"Do you have a ticket for tonight?" he asked.
"Yes," I stammered, fumbling around for it. He must want to sign it; he signed everyone else's. I found it and he took it, smoothly scribbling something on the back and pressing it into my palm. I looked down and I see a phone number. My blood ran cold and hot at the same time, and I thought, "Say something clever…"
"Can I drunk dial you later?" I asked, smirking.
"Absolutely," he said, and I die. The girls around me had their jaws on the floor, and as he left he smiled at me and waved. We started texting almost immediately, stopping only because the arena was growing dark and it was time for him to come out.
I think of how all summer I have had no one, nothing but an empty bed and a cat, and now, with the coming fall, the promise of something new. All of a sudden, out of the blue, the promise of something totally just… fun. I slid my phone into my pocket and headed to my seat to watch him. The place is packed, everyone screaming his name, and my phone buzzed one last time.
"Nice to meet you," he said. "I would love to see you again."
I felt sick. I went home that night alone, and I crawled in bed with someone else.
"How was tonight?" my real life non-celebrity boy asks. I buried my face in his neck and hugged as tight as I could.
"It was fine," I said, "really fun."
We fell asleep, and I knew I was right where I belonged.
***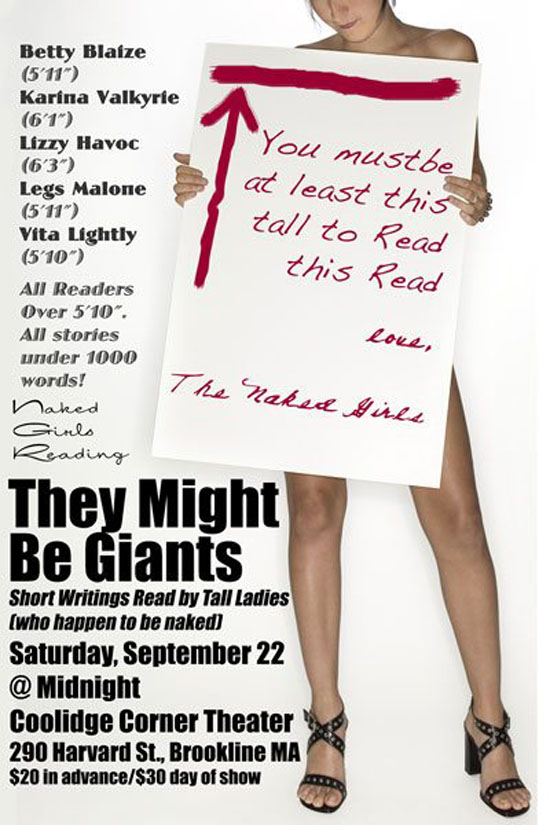 Live in Boston? Want to see Laurelin naked? Then head to the Coolidge Corner Theatre in Boston, MA at 11:59 PM on Saturday, September 22 for the biggest Naked Girls Reading ever. This month's nude reading event is called "They Might Be Giants: Tall Girls Reading Short Stories." Laurelin a.k.a. Lizzie Havoc at 6'3″ is probably taller than you.
Related Posts:
Life Beyond the Bar Scene: Dancing in the Rain
Life Beyond the Bar Scene: Almost Thirty
Life Beyond The Bar Scene: Just Friends
Life Beyond the Bar Scene: Contentment and Other Boring Possibilities
Life Beyond The Bar Scene: Last Friday
Life Beyond the Bar Scene: No One Nails the Cry Face and Other Tales of Woe
Life Beyond the Bar Scene: Of Lies and Half Truths
Life Beyond the Bar Scene: I Would Never Look Through Your Phone and Other Trust Issues
Life Beyond The Bar Scene: My Manager's Pants Look Better On The Floor And Other Tales Of Responsibility
Life Beyond the Bar Scene: Blonde Ambition
Life Beyond The Bar Scene: Love is Better Soaked in Tequila
Life Beyond the Bar Scene: It's Not You, It's Me and Other Tales of Woe
Life Beyond the Bar Scene: Winter is Coming
Life Beyond the Bar Scene: Digital vs. Analogue
Life Beyond the Bar Scene: A Long December
Life Beyond the Bar Scene: Strobe Lights and Glitter
Life Beyond the Bar Scene: Fake It 'Til You Make It
Life Beyond the Bar Scene: Apologies and Other Useless Utterances
Life Beyond the Bar Scene: Liquid Running
Life Beyond the Bar Scene: Anger and Other Mostly Useless Emotions
Life Beyond the Bar Scene: One of the Guys
Life Beyond the Bar Scene: A Case of the Crazies
Life Beyond the Bar Scene: Unsettled
Life Beyond the Bar Scene: Boys of Summer
Life Beyond the Bar Scene: Play On Playa'
Life Beyond the Bar Scene: How to Lose a Girl in Ten Minutes
Life Beyond the Bar Scene: Naked Laurelin Reading
Life Beyond the Bar Scene: Healthy Relationships are for Boring People and Other Mishaps
Life Beyond the Bar Scene: Letting Go
Life Beyond the Bar Scene: Does it Exist?
Life Beyond the Bar Scene: The Dating Game
Life Beyond the Bar Scene: After a Few Beers Everyone Looks Good and Other Love Stories
Life Beyond the Bar Scene: Getting Naked With Laurelin
Life Beyond the Bar Scene: Seven Days and Seven Nights of Sobriety
Life Beyond the Bar Scene: When it's Time to Move On
Life Beyond the Bar Scene: Starting Over and Other Stupid Resolutions
Life Beyond the Bar Scene: He Broke Up with Me on a Post-it and Other Travesties
Life Beyond the Bar Scene: The End of Four Loko As We Know It
Life Beyond the Bar Scene: Boston's Top 5 Dives