by Laurelin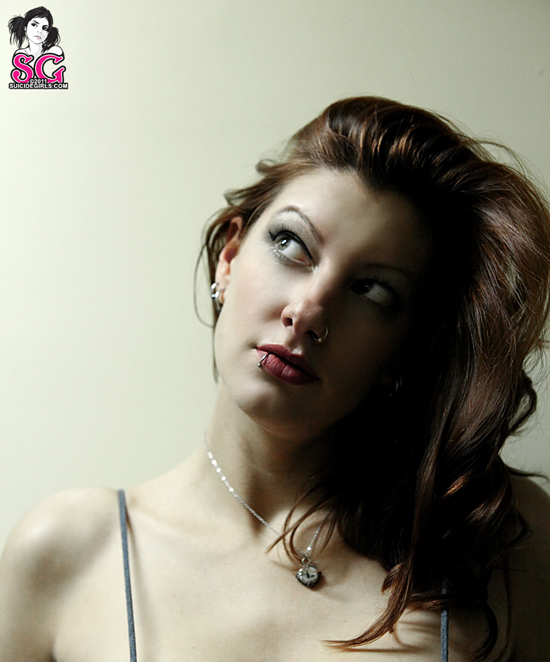 Fucking YES! It's almost here, that holiday we all know and love. The holiday where those in relationships are made to outdo last year's crock of god knows what and those who are single are bitch slapped with loneliness from the second they wake up in the morning until the second they close their eyes at night. God, I fucking love Valentine's Day.
I suppose I do like the concept. A day for love, a day to be thankful for the one you love and the one who loves you. A day meant to remind us all that unless we're in solid, committed relationships, we are alone and unloved. I never understood why Valentine's Day couldn't just be marketed as a holiday to appreciate the little things as well as your amazing momentous relationship. What about everything else? I think you should find something to fall in love with every day. There are so many things to love, and yet with the hustle bustle of every day life these things are often forgotten.
I love so many things I sometimes feel like my heart could just burst through my ribs, like that scene in How the Grinch Stole Christmas. This year, I'm going to take Valentine's Day and remember all the things I love about my life even though I don't have anyone besides a cat to wake up to every morning. Speaking of that, I love the way my cat never wants me to get out of bed. She'll meow and stretch out on my face to get me to scratch her just a second longer. I love my coffee maker. I love my WWE sweatshirt; it fits perfectly and is still warm and fuzzy even after being washed over and over. I love coffee from Refuge Café down the street from my apartment, and I love catching the sun at the perfect moment as it goes down and perfectly silhouettes the Boston city skyline as I start to walk to work.
I love noticing how every day I'm getting a little better at my pull-ups. I love finally reaching that point in running when I find the perfect clip and I don't feel like I'm going to die anymore. I love wrestling. I love to write, to read, I love bartending and I love beer. I especially love that first sip of a cold Coors Banquet once everyone is finally out of my bar and I can catch my breath, shut off the fucking jukebox and regain my sanity.
I love the way this one guy smiles: his eyes squint just a bit and I love his dimples. I love the tiny tattoo another has on his left wrist underneath his watch; I love the freckle another has on his left shoulder blade. I love pulling into the driveway of the house I grew up in on Christmas Eve. I love eggs over-easy and French toast, never pancakes. I love Tuesday nights and the sound of the ocean.
Valentine's Day is February 14th, but there are also 364 others in the year and so much beauty in every day. What's not to love?
Related Posts:
Life Beyond the Bar Scene: Game Over
Life Beyond the Bar Scene: I Knew You Were Trouble
Life Beyond the Bar Scene: Far From Ordinary
Life Beyond the Bar Scene: Picture Perfect
Life Beyond the Bar Scene: Tales of Heartbreak
Life Beyond the Bar Scene: I Almost Do and Other Nostalgic Melodies
Life Beyond the Bar Scene: Unanswered Texts, Missed Calls and Things That Glow in the Night
Life Beyond the Bar Scene: Rescued
Life Beyond the Bar Scene: Star Struck And Other Sly Tales
Life Beyond the Bar Scene: Dancing in the Rain
Life Beyond the Bar Scene: Almost Thirty
Life Beyond The Bar Scene: Just Friends
Life Beyond the Bar Scene: Contentment and Other Boring Possibilities
Life Beyond The Bar Scene: Last Friday
Life Beyond the Bar Scene: No One Nails the Cry Face and Other Tales of Woe
Life Beyond the Bar Scene: Of Lies and Half Truths
Life Beyond the Bar Scene: I Would Never Look Through Your Phone and Other Trust Issues
Life Beyond The Bar Scene: My Manager's Pants Look Better On The Floor And Other Tales Of Responsibility
Life Beyond the Bar Scene: Blonde Ambition
Life Beyond The Bar Scene: Love is Better Soaked in Tequila
Life Beyond the Bar Scene: It's Not You, It's Me and Other Tales of Woe
Life Beyond the Bar Scene: Winter is Coming
Life Beyond the Bar Scene: Digital vs. Analogue
Life Beyond the Bar Scene: A Long December
Life Beyond the Bar Scene: Strobe Lights and Glitter
Life Beyond the Bar Scene: Fake It 'Til You Make It
Life Beyond the Bar Scene: Apologies and Other Useless Utterances
Life Beyond the Bar Scene: Liquid Running
Life Beyond the Bar Scene: Anger and Other Mostly Useless Emotions
Life Beyond the Bar Scene: One of the Guys
Life Beyond the Bar Scene: A Case of the Crazies
Life Beyond the Bar Scene: Unsettled
Life Beyond the Bar Scene: Boys of Summer
Life Beyond the Bar Scene: Play On Playa'
Life Beyond the Bar Scene: How to Lose a Girl in Ten Minutes
Life Beyond the Bar Scene: Naked Laurelin Reading
Life Beyond the Bar Scene: Healthy Relationships are for Boring People and Other Mishaps
Life Beyond the Bar Scene: Letting Go
Life Beyond the Bar Scene: Does it Exist?
Life Beyond the Bar Scene: The Dating Game
Life Beyond the Bar Scene: After a Few Beers Everyone Looks Good and Other Love Stories
Life Beyond the Bar Scene: Getting Naked With Laurelin
Life Beyond the Bar Scene: Seven Days and Seven Nights of Sobriety
Life Beyond the Bar Scene: When it's Time to Move On
Life Beyond the Bar Scene: Starting Over and Other Stupid Resolutions
Life Beyond the Bar Scene: He Broke Up with Me on a Post-it and Other Travesties
Life Beyond the Bar Scene: The End of Four Loko As We Know It
Life Beyond the Bar Scene: Boston's Top 5 Dives