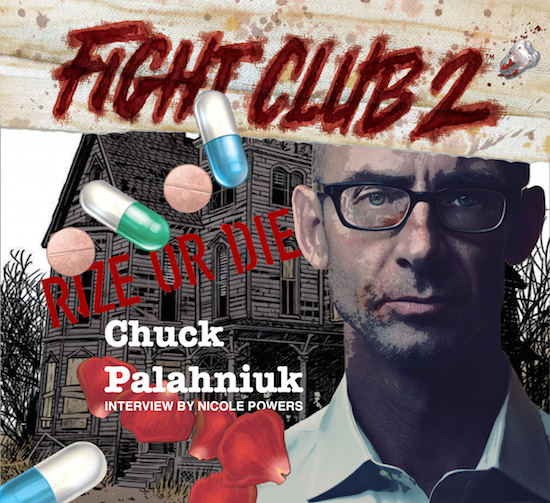 "Human beings don't cultivate ideas.
On the contrary… ideas cultivate us."
— Dr. Wrong, Fight Club 2
The years haven't been kind to Sebastian, aka The Narrator, aka the co-founder of Fight Club. Having traded his position as leader of Project Mayhem — an underground organization inspired by the Cacophony Society and its precursor the Suicide Club — for all the trappings of the American dream, Sebastian now has a 9 to 5 job, a wife, a home and a kid, and is the father he vowed he'd never become. Trapped in the mundanity of this seemingly cookie-cutter life, Sebastian seeks solace in his psychiatrist, Dr. Wrong, and the prescription pills he pedals. Meanwhile, Tyler Durden, Sebastian's stalwartly subversive alter-ego, has been biding his time, plotting his comeback to wreak havoc on a society that is, for the most part, populated by sheep in need of a shepherd, or a surrogate father as writer, mythologist and philosopher Joseph Campbell might say. And thus, a new installment of junior-arsonist-turned-adult-novelist Chuck Palahniuk's iconic Fight Club begins.
Taking comic book form, the long-awaited and much-anticipated sequel to the original 1996 Fight Club novel (on which David Fincher's 1999 movie was based) first hit stores in May, 2015. The ten-part series paired Palahniuk's dialog and plot with art by Cameron Stewart (whose credits include Batman, Batgirl, Catwoman, Assassin's Creed and SuicideGirls' own comic series, to name but a few). This sequel was something that Palahniuk resisted for many years. However, ideas sometimes have a life of their own, and this one was pulling Palahniuk back to Project Mayhem's home on Paper Street. Now, as the series is being collected and bound together as a hardcover graphic novel (out June 28 via Dark Horse Comics), Palahnuik is working on the third installment of an idea, which like Tyler Durden, refuses to die. We caught up with Palahniuk by phone to find out more…
Read the full interview on SuicideGirls.com.