By Blogbot
This Wednesday, July 26 on SuicideGirls Radio, hosts Bradley Suicide and Nicole Powers will be joined by two LA-based artists who share common roots in journalism: Abby Martin of The Empire Files and Plastic Jesus of…well we can't say because he's elusive like that 😉
The duo will be sharing gallery space next month at The Hive Gallery in Downtown LA for "TAWDRY" — a show curated by Art With Teeth which aims to highlight disruptive artistic talent. The show is about: "the brave, new lows dredged up with this latest fetid parade of disaster capitalism." The opening night reception is on August 5th from 8 til 11 PM. (Entry: suggested $5 donation.) For more info visit the Facebook event pages posted by Art With Teeth and The Hive.
**UPDATE**
Watch last night's show featuring Abby Martin and Plastic Jesus here or via the player below:
For updates on all things SG Radio-related, like us on Facebook and follow us on Twitter and Instagram.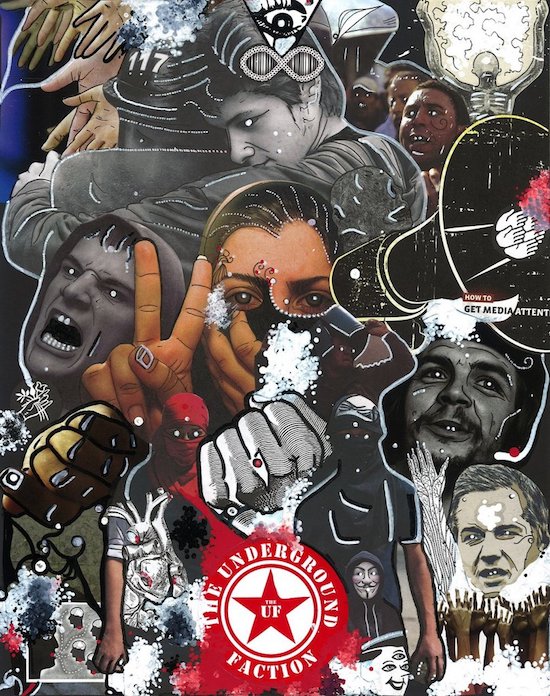 About Abby Martin
After graduating from San Diego State University, Abby Martin founded Media Roots, a platform for citizen journalists, in 2009. While working as a citizen journalist covering Occupy, her fearless reports from the front lines of the embattled occupation in Oakland brought her to the attention of RT News, where she began working as a correspondent.
Her reports for the station offered a perspective on the movement that was all but censored by the mainstream media, who were threatened both by the anti-capitalist sentiment of Occupy Wall Street and by the rise of the citizen journalists it brought to the fore. A year after Occupy began, in September 2012, Abby began hosting her own highly respected show, Breaking The Set. In 2015, she left RT to focus on investigative journalism, launching The Empire Files which can been seen via TeleSUR.
When she's not risking her life in far flung corners of the globe to speak truth to power and shed light on that which the powers-that-be would rather remain in the shadows, Abby works as an artist — a practice which she views as a "way to interpret the ugly truths in the world and reflect a better future."
For more on Abby Martin visit:
abbymartin.org
theempirefiles.tv
facebook.com/AbbyMartinArt/
facebook.com/JournalistAbbyMartin/
twitter.com/AbbyMartin
instagram.com/fababs/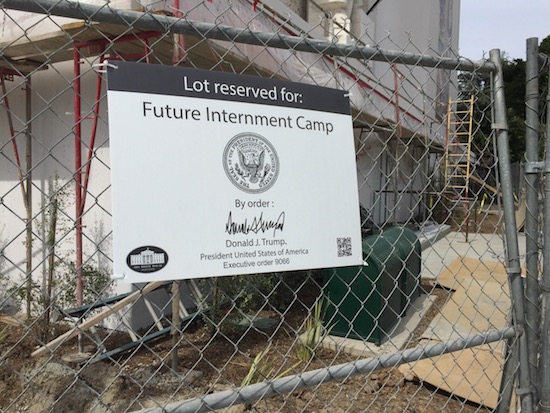 About Plastic Jesus
Plastic Jesus is a Los Angeles based street artist that specialises in bold stencil and installation work, inspired by world news events, society, the urban environment, culture, and politics. His critically acclaimed work combines humor, irony, criticism and unique opinion to create art that engages on many levels.
Often questioning the norms in society, Plastic Jesus confronts our compliance of culture and current affairs. The artist uses scale and contradiction as a means to highlight issues and opinions that often go unquestioned. The aesthetic appeal of his work combined with the engagement produces an addictive mix that challenges our acceptance.
Plastic Jesus is not about revolution, he is not an anarchist but would like to see some changes around the place. His work is more about shining a small light into some of those dark corners of society. Prior to his commitment to produce provocative street art Plastic Jesus has worked for over two decades as a photographer and photojournalist.
For more on Plastic Jesus visit:
plasticjesus.net/
facebook.com/plasticjesusart
instagram.com/plasticjesus/
twitter.com/plasticjesusart
plasticjesusart.tumblr.com

The World's Leading BYOB Radio Show Is Sponsored By Mangria
"As a nightly consumer of red wine, I was shocked one evening to find I had just half a glass left in the bottle. So I did what any decent alcoholic, ex-con, American would do… I went to the fridge and the liquor cabinet, then poured, mixed and measured. Thus Mangria was born." — Adam Carolla
SuicideGirls Radio / Carolla Drinks Offer
You can purchase all three delicious flavors of SGR's fave luscious libation, Mangria — and the most excellent Endless Rant IPA — via CarollaDrinks.com. Fans of SG Radio can get $5 off any bottle of Mangria using this special discount coupon code: SG (unlimited use, code is good until December 31, 2017).
For more info visit Carolla Drink's website, Facebook, Twitter, and Instagram.