By Blogbot
This Wednesday, Sept 13 on SuicideGirls Radio, hosts Nicole Powers and Bradley Suicide will be joined by NYC-based, funk/jam band Gridline.
You can listen – and watch – SuicideGirls Radio live on Wednesday nights from 8 til 9 PM at our state-of-the-art, all digital home on zinna.tv.
For updates on all things SG Radio-related, like us on Facebook and follow us on Twitter and Instagram.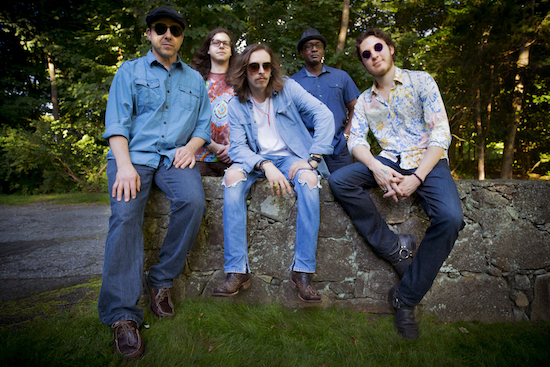 About Gridline
Five years in the making, Gridline continues to captivate audiences with their high-octane blend of funk, soul, and rock and roll. Their upcoming full-length debut album, Soul Brew, is a culminating snapshot of a live band in motion. The eight original songs on the record were developed over years of performing late night sets as the house band of NYC's historic club, The Bitter End. The album also features notable contributions from established members of the extended Gridline family, including vocalist Corey Glover (Living Colour), Kim Miller (The Skatalites), Joel Thome (Frank Zappa), Mike Soprano (Streetlight Manifesto), and the Scorchio Quartet (David Bowie).
Founded in New York in 2012, kindred spirits Dan Kottmann (guitars, lead vocals) and Andrew Yanchyshyn (bass, vocals) found common ground on their local college music scene at SUNY Purchase. Together, they formed a band and caught attention through organizing and headlining DIY psychedelic sets at campus venues that they converted for live performances. After years of East Coast touring and lineup changes, the group has expanded to include Syracuse musician Neal Spitzer (saxophones, EWI), a tour-de-force on the saxophone and in the writing studio, Zach Schepis (guitars vocals), the missing lyrical link that now bonds them together, and recently, the addition of powerhouse Queens-based drummer Dorsey "Sky" Parker.
Featured in Relix Magazine as up-and-coming artists, the band has been nationally recognized as something of a rarity in today's music scene. With members of varying ages and experiences, each musician contributes to a diverse sound that is equal parts energetic and refined. The band has opened for artists such as Iggy Azalea, Galactic, Max Creek, Kung Fu, Sister Sparrow & The Dirty Birds, and The Nigel Hall Band, and continues to set their sights higher and higher.
Stay tuned for the September 2017 release of Soul Brew, with tour dates and more announcements to follow.
For more on Gridline visit:
gridlinejam.com
facebook.com/gridlinejam/
twitter.com/gridlinejam
instagram.com/gridlinejam/

The World's Leading BYOB Radio Show Is Sponsored By Mangria
"As a nightly consumer of red wine, I was shocked one evening to find I had just half a glass left in the bottle. So I did what any decent alcoholic, ex-con, American would do… I went to the fridge and the liquor cabinet, then poured, mixed and measured. Thus Mangria was born." — Adam Carolla
SuicideGirls Radio / Carolla Drinks Offer
You can purchase all three delicious flavors of SGR's fave luscious libation, Mangria — and the most excellent Endless Rant IPA — via CarollaDrinks.com. Fans of SG Radio can get $5 off any bottle of Mangria using this special discount coupon code: SG (unlimited use, code is good until December 31, 2017).
For more info visit Carolla Drink's website, Facebook, Twitter, and Instagram.