By Blogbot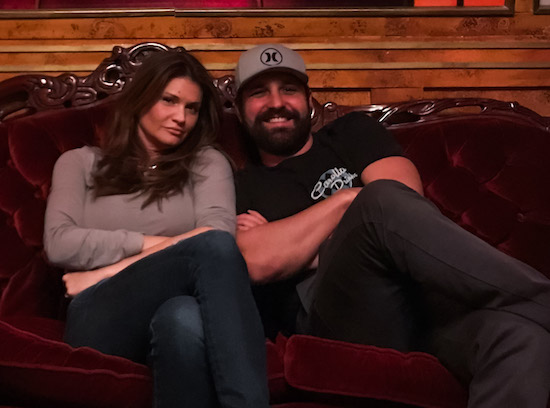 This Wednesday, April 5 on SuicideGirls Radio, hosts Nicole Powers and Bradley Suicide will be joined by Lynette Carolla and Jay Miller of Carolla Drinks, who make our fave luscious libation, Mangria.
**UPDATE**
ICYMI: Watch last night's show feat. Lynette Carolla and Jay Miller of Carolla Drinks here or via the player below.
You can listen – and watch – SuicideGirls Radio live on Wednesday nights from 8 til 9 PM at our state-of-the-art, all digital home on zinna.tv or on our Facebook page via Facebook LIVE!
For updates on all things SG Radio-related, like us on Facebook and follow us on Twitter and Instagram.
About Lynette Carolla, Jay Miller, and Carolla Drinks
Lynette Carolla grew up in Souther California with her Italian parents and brothers. At age 7, Lynette's parents enrolled her in SAG/AFTRA and got her an agent. During her youth she's booked several acting jobs including a commercial for Cadillac, an ABC TV movie of the week, and a Mighty Carson Art Player on the Tonight Show with Johnny Carson.
Growing up in the industry, her father Richard was an advertising director at a local television station, Lynette knew she didn't want to be an actress. She was interested in the business side of television. Starting her career working in syndication sales for companies for the big four networks, she quickly learned the process of developing, producing and syndicating for TV with many shows such as Roseanne, Third Rock From The Sun, and That 70's Show.
At the age of 25, Lynette was working for Brandon Tartikoff's New World Entertainment when she met a young, struggling comedian at the beginning of his career, Adam Carolla. Adam had just finished shooting a pilot for FOX affiliates called Loveline based on his radio show with Dr. Drew. In 1997, Lynette moved over to ABC Television as manager of Programming and Scheduling for Primetime. In 2002, Adam and Lynette were married, and in '06 their twins Santino and Natalia were born.
In 2009, Adam started his own podcasting network and Lynette started a podcast which she still hosts twice a week titled For Crying Out Loud with her co-host and bestselling author/comedian, Stefanie Wilder-Taylor, where they discuss everything from raising twins to relationship woes of being in a longterm marriages, to Netflix series and books they're obsessed with. Nothing is off limits, which unfortunately leads to uncomfortable situations such as Parent Nights at the kids schools.
***
When Lynette was 4 months pregnant, Adam's pal Jimmy Kimmel saw Lynette struggling with groceries up the stairs. He suggested they hire a friend of his family who was moving out from Chicago, Jay Miller. He started as Lynette's assistant, carrying groceries, housework and buying baby formula. After the twins were born in 2006 Jay went on to be Adam's personal assistant working out of their home in Hollywood, CA. Jay did everything from coordinating travel, setting meetings to ordering car parts, organizing Adam's home garage and refurbishing Adam's growing car collection. Because of Adam's busy schedule Jay was often left in charge of major projects involving construction at Adam's home. Jay oversaw the demolishment to the building of Adam's super garage which was featured on the cover of Fast Company magazine in 2009.
***
Adam often talked about making himself a high octane, wine cocktail at home called Mangria on his popular podcast, The Adam Carolla Show, which resulted in calls from Napa. The winery asked if he was interested in actually bottling the cocktail, they would be happy to send over a few samples to try and narrow down the perfect formula. Once the signature Red Mangria gained popularity, they developed a new white flavor, followed by the Brose.
Adam being as busy as Adam always is, he handed the alcohol brand over to Lynette to run as she was adiment that females would love the product as well — even though 'Man' was in the title. Having no experience in the alcohol industry, no seed money other than what was being provided by the Carollas, Lynette recruited their adoptive son, Jay Miller. It made perfect sense to have Jay partner up with Lynette to launch Mangria and take it to the next level. With Jay's law degree, his connections and knowledge of the alcohol industry, plus being a member of the Carolla family, Jay decided to go full time building the Carolla Drinks brand.
In Jan of 2016, a brewery out of Redondo Beach showed up at one of Adam's live shows and offered him a few samples to take home of their IPA beer. Jay knew the guys from King Harbor and helped them facilitate a deal with Carolla Drinks. Within 4 months the launch of King Harbor's Adam Carolla's Endless Rant IPA was born and launched at Adam's Toyota Grand Prix race last year.
Carolla Drinks is powered by Lynette Carolla as CEO and Brand Ambassador, with Jay Miller who is the COO, CTO as well as head of Marketing and Distribution. Carolla Drinks is unique, and unlike the majority of celebrity endorsed alcohol beverage companies on the market, as it is solely funded and ran by the Carolla's personally. Carolla Drinks is a grassroots, boots on the ground, family owned and operated company. Relying on the loyal Adam Carolla fanbase to spread the word and having a solid, good tasting product that puts the brand above all others. The Carolla Digital employees who work for Adam at the podcast studio daily, have been embraced by his audience and have grown to be known as The Lackeys. Today The Lackeys travel with Lynette and Jay around the country nationally hosting their infamous Carolla Drinks Bar Crawls.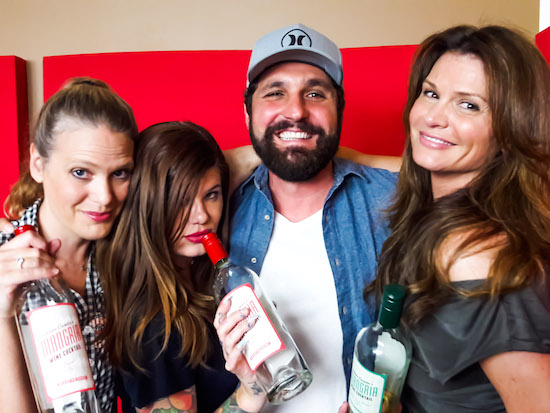 SuicideGirls Radio / Carolla Drinks Offer
You can purchase all three delicious flavors of Mangria — and the most excellent Endless Rant IPA — via CarollaDrinks.com. We're excited to announce that fans of SG Radio can get $5 off any bottle of Mangria using this special discount coupon code: SG (unlimited use, code is good until December 31, 2017).
Related Posts
SG Radio feat. Lynette Carolla
SG Radio feat. Beer… And The Carolla Drinks Boys!

The World's Leading BYOB Radio Show Is Sponsored By Mangria
"As a nightly consumer of red wine, I was shocked one evening to find I had just half a glass left in the bottle. So I did what any decent alcoholic, ex-con, American would do… I went to the fridge and the liquor cabinet, then poured, mixed and measured. Thus Mangria was born." — Adam Carolla
For more info visit Carolla Drink's website, Facebook, Twitter, and Instagram.