by Blogbot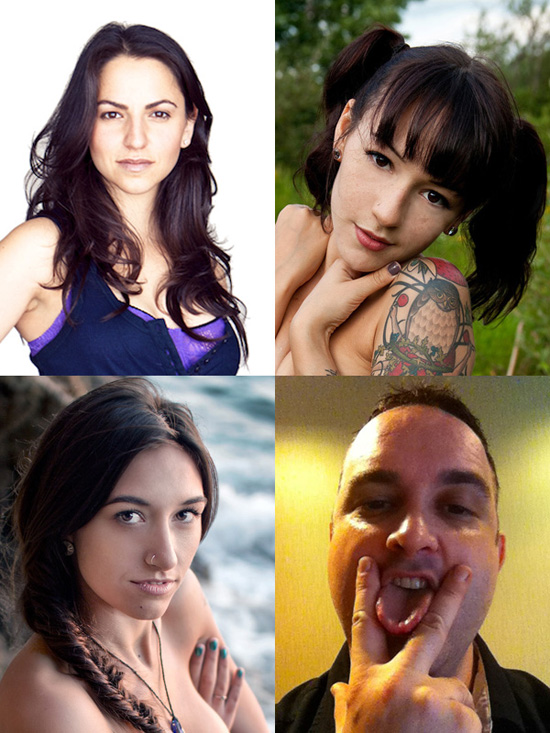 This Thursday, August 1st on SuicideGirls Radio host Nicole Powers will be joined in studio by dating expert Marni Kinrys of The Wing Girl Method and podcaster and online personality Vince In The Bay. Though they occupy very different worlds, they have much in common. As a mainstay of the Pick Up Artist scene, Marni teaches Social Engineering skills to men who want to improve their love life, and as the host of a popular Blog Talk Radio show which is beloved by hackers, trolls and Twitter tricksters, Vince is surrounded by denizens of the internet who are experts at SE. This week's panel will be completed by VICE contributor Dell Cameron, and special guest co-hosts Moon and Brewin Suicide.
You can listen – and watch – the world's leading naked radio show live on Thursday nights from 6 til 8 PM at our new state-of-the-art all digital home: TradioV.com/LA.
You'll also be able to listen to our podcasts via Stitcher – download the app now!
If you have questions for the SG Radio crew or our guests, you can call in during the live broadcast at: 1-855-TRV-inLA (1-855-878-4652)
For updates on all things SG Radio-related, like us on Facebook and follow us on Twitter.
About Marni Kinrys | @WingGirlMethod
Educated at University of Western Ontario (Canada) with a BA in psychology, Marni Kinrys is the ultimate Wing Girl. A woman who puts her insider knowledge to good use for the betterment of all men by telling them what women really want, not what they say they want. Over the past eight years, Marni has collaborated with the top male attraction experts, sharing expertise and advice to help men find their ideal partners. She has worked with thousands of men all over the world to help them understand women so they can attract, date, seduce and get any woman they want without being a jerk. Her method is based on the key principle that: You gotta turn yourself on first before any woman will ever be attracted to you. Marni was recently awarded "World's Best Female Pick-Up Artist" from the World Pick Up Artist Summit in Hollywood, CA and was honored as the "World's Best Wing Girl" at the 2010 Global Pick-Up Conference. For more on Marni and her dating technique visit: winggirlmethod.com
About Vince In The Bay | @VinceintheBay
Vince is a podcaster, filmmaker, cyber criminal and activist based in the San Francisco Bay Area. Vince's short films have screened at various film festivals and his short documentary "A Subway Siren" was broadcast on PBS. He has shot/produced music videos for artists such as The Coup, Atari Teenage Riot, Galactic, and Black Sheep. As an activist, Vince has participated in campaigns against The Federal Reserve (End The Fed) and BART Police (Operation BART). Presently he is host of "Disorderly Conduct", an Internet radio call-in show covering current events, digital activism, cyber crime, technology, politics, music, sexuality and featuring calls from some of the Internet's most mentally challenged characters. Listen here: blogtalkradio.com/vinceinthebay
**UPDATE**
ICYMI: Here's our August 1st pre-DefCon show featuring Marni Kinrys (Wing Girl), Vince In The Bay (Blog Talk Radio), Dell Cameron (VICE), and Brewin and Moon Suicide. Interweb trouble has a habit of following Vince around and this show was no exception. Though it was perhaps fitting that on the eve of our trip to the hacker-fest that was DefCon 21 in Las Vegas, our show got DDoSed and pizza bombed, and one of our girls got d0xed, all in the space of two short hours!