by Blogbot
This Sunday, September 4th, SG Radio's in-studio guests will be Bravo TV's Millionaire Matchmakers, Destin Pfaff and Rachel Federoff. Now in its 5th season, the highly addictive reality show follows the romance fortunes of members of the infamous Millionaire's Club, a Los Angeles-based matchmaking service strictly for those with extremely desirable bank balances (this last week's 'The Prince and The Geek' episode was a classic!). Destin and Rachel will be offering up dating advice worth its weigh in gold, and will also be talking about Destin's new movie, Sushi Girl (which he co-produced and co-wrote –– see trailer), a killer thriller which stars Sonny Chiba (Street Fighter), Mark Hamill (Star Wars), Noah Hathaway (Neverending Story), and newcomer Cortney Palm in the title role.
Tune in to SG Radio this Sunday September 4th (10 PM til midnight) for two hours of dating advice and movie talk – and don't let your moma listen in!
Listen to SG Radio live Sunday night from 10 PM til Midnight on Indie1031.com
Got questions? Then dial our studio hotline digits this Sunday between 10 PM and midnight PST: 877-900-1031
Busy on Sunday? Then find all our podcasts on iTunes and listen at your leisure.
And don't forget to follow us on Twitter.
About Destin Pfaff
Born in Santa Barbara, California, Destin Pfaff attended college where he received top honors for his work in fiction and journalism. Upon completion of his schooling, Destin moved to Los Angeles to pursue his career in screenwriting and producing. Films include The Disembodied and Sushi Girl – starring Sonny Chiba, Mark Hammil, Danny Trejo and Tony Todd.
COO of the Millionaire's Club and co-star of The Millionaire Matchmaker, Destin runs every aspect of the company – as well as CEO, Patti Stanger's other business ventures.
Pfaff and Stanger have partnered in numerous film, literary and television endeavors including co-hosting XM Radio's hit show P.S. I Love You, co-authoring the book Mancatcher Meals and writing/producing the film Married In A Year – which is now available in retail stores everywhere.
His script RIPP received a top nod at ScreamfestLA. He is slated to direct the 3-D horror film Licorice Kisses.
He has been featured in numerous magazines, blogs and newspapers – and can be found all over the web. He has been a guest on Loveline with Dr. Drew, NBC News, SG Radio as well as many others.
Destin is engaged to Rachel Federoff, also on The Millionaire Matchmaker. They have a son together, Sin Halo Jude Pfaff.
Follow Destin on Facebook and Twitter.
About Rachel Federoff
Wanting to utilize her background in booking and casting, Rachel Federoff jumped at the opportunity to work at the Millionaire's Club after watching how much her then boyfriend, Destin Pfaff, enjoyed spending time with Patti Stanger. Although Pfaff was hesitant, with a little persuasion, he gave in and she joined the team. Now, Federoff is the VP of Matching and also oversees the company's Registration Department and Gay Division.
Born in the Orange County suburb of Tustin, California, Federoff attended Fullerton College where she studied Psychology and Theater Arts. She is a self-described "Jill of all Trades" with a variety of unique interests and abilities including charity work and producing short films. She is former special effects make-up artist and alternative clothing model.
Rachel is the co-star of The Millionaire Matchmaker on Bravo, is currently slated to appear in the film Deader Living Through Chemistry (based on the award winning short film featured on George Romero's Diary of the Dead DVD) and is a contributor to a national blog.
She is now engaged to Pfaff and they have a son together, Sin Halo Jude Pfaff.
Follow Rachel on Facebook and Twitter.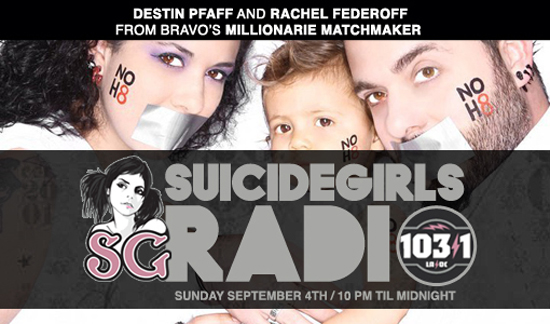 Related Posts
SG Interview: Destin Pfaff – Sushi Girl
Sonny Chiba: From Street Fighter To Sushi Girl
SG Interview: Rachel Federoff – Millionaire Matchmaker
SG Interview: Destin Pfaff – Millionaire Matchmaker