by Blogbot
This Thursday June 13th on SuicideGirls Radio hosts Nicole Powers and Juturna Suicide will be joined in studio by Dirty Sanchez and Joey Ryan of the Mexican masked wrestling burlesque comedy troupe Lucha VaVOOM. The group draw their inspiration from the bizarre world of '60s Mexican Lucha Cinema, where brave, masked wrestling crime fighters save the world from evil with an obligatory stop at the local go-go club.
You can listen – and watch – the world's leading naked radio show live on Thursday nights from 6 til 8 PM at our new state-of-the-art all digital home: TradioV.com/LA.
You'll also be able to listen to our podcasts via Stitcher – download the app now!
If you have questions for the SG Radio crew or our guests, you can call in during the live broadcast at: 1-855-TRV-inLA (1-855-878-4652)
For updates on all things SG Radio-related, like us on Facebook and follow us on Twitter.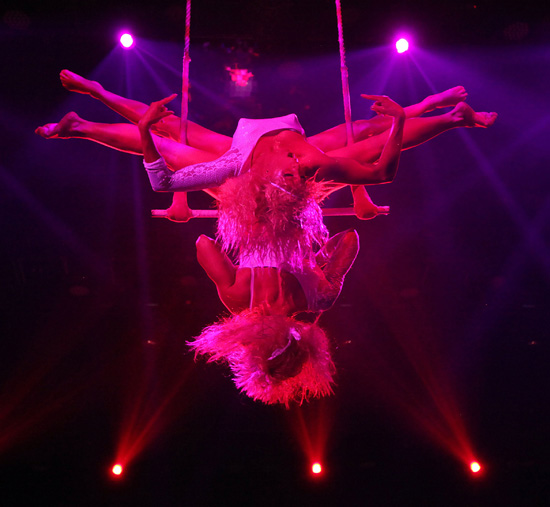 About Lucha VaVOOM
Founded in Los Angeles in 2002 by Rita D'Albert and Liz Fairbairn, Lucha VaVOOM is non-stop, action-packed surrealism where Mexican masked wrestlers perform breathtaking acrobatic feats in a fast-paced, fun-filled, character-driven style. Known for their far-out flamboyance, its quick, exhibition-style, one-fall Lucha Libre matches designed for maximum enjoyment and action.
Since 2002, LUCHA VaVOOM has regularly sold out 1,000-seat venues across the globe (Amsterdam, Calgary, Toronto, San Francisco, New York, Chicago, Seattle, Portland and Philadelphia, among many other cities). When not on the road, the troupe calls downtown Los Angeles' Mayan Theater–an elaborately appointed, 1927-built former motion-picture palace–home.
Earlier this year Lucha VaVOOM headlined the "El Jimador Mexican Wrestling Bar" at Australia's Big Day Out 2013 Festival where Ben O'Shea from YAHOO.AU.COM noted (1/24), "Sex and violence – it's a winning combination but you're unlikely to find it done as successfully or with such feel-good humour as Lucha VaVOOM…"
Coming off their sold-out Sunday, May 5 Cinco de Mayan show at the The Mayan in Downtown Los Angeles, LUCHA VaVOOM is responding to public demand and will stage another Cinco de Mayan show on July 11 at The Mayan in Downtown Los Angeles. This marks the very first timeLUCHA VaVOOM–the high-octane mix of Mexican-style lucha libre wrestling, traditional burlesque and blow-by-blow comedic commentary–has performed their Cinco de Mayan show in July.
Tickets are currently on sale HERE.
For more on Luca VaVOOM visit their website, Twitter and YouTube channel.
**UPDATE**
ICYMI: Here's the video-pod of last week's show featuring Dirty Sanchez and Joey Ryan of the Mexican masked wrestling burlesque comedy troupe Lucha VaVOOM.