by Blogbot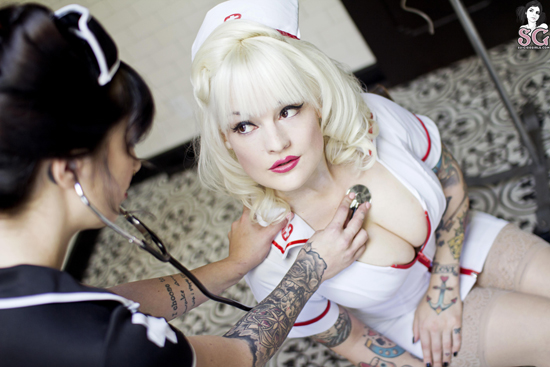 [Chloe and Charmaine in Nurse 3D.]
Hawtness alert: Check your pulses, because this week's show's gonna raise your blood pressure it all the right places. On Thursday, September 18th the SuicideGirls Radio studio will be invaded by more Suicide Girls than ever before. Hosts Moxi and Chloe Suicide will be joined by Luci, Lyxzen, Charmaine, Euphemia, Liryc, and Cheyenne – can your ticker handle this much heat?
You can listen – and watch – the world's leading BYOB radio show live on Thursday nights from 6 til 8 PM at our new state-of-the-art all digital home: TradioV.com.
If you have questions for the SG Radio crew or our guests, you can call in during the live broadcast at: 1-855-TRV-inLA (1-855-878-4652)
For updates on all things SG Radio-related, like us on Facebook and follow us on Twitter.