by Blogbot
[Above: Video by Zach Roberts / @zdroberts]
Here's some of our favorite moments from Comic Con 2012. Tell us about yours in the comments section below.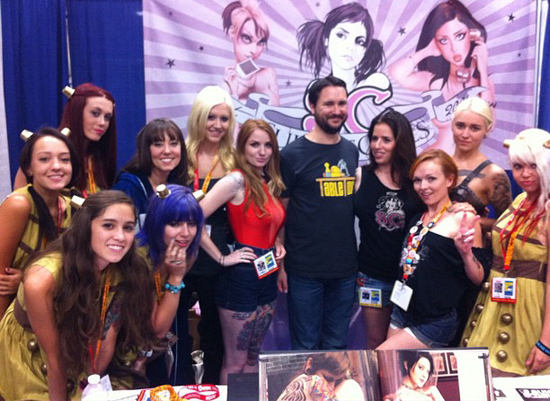 [Above: Wil Wheaton stops by the SG booth.]
"I love Comic Con so much. This year was my first time working the booth, so my favorite part was being able to meet so many girls and the fans! But the best part EVER was seeing Venom Suicide pole dance at the club after. She is soooo hot!" – LaneyChantal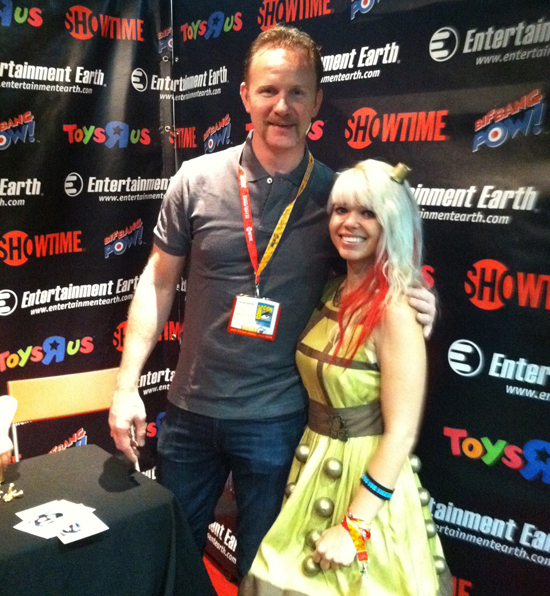 "I had the moment of my life at Comic Con 2012. I met my hero, Morgan Spurlock – and I got to share a bed with Rambo! Also, we were lucky enough have Will Wheaton stop by our booth, and Cameron Stewart surprised us with a CCSD 2012 SG Exclusive Comic Drawing of all of us girls. It was just amazing!" – Ackley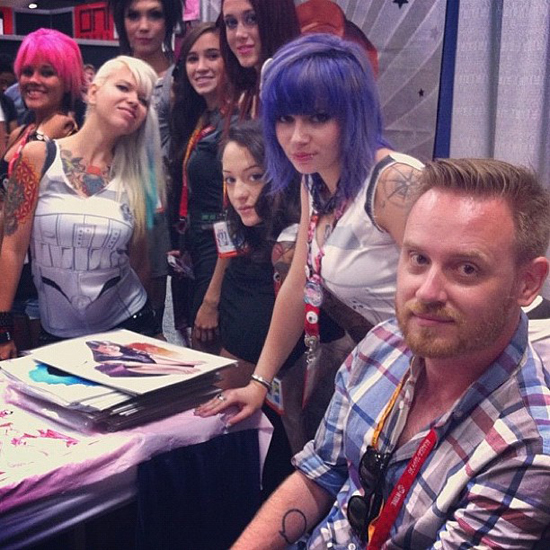 [Above: SG Comic Book artist Cameron Stewart stops by the SG booth.]
"My favorite part was getting to see (and take pictures with) many different people in various costumes. I love to see what comic fans come up with. It was also fun to meet more SGs and instantly get along with them." – Severen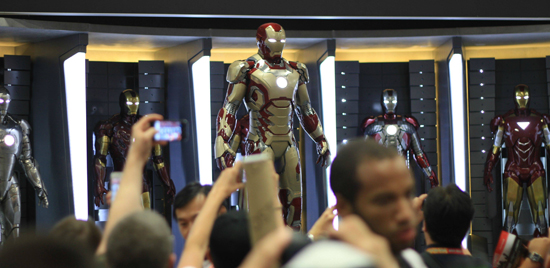 "Being able to see Mark VIII from Iron Man 3 made me weak in the knees just a bit" – Tristyn
"The highlight of SDCC for me was meeting 'Lenore' creator Roman Dirge. He drew a quick sketch in the newest hardcover Lenore edition for me and we chatted about an upcoming movie. 
I also really enjoyed meeting the California Suicide Girls and having them sign my copy of the coffee table book." – Thanatogenous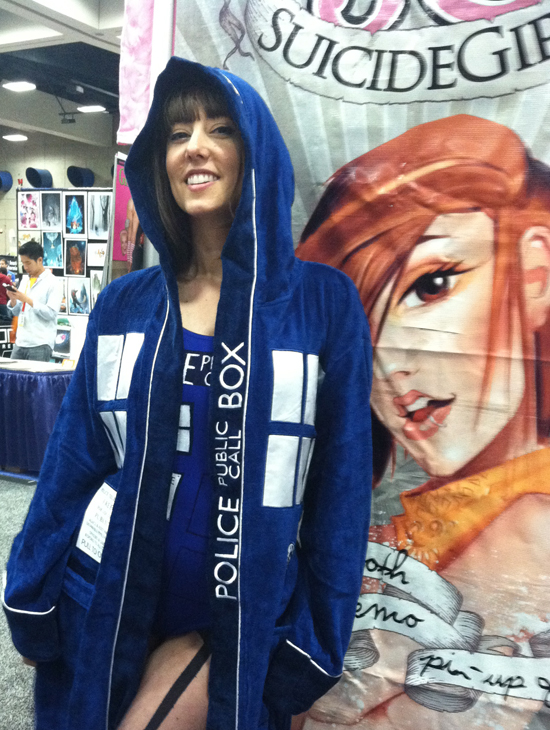 "Everything about ComicCon is so exciting and memorable. It's the highlight of my year. It's so hard to pick one thing as my favorite moment out of the five days of non-stop nerdsplosion of epicness. But, nothing beats the 'con exclusive' friendships that are formed and renewed while you're geeking out together over booths, swag, and sneak-peek announcements. The SuicideGirl booth during SDCC is the best place to be in the world!" – Bob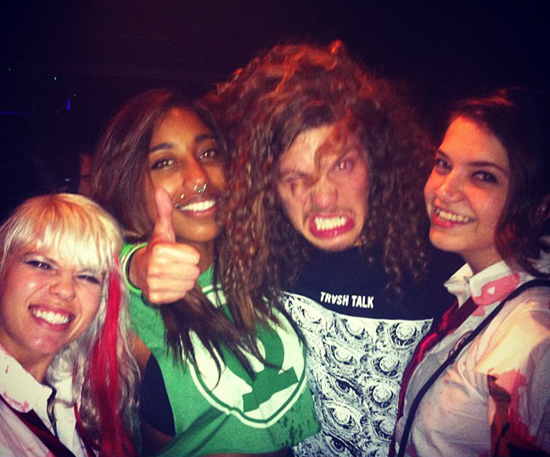 "What better than meeting a bunch of beautiful girls and finding out that they are super nice and like to party as much as you? Nothing. Add a night of Andrew WK, sexy costumes and meeting some of the nicest fans into the equation, and it made for a win-win weekend!" – Brewin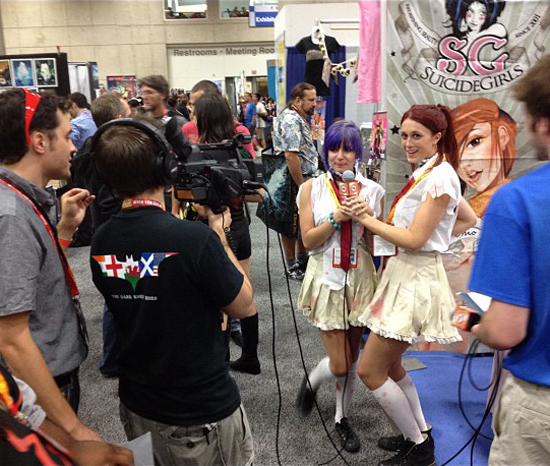 "My highlight had to be when a guy dressed as Boba Fett dropped down on one knee and pretended to propose to me in front of a huge crowd. I almost passed out from excitement. That moment made the entire trip worth it!" – Phecda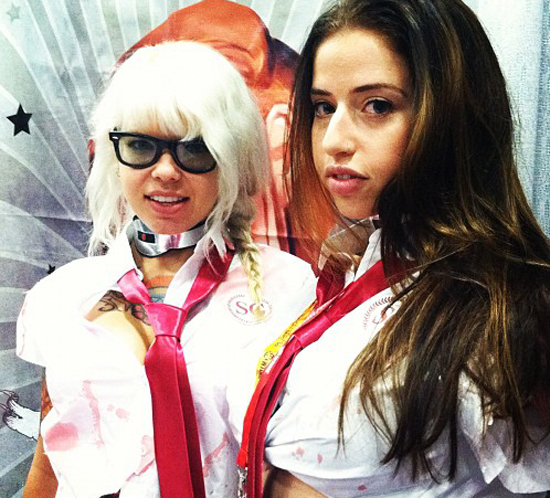 "My favorite Comic Con 2012 moments were watching Bob Suicide rage at the Andrew WK/ SG party, hearing Sash Suicide squeal when she ran into Opie from Sons of Anarchy, seeing the look of excitement on Milloux Suicide's face when she came face to face with her TV crush, talking to fans from all over the world, including Germany, England & Costa Rica, and the girl talk and gossip in the hotel with my fellow Suicide Girls. Nothing is bigger than SDCC and no one has more fun than the Suicide Girls ;)" – Tita
"My favorite comic con moment has to be the time I spend with all the girls, and catching Marvel's Avengers vs. X-Men panel. – Lolana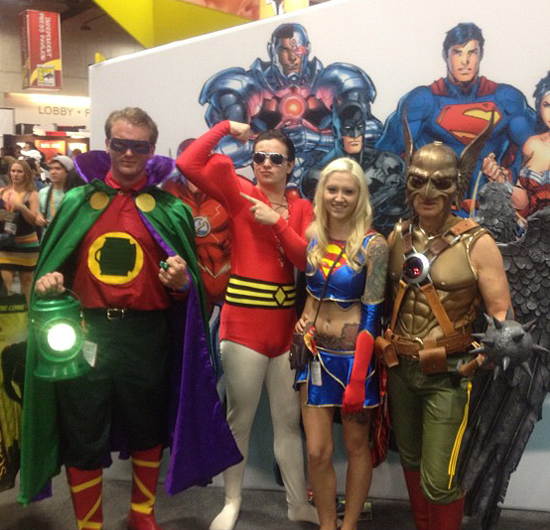 "One of my favorite moments, or should I say hours, was at the DC booth. I was second in line for an Autograph by Scott Snyder (the New 52 Swamp Thing Batman). A very nice DC employee gave this obsessive fan girl a wristband for a later autograph session with Jim Lee (JLA, Infinite Crisis) and Geoff Johns (JLA, Green Lantern). Wristbands? I didn't know anything about wristbands. He pulled one out of his pocket and put it on my arm. I drooled and contemplated hugging him. I now have several of the New 52 #1s double and triple signed by some of the most awesome people in the comic universe. Also, I acquired a variant cover of Lady Meachanika #3 (Aspen) and got it autographed by Joe Benitez – one of my favorite series that everybody should check out by the way. I thanked each one of them for all the awesome and can't wait to come back next year." – Elea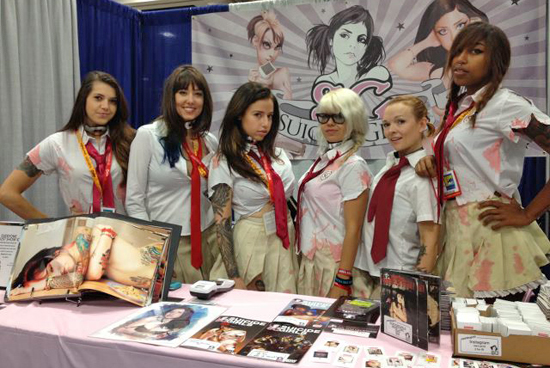 Thanks to everyone who stopped by the booth to say hi. We loved meeting each and everyone of you, and really appreciate all the love and support. See you at Comic Con 2013 – we're already country down the days.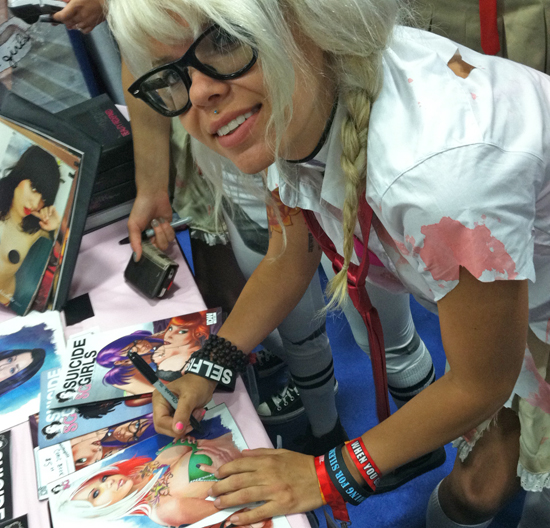 In the meatime, we'll leave you with this Mask & Cape interview featuring our friends Chubby Bunny and Yume Ninja of Bubble Punch who designed our fab cosplay outfits this year. Talking of which, what would you like to see us wearing next year…
[Above: Kevin McShane from Mask & Cape interviews Chubby Bunny and Yume Ninja of Bubble Punch]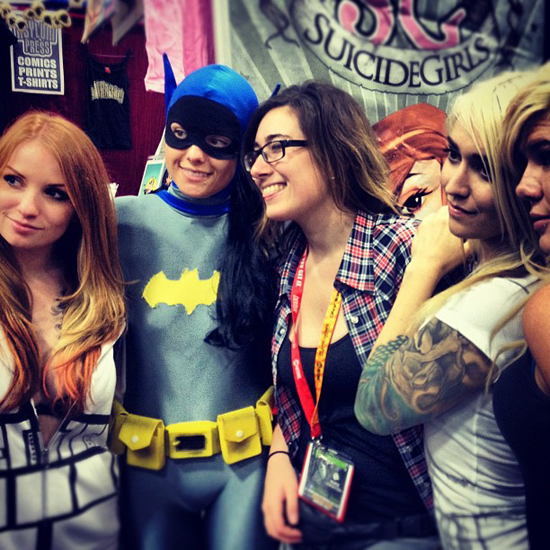 Related Posts:
Party At Comic Con With SuicideGirls, Spin, and iHeartComix
The SuicideGirls Guide To Prepping For ComicCon
How To Cosplay Battle Royale
How To Be A Stormtrooper
Cosplay With SuicideGirls At A Pre-Comic Con Party At Meltdown
SuicideGirls Team With Bubble Punch And Meltdown To Transform American Apparel Basics Into Sexy Cosplay Outfits For SG's Comic-Con Crew
Dirty Laundry: Cosplay 4 Comic Con