by Blogbot
A column which highlights Suicide Girls and their fave groups.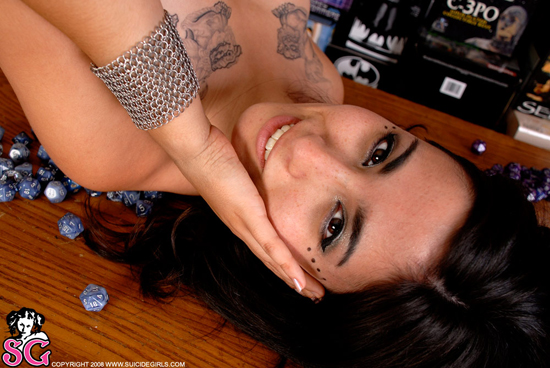 [Otok in d20]
This week, Otok Suicide takes a powerful stance on the Feminist Group.
Members: 956 / Comments: 22,381


WHY DO YOU LOVE IT?: It's chock full of news and resources that I never would have known about otherwise. Best recent discovery? The incident which led to the creation of the SlutWalk. How fucking cool is that? Also, Morgan (the group owner and moderator) is fair when dealing with problem posters. She gives everyone a chance, but doesn't hesitate to boot them if they're trolls. That keeps the headdesk-inducing threads to a minimum.



DISCUSSION TIP: You have the right to your opinion, and everyone else has the right to respond to it, even if it's to disagree.




BEST RANDOM QUOTE: "I hope he steps on a lego.

"



MOST HEATED DISCUSSION THREAD: A lot of the threads get passionate, but I think the most consistently active one is the Rantspace rant thread. Not only is it eye-opening, but it's like a support group within the group. I find it very cathartic to both read and post in that thread.


WHO'S WELCOME TO JOIN?: Anyone interested in learning about promoting equality of any sort, not just gender-equality.





***
Related Posts:
SuicideGirls' Group Therapy – Zephyr on Doctor Who
SuicideGirls' Group Therapy – Ryker on Harry Potter
SuicideGirls' Group Therapy – Bradley on The Kitchen
SuicideGirls' Group Therapy – Apple on All Your Base Are Belong To Us
SuicideGirls' Group Therapy – Setsuka on Ass Appreciation
SuicideGirls' Group Therapy – Noir on The Kitchen
SuicideGirls' Group Therapy – Exning on Body Mods
SuicideGirls' Group Therapy – Ceres on Girls Only
SuicideGirls' Group Therapy – Frolic on Celeb Worship
SuicideGirls' Group Therapy – Cheri on Skateboarders
SuicideGirls' Group Therapy – Noir on SG Military
SuicideGirls' Group Therapy – Exning on Weight Loss
SuicideGirls' Group Therapy – Aadie on Cute Overload
SuicideGirls' Group Therapy – Eevie, Luffy, and Praesepe on SG420
SuicideGirls' Group Therapy – All on Urban Art
SuicideGirls' Group Therapy – Clio on Hardcore Music
SuicideGirls' Group Therapy – Epiic on Hirsute
SuicideGirls' Group Therapy – Tarion on Atheists
SuicideGirls' Group Therapy – Rambo on Photography
SuicideGirls' Group Therapy – Thistle on Vamos Gigantes