A column which highlights Suicide Girls and their fave groups.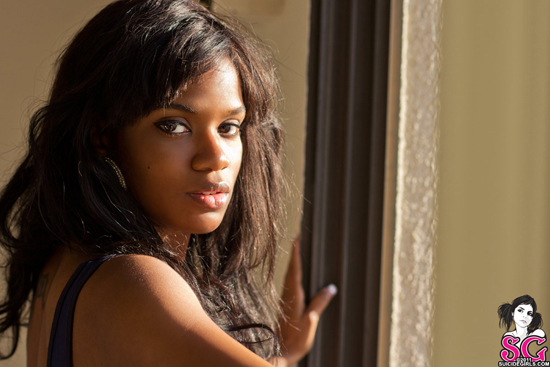 [Kurosune in Apollo]
This week Kurosune tells us why she's drawn to SG's Hentai Group.
Members: 1,804 / Comments: 8,517
WHY DO YOU LOVE IT?: What's not to like about a group that discusses tentacles, furries, chicks growing massive dicks (stay away from Bible Black – it's NOT for the faint of heart), bukkake, maids who punish their male employers in acts of BDSM, anti-demon slaying ninjas who wind up the prisoners of giant orges…or even just the adorable, moe-like girl who is bold enough to make the move and give up her cherished virginity to the wonderful, dreamy, all-round good guy in school who just happens to be her second period math teacher.
DISCUSSION TIP: We loooooove pictures of your particular "yum" – and remember, you ARE in a group that discusses yaoi (boy x boy), yuri (girl x girl) and furries. My personal motto is that you should never "yuck" someone's "yum." Don't be shy (you're among freaky friends!). Participate often, don't be an asshole, and everyone should get along just fine. We especially love the ladies here. Contrary to popular belief, women watch hentai too. We love it!
BMOST HEATED DISCUSSION THREAD: Hands down, it's a tie between the "Favorite Images" and "What's Your Favorite Hentai Artist." I ALWAYS love reading those. Hentai is really visual, so pictures posted (be they silly, hot, funny, disturbing or whatever) usually manage to brighten someone's day. And I love seeing what hentai people love. My faves are, hands down, Taimanin Asagi, Stringendo & Accelerando, and Sensual Pornograph – my first and favorite yaoi!!!
BEST RANDOM QUOTE: "Tentacles? In MY vagina???"
WHO'S WELCOME TO JOIN?: It's a private group, so you have to request to join. Only those who have at least some blog/comment activity will be allowed in, but basically anyone who jumps in pure joy at the words "hentai," "yaoi," "yuri," "bukkake," or "virgins in high school uniforms" is welcome. 

***
Related Posts:
SuicideGirls' Group Therapy – Tore On Hair Stuff
SuicideGirls' Group Therapy – Aisline on Photography
SuicideGirls' Group Therapy – Payton on Kitties
SuicideGirls' Group Therapy – Leandra on Horror
SuicideGirls' Group Therapy – Kewpie on Gay Girls Only
SuicideGirls' Group Therapy – Lumo On Martial Arts
SuicideGirls' Group Therapy – Vesta On Health And Fitness
SuicideGirls' Group Therapy – Bob On Space And Time
SuicideGirls' Group Therapy – Lunar On Kitties
SuicideGirls' Group Therapy – Lee On Metal Heads United
SuicideGirls' Group Therapy – Rourke on Girl Gamers
SuicideGirls' Group Therapy – Ackley on Some Like It Raw
SuicideGirls' Group Therapy – Spliff_ on SG420
SuicideGirls' Group Therapy – Jeckyl on SG Lounge
SuicideGirls' Group Therapy – Glitch on Robot Love
SuicideGirls' Group Therapy – Katherine on Aerial Dance
SuicideGirls' Group Therapy – Tarion on Zombie Hunters
SuicideGirls' Group Therapy – Rachelle on All Boobs Great And Small
SuicideGirls' Group Therapy – Oogie on Fan Art
SuicideGirls' Group Therapy – Jensen on Online Dating
SuicideGirls' Group Therapy – Gallows on Pen Pals
SuicideGirls' Group Therapy – Satya on Hip-Hop
SuicideGirls' Group Therapy – Tovi on Veggie
SuicideGirls' Group Therapy – Aadie on Suicide Boys
SuicideGirls' Group Therapy – Haydin on Ballet
SuicideGirls' Group Therapy – Psyche on Slut Pride
SuicideGirls' Group Therapy – Thistle on Yuppie Scum
SuicideGirls' Group Therapy – Eden on Tattoo
SuicideGirls' Group Therapy – Damsel on Dreadlocks
SuicideGirls' Group Therapy – Chrysis on Itty Bitty Titty Committee
SuicideGirls' Group Therapy – Otoki on Feminists
SuicideGirls' Group Therapy – Zephyr on Doctor Who
SuicideGirls' Group Therapy – Ryker on Harry Potter
SuicideGirls' Group Therapy – Bradley on The Kitchen
SuicideGirls' Group Therapy – Apple on All Your Base Are Belong To Us
SuicideGirls' Group Therapy – Setsuka on Ass Appreciation
SuicideGirls' Group Therapy – Noir on The Kitchen
SuicideGirls' Group Therapy – Exning on Body Mods
SuicideGirls' Group Therapy – Ceres on Girls Only
SuicideGirls' Group Therapy – Frolic on Celeb Worship
SuicideGirls' Group Therapy – Cheri on Skateboarders
SuicideGirls' Group Therapy – Noir on SG Military
SuicideGirls' Group Therapy – Exning on Weight Loss
SuicideGirls' Group Therapy – Aadie on Cute Overload
SuicideGirls' Group Therapy – Eevie, Luffy, and Praesepe on SG420
SuicideGirls' Group Therapy – All on Urban Art
SuicideGirls' Group Therapy – Clio on Hardcore Music
SuicideGirls' Group Therapy – Epiic on Hirsute
SuicideGirls' Group Therapy – Tarion on Atheists
SuicideGirls' Group Therapy – Rambo on Photography
SuicideGirls' Group Therapy – Thistle on Vamos Gigantes