by Nahp Suicide
A column which highlights Suicide Girls and their fave groups.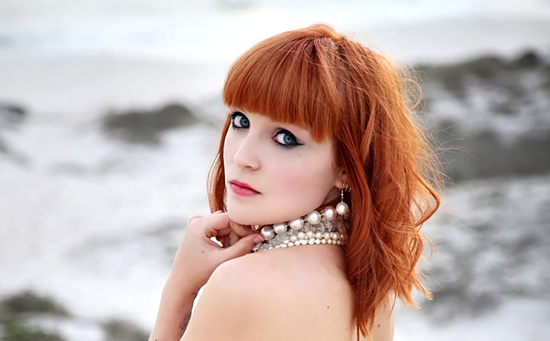 [Lunar Suicide in Pearl Kissed]
This week Lunar Suicide tell us what's so purrfect about SG's Kitties Group.
Members: 3566 / Comments: 49,319
WHY DO YOU LOVE IT?: I love my cat, I love your cat, I love cats!!!! This group is a great place to talk to like minded kitty lovers and show off your feline kids. Not only are there cute pictures to swoon over daily, it's really a great place for support from people who feel the same about their animals as you. When my kitty died I posted about it and everyone was really comforting.


DISCUSSION TIP: As long as you are all cat loving not much can go wrong. Don't be asking for any diagnosis on your kitties health problems though – go to the vet for that.


BEST RANDOM QUOTE: "Why are you suddenly being so nice? Am I dying? Are you dying? Is one of us dying? …oh God, you finally planted the bomb that's going to kill us both didn't you?" from "Things you never thought you'd say but ended up saying to your cats." That thread really makes me giggle.


MOST HEATED DISCUSSION THREAD: The group is pretty warm and fuzzy, unless there is mention of cruelty or mistreatment of cats in any way, and then understandably things get heated. I think the last one was "Declawing, just no.


"
WHO'S WELCOME TO JOIN?: Anyone with a fondness for felines.
***
Related Posts:
SuicideGirls' Group Therapy – Lee On Metal Heads United
SuicideGirls' Group Therapy – Rourke on Girl Gamers
SuicideGirls' Group Therapy – Ackley on Some Like It Raw
SuicideGirls' Group Therapy – Spliff_ on SG420
SuicideGirls' Group Therapy – Jeckyl on SG Lounge
SuicideGirls' Group Therapy – Glitch on Robot Love
SuicideGirls' Group Therapy – Katherine on Aerial Dance
SuicideGirls' Group Therapy – Tarion on Zombie Hunters
SuicideGirls' Group Therapy – Rachelle on All Boobs Great And Small
SuicideGirls' Group Therapy – Oogie on Fan Art
SuicideGirls' Group Therapy – Jensen on Online Dating
SuicideGirls' Group Therapy – Gallows on Pen Pals
SuicideGirls' Group Therapy – Satya on Hip-Hop
SuicideGirls' Group Therapy – Tovi on Veggie
SuicideGirls' Group Therapy – Aadie on Suicide Boys
SuicideGirls' Group Therapy – Haydin on Ballet
SuicideGirls' Group Therapy – Psyche on Slut Pride
SuicideGirls' Group Therapy – Thistle on Yuppie Scum
SuicideGirls' Group Therapy – Eden on Tattoo
SuicideGirls' Group Therapy – Damsel on Dreadlocks
SuicideGirls' Group Therapy – Chrysis on Itty Bitty Titty Committee
SuicideGirls' Group Therapy – Otoki on Feminists
SuicideGirls' Group Therapy – Zephyr on Doctor Who
SuicideGirls' Group Therapy – Ryker on Harry Potter
SuicideGirls' Group Therapy – Bradley on The Kitchen
SuicideGirls' Group Therapy – Apple on All Your Base Are Belong To Us
SuicideGirls' Group Therapy – Setsuka on Ass Appreciation
SuicideGirls' Group Therapy – Noir on The Kitchen
SuicideGirls' Group Therapy – Exning on Body Mods
SuicideGirls' Group Therapy – Ceres on Girls Only
SuicideGirls' Group Therapy – Frolic on Celeb Worship
SuicideGirls' Group Therapy – Cheri on Skateboarders
SuicideGirls' Group Therapy – Noir on SG Military
SuicideGirls' Group Therapy – Exning on Weight Loss
SuicideGirls' Group Therapy – Aadie on Cute Overload
SuicideGirls' Group Therapy – Eevie, Luffy, and Praesepe on SG420
SuicideGirls' Group Therapy – All on Urban Art
SuicideGirls' Group Therapy – Clio on Hardcore Music
SuicideGirls' Group Therapy – Epiic on Hirsute
SuicideGirls' Group Therapy – Tarion on Atheists
SuicideGirls' Group Therapy – Rambo on Photography
SuicideGirls' Group Therapy – Thistle on Vamos Gigantes