A column which highlights Suicide Girls and their fave groups.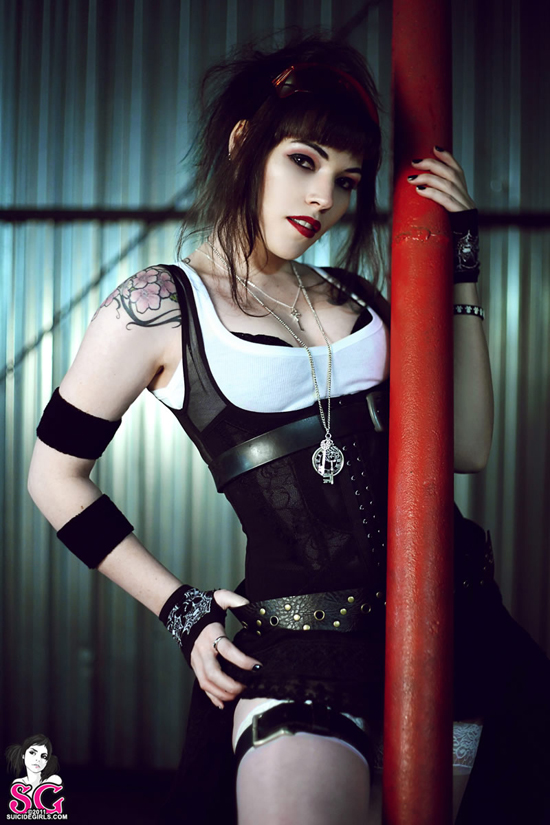 [Tarion Suicide in Kiss the Machine]
This week, in preparation for the coming apocalypse, Tarion Suicide gives us the 411 on SG's Zombie Hunters Group.
Members: 2,824 / Comments: 20,073


WHY DO YOU LOVE IT?: This group has threads covering everything you need to know about zombies and the impending apocalypse. It ensures that every member has a "zombie plan" and the best possible chance of survival. Members discuss everything from the best choice of weapons to the most effective safe house. If you're into zombies you will find info on the best books, games, movies, and TV shows right here!


DISCUSSION TIP: This is a fun group, so don't be too serious.


BEST RANDOM QUOTE: "Do not set zombies on fire! They will run around and catch everything else on fire!"
MOST HEATED DISCUSSION THREAD: The Walking Dead! Official TV Thread – everyone has an opinion on this show!


WHO'S WELCOME TO JOIN?: All those who want to survive the zombie apocalypse.


***
Related Posts:
SuicideGirls' Group Therapy – Rachelle on All Boobs Great And Small
SuicideGirls' Group Therapy – Oogie on Fan Art
SuicideGirls' Group Therapy – Jensen on Online Dating
SuicideGirls' Group Therapy – Gallows on Pen Pals
SuicideGirls Group Therapy – Satya on Hip-Hop
SuicideGirls' Group Therapy – Tovi on Veggie


SuicideGirls' Group Therapy – Aadie on Suicide Boys
SuicideGirls' Group Therapy – Haydin on Ballet
SuicideGirls' Group Therapy – Psyche on Slut Pride
SuicideGirls' Group Therapy – Thistle on Yuppie Scum
SuicideGirls' Group Therapy – Eden on Tattoo
SuicideGirls' Group Therapy – Damsel on Dreadlocks


SuicideGirls' Group Therapy – Chrysis on Itty Bitty Titty Committee


SuicideGirls' Group Therapy – Otoki on Feminists
SuicideGirls' Group Therapy – Zephyr on Doctor Who
SuicideGirls' Group Therapy – Ryker on Harry Potter
SuicideGirls' Group Therapy – Bradley on The Kitchen
SuicideGirls' Group Therapy – Apple on All Your Base Are Belong To Us
SuicideGirls' Group Therapy – Setsuka on Ass Appreciation
SuicideGirls' Group Therapy – Noir on The Kitchen
SuicideGirls' Group Therapy – Exning on Body Mods
SuicideGirls' Group Therapy – Ceres on Girls Only
SuicideGirls' Group Therapy – Frolic on Celeb Worship
SuicideGirls' Group Therapy – Cheri on Skateboarders
SuicideGirls' Group Therapy – Noir on SG Military
SuicideGirls' Group Therapy – Exning on Weight Loss
SuicideGirls' Group Therapy – Aadie on Cute Overload
SuicideGirls' Group Therapy – Eevie, Luffy, and Praesepe on SG420
SuicideGirls' Group Therapy – All on Urban Art
SuicideGirls' Group Therapy – Clio on Hardcore Music
SuicideGirls' Group Therapy – Epiic on Hirsute
SuicideGirls' Group Therapy – Tarion on Atheists
SuicideGirls' Group Therapy – Rambo on Photography
SuicideGirls' Group Therapy – Thistle on Vamos Gigantes