by Blogbot
This Saturday SuicideGirls will be on hand to celebrate the opening of Poster Peepshow, an exhibition of pin up art from the past and present. The show was put together by Head Curator Ben Zhu and Assistant Curator Jasmine Helm of Gallery Nucleus in Alhambra.
The exhibition will feature rare vintage originals from pin up masters Art Frahm, Rolf Armstrong, K.O. Munson, Al Moore and Al Buell. Contemporary artists participating in the group show include Olivia De Berardinis, Craig Elliott, Lawrence Noble, Jim, Silke, Stuntkid, and Dean Yeagle – who will all be in attendance on opening night.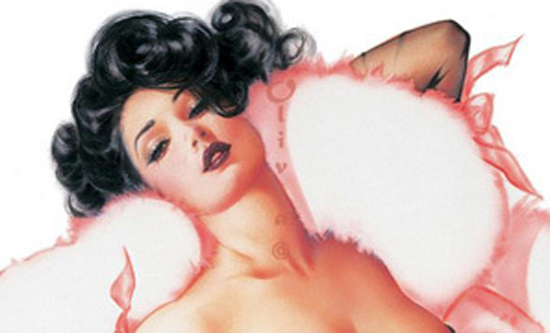 Above: Dita Von Teese by Olivia De Berardinis
"Our goal for Poster Peepshow was in part to showcase the evolution of the pin up girl from her classic archetypal roots in the 1950's with artists such as Rolf Armstrong and Art Frahm to now," says Helm. "We wanted to feature contemporary artists who retain the classic cheesecake style and there is no one better than Olivia De Berardinis. Her paintings appear effortless. With watercolor paint she manages to paint sensual textures unlike any other contemporary artist in the pin up field."
"Since the pin up girl has changed over time we wanted to show a variety of interpretations and decided to reach out to other artists such Rockin' Jelly Bean who creates sexy voluptuous women inspired by grindhouse films as well as industry artists such as Dean Yeagle, Robh Ruppel, and Marcelo Daldoce," says Helm, who has idolized Bettie Page since she was 13, and therefore has had a longstanding appreciation for the pin up form. "It was a challenge to put this exhibit together because people underestimate how difficult it is to paint a beautiful woman with sensitivity that embodies desire and playfulness, yet I believe we have selected artists who have done so with grace."
Special guests Julie Newmar (who is perhaps best known for her role as the original Catwoman) and glamour gal about town Lenora Claire are also expected to attend the sexy soiree. Additionally, Olivia De Berardinis will be signing copies of her books (Let Them Eat Cheesecake, Bettie Page, American Geisha, and the Cheesecake Chronicles) from 6 til 7 PM, and SuicideGirls Sash and Milloux will be modeling for a super special two hour live figure drawing session starting at 8 PM.
See you on Saturday with pencils n' paper in hand!
XOX
Poster Peepshow: The Art of The Pin Up
Exhibition: February 5th thru 28th
Opening Reception: Saturday, February 5th – 7 PM til 11 PM
Entry: Free admission plus refreshments & food served. 18+ only (ID required).
Venue: Gallery Nucleus, 210 East Main Street, Alhambra, CA 91801
Info: 626-458-7482 / 626-458-7477 / www.GalleryNucleus.com