By Blogbot
This Wednesday, July 1st on SuicideGirls Radio, hosts Moxi Suicide, Nicole Powers and Bradley Suicide will be joined by Barb Wire Dolls, a band originally hailing from debt-bound Greece that's been called "the most important punk invasion to the U.S. since the Sex Pistols."
You can listen – and watch – the world's leading BYOB radio show live on Wednesday nights from 8 til 9 PM [note new day/time] at our state-of-the-art all digital home: TradioV.com.
If you have questions for the SG Radio crew or our guests, you can call in during the live broadcast at: 1-855-TRV-inLA (1-855-878-4652)
For updates on all things SG Radio-related, like us on Facebook and follow us on Twitter.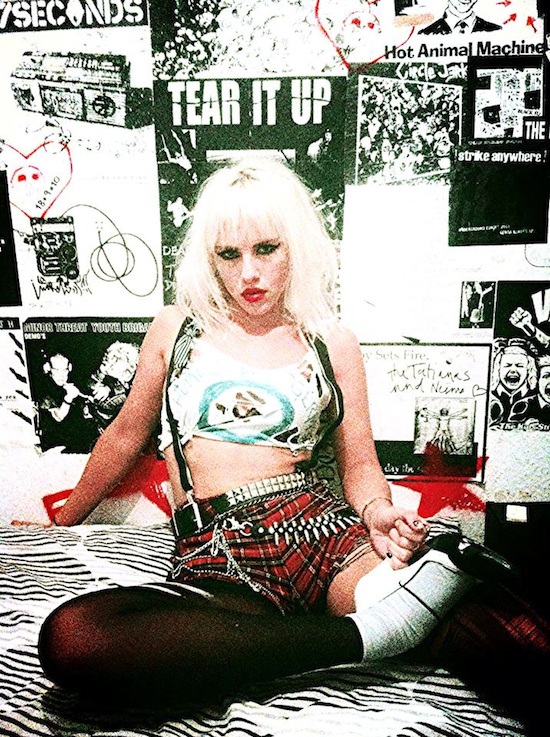 **UPDATE**
ICYMI: Our show feat. Barb Wire Dolls cane be viewed here or in the player below.
About Barb Wire Dolls

"I like the comfort in knowing that women
are the only future in rock 'n' roll." – Kurt Cobain
Barb Wire Dolls came charging out of crisis-ridden Greece in late 2010 when they left their home at an artist commune on the island of Crete and transplanted themselves in Los Angeles upon being invited by legendary KROQ DJ Rodney Bingeneheimer. Since arriving in the U.S., and most notably selling out their very first concert at Hollywood's Roxy Theatre, Barb Wire Dolls have been on a whirlwind ride, performing on over seven hundred stages across twenty two countries.
Barb Wire Dolls, fronted by the charismatic Isis Queen (vocals), with ex-professional surfer and skateboarder Pyn Doll (guitar), JayJay Doll (bass), and Krash Doll (drums), have been compared to bands such as L7, Blondie and Nirvana, and described as "a fiery, raging punk band with '90s grunge and metal flourishes."
In late 2012, Barb Wire Dolls went to Nirvana noise-guru Steve Albini's recording studio and produced Slit, the critic-proclaimed "best punk album in twenty years." Slit with its chart topping hit single — the lyrical and sonic brutal masterpiece "Revolution" — gave the band enough momentum to headline festivals in twelve countries and to sell out club dates across America, the UK, and Europe.
The Chicago Sun Times said "Barb Wire Dolls could definitely start a revolution," while Music Entertainment magazine said "Barb Wire Dolls are the new face of Punk. Punk's not dead…not as long as Barb Wire Dolls have breath." East Portland Music wrote "Barb Wire Dolls are pure, raw, in your face energy…their live performance was nothing short of amazing…a force to be reckoned with," while Metal Assault said "Barb Wire Dolls have emerged as the new voice of real punk rock…with their mesmerizing, spellbinding exhibition of attitude-laden, high-octane punk rock."
Few female-fronted rock bands in history have had a more immediate and tangible impact on their contemporary musical landscape than Barb Wire Dolls, and that's why members of iconic bands such as the Sex Pistols, Guns N' Roses, Sonic Youth, Blondie, and countless others, have come to the band's performances, while punk pioneers Jello Biafra (Dead Kennedy's), NoFX, Descendents, Bouncing Souls, and Dead Men Walking have asked the band personally to play on their tours. Quickly receiving high billing status on the international touring circuit, Barb Wire Dolls also co-headlined dates with punk pioneers GBH, Fear, Sham 69, Discharge, Cockney Rejects, Murder Junkies, CJ Ramone, 999, and rock/metal bands Status Quo, Mushroomhead, and Candlebox.
With a sense of urgency and with sheer emotive power on stage, Barb Wire Dolls have exciting plans for the near future: they are out to smash the misconceptions and rules about women in rock and the "riot grrrl" movement with their highly-anticipated sophomore studio album, Desperate, out soon.
For more on Barb Wire Dolls visit their website, Facebook and Twitter.