By Blogbot
This Wednesday, May 24 on SuicideGirls Radio, hosts Nicole Powers and Bradley Suicide will be joined by Canadian hiphop artist, Madchild.
**UPDATE**
ICYMI: Watch last night's show feat. Madchild (of Swollen Members) here or in the player below. Madchild has a new solo album, Darkest Hour (produced by Evidence), which drops on July 28. Catch him on tour next month:
June 8th – Seattle, WA
June 15th – Fort Collins, CO
June 16th -Denver, CO
June 17th – Colorado Springs, CO
You can listen – and watch – SuicideGirls Radio live on Wednesday nights from 8 til 9 PM at our state-of-the-art, all digital home on zinna.tv.
For updates on all things SG Radio-related, like us on Facebook and follow us on Twitter and Instagram.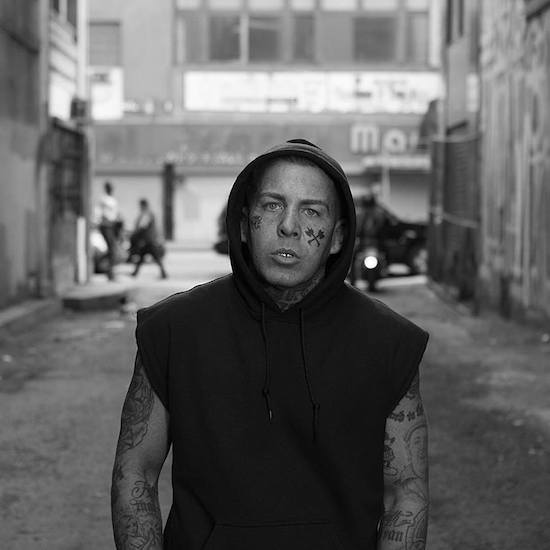 About Madchild
After many successful years with hip-hop group, Swollen Members, Madchild creatively branched out as a solo artist in 2012 with his debut title track, "Dope Sick." 
The album was well received which earned Madchild the highest chart position of his career — #3 on the Canadian Billboard Top 200 and #7 on the US Heatseekers Chart.
Manchild immediately hit the road on a sold-out Canadian tour with Tech N9ne which was followed-up with a 40-date headlining tour across the country where he performed at sold-out venues to his beloved fans. 
Madchild has relentlessly toured with numerous artists such as La Coka Nostra, Tech N9NE, Redman, and many others. His grueling tour schedule over the years has earned him fans in every single city, and to this day, his loyal fan base continues to grow. 
As success grew, Madchild's battle with his personal demons increased. However, with the help of his family, friends, and the unwavering support of his fans, he was able to grab hold of his life and renounced his former lifestyle. 
Madchild found complete solace in the arms of his music, and he bunkered down in his home studio, secluded from the outside world, where he had his creative rebirth in crafting some of the best verses of his entire career. 
Madchild continues to give back to his community, he speaks at local high schools in British Columbia as well as youth groups surrounding the perils of gang violence and drug addiction. He has helped and continues to inspire countless youth through his music, and community service. Madchild strives to help youth learn a lesson from his mistakes and have a positive impact on their futures.
Madchild currently resides in Los Angeles, CA and continues to release chart-topping music in Canada and Worldwide as well as performing approximately 150+ shows per year. 
In 2017 alone, Madchild has completed a 40 show tour in Canada and in April will begin his US dates which will be followed by shows in Europe and Australia. In July, Madchild will team up with the mighty Swollen Members for some select dates in Canada and other special appearances throughout the rest of the year. The first appearance will be at the Canadian Gathering of the Juggalos on April 7th in Calgary. 
Swollen Members have been an underground hip-hop anomaly for over a decade with worldwide success, winning 4 Junos Awards and adding a fifth nomination for their Dagger Mouth album. In addition to their Juno awards, the group has also received 7 Much Music Video Awards and 4 Western Canadian Music Awards.
Swollen Members have collectively racked up 35 million views on Youtube, and earned both platinum and gold sales certification for sales of their albums. 
They have achieved success by performing worldwide tours with acts such as Ghostface of the Wu-Tang Clan, Nelly Furtado and the Black Eyed Peas. The group's loyal and enthusiastic following of fans (known as Battle Axe Warriors), with many fans sporting the group's battle axe logo tattooed on their body.
For more on Madchild visit:
facebook.com/Madchild.Official/
twitter.com/MadChild57
instagram.com/Madchild/
youtube.com/channel/UCBJcLcYDDLHNRZF96P9Hz5g

The World's Leading BYOB Radio Show Is Sponsored By Mangria
"As a nightly consumer of red wine, I was shocked one evening to find I had just half a glass left in the bottle. So I did what any decent alcoholic, ex-con, American would do… I went to the fridge and the liquor cabinet, then poured, mixed and measured. Thus Mangria was born." — Adam Carolla
SuicideGirls Radio / Carolla Drinks Offer
You can purchase all three delicious flavors of SGR's fave luscious libation, Mangria — and the most excellent Endless Rant IPA — via CarollaDrinks.com. Fans of SG Radio can get $5 off any bottle of Mangria using this special discount coupon code: SG (unlimited use, code is good until December 31, 2017).
For more info visit Carolla Drink's website, Facebook, Twitter, and Instagram.