By Blogbot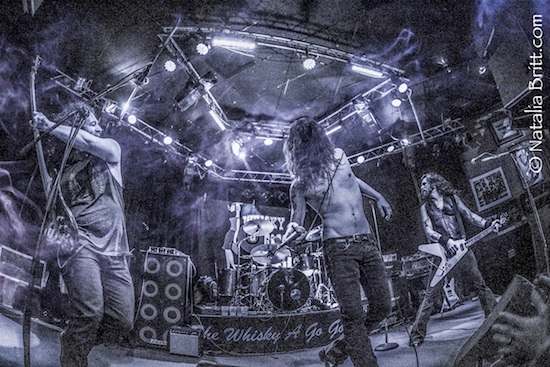 This Wednesday, April 29th on SuicideGirls Radio, hosts Moxi Suicide and Nicole Powers will be joined by distinctive contemporary rock & rollers the Others.
You can listen – and watch – the world's leading BYOB radio show live on Wednesday nights from 8 til 9 PM [note new day/time] at our state-of-the-art all digital home: TradioV.com.
If you have questions for the SG Radio crew or our guests, you can call in during the live broadcast at: 1-855-TRV-inLA (1-855-878-4652)
For updates on all things SG Radio-related, like us on Facebook and follow us on Twitter.
**UPDATE**
ICYMI: Watch our show feat. Others here and in the player below.
About Others
Londoner Joe Colover came to LA in 2013 hoping to form a band that shared his vision of wild, unadulterated rock and roll. Keen to find like-minded musicians, Joe soon found himself watching Metallica tribute band Cliff 'Em All at the Viper Room, where guitarist John Hatfield instantly grabbed his attention with his phenomenal guitar technique and stage presence. Call it coincidence, but in the following months they would meet on several occasions in bars and the streets around LA.
When he and John finally jammed together something clicked, and they knew they were on the same page with what they wanted in a new band. Both had no place for gimmicks, but wanted to create something based on raw energy, honesty and feeling. It was about building on the original rock & roll which Joe and John both felt had gotten lost. As Joe says, "It's all about bringing the poetry and soul of blues, the aggression of punk and the rebellion of rock & roll together in a way that's fresh and relevant today."
Shortly after, bassist Jesse Sanchez came onboard, bringing bone-chilling technical ability and power to the band. While looking for a drummer to complete the line up, the three got busy contributing ideas and writing. Finally, the spiritual-yet-demonic Pat Martin (who'd previously performed with John) heard and liked the material, initially agreeing to help out the trio. They soon realized it was a perfect, permanent, mix. The four played their first gig at the famous Whisky-A-Go-Go on October 13th 2014 and Others was born.
The name Others has deep meaning and significance for Joe, based on his own sense of being literally different and coming to terms with that. John, Pat and Jesse also identify with the idea that if you're unafraid and believe in what you know to be true, then you too are an Other.
"It's about an energy more than anything, a feeling of otherness and being unafraid to stand outside the norm. Expressing yourself honestly, cutting through the bullshit and getting right back to raw feelings and emotions is a pretty scary thing. But I'm doing this through music and there's no holding back" says Joe.
For more on Others visit their website, Bandcamp, YouTube, Instagram, Facebook and Twitter.