By Blogbot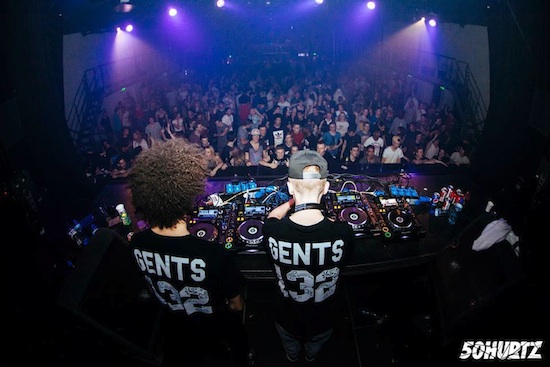 This Wednesday, May 6th on SuicideGirls Radio, hosts Moxi Suicide and Nicole Powers will be joined by 50 Carrot, Coffi and Soloman of Gentlemen's Club.
You can listen – and watch – the world's leading BYOB radio show live on Wednesday nights from 8 til 9 PM [note new day/time] at our state-of-the-art all digital home: TradioV.com.
If you have questions for the SG Radio crew or our guests, you can call in during the live broadcast at: 1-855-TRV-inLA (1-855-878-4652)
For updates on all things SG Radio-related, like us on Facebook and follow us on Twitter.
**UPDATE**
ICYMI: Watch last week's show feat. @50CarrotDubstep, @Coffi_GC and @danielpavarotti of Gentleman's Club — plus a whole bunch of #pineapples!!! — here or in the player below.
About 50 Carrot
Leeds based producer 50 Carrot is a name known by many when talking about dubstep, with his production style instantly recognizable he has made a strong influence on the scene. With two North America tours under his belt and countless European shows, 50 carrot was quickly in high demand after the release of his club anthem "Wiz Kid" which gained a large amount of publicity and support from DJ's and radio shows internationally. 50 Carrot is also the co-owner of music label Gentlemen's Club alongside fellow producers Coffi and Soloman. With 50 already making serious moves worldwide, you'd be surprised to know that all this is possible at the age of 18.
For more on 50 Carrot visit his Soundcloud, Facebook and Twitter.
About Coffi
Having been one of the top heavyweights in the dubstep scene for the past couple of years, Coffi is a name that has become synonymous with hard-hitting beats and plenty of bounce. His technical mixing abilities and forward-thinking track selection combine to make him one of the rawest talents pushing boundaries on a global scale — and the producer shows no sign of slowing down.
Hailing from the depths of the UK underground scene, Coffi is an artist of many styles and methods. Widely identified as the mastermind behind classic dubstep bangers such as "Mushroom Kingdom," "Yayo Life" and "Real Shit," among others, the don has truly made a name for himself with his signature style that displays heavy hip-hop and rap influences.
Drawing inspiration from artists such as FuntCase and 16bit, Coffi takes his passion for heart-thumping bass lines and 808 bump to create a unique experimental sound that audiences can never get enough of. Similar to the caffeinated beverage that his name suggests, Coffi's sound awakens listeners and amplifies senses to make your body move and keep you bouncin' from beginning to end!
Boasting massive releases on some of the top labels in the industry such as Monsta Dubs and Dubstar Records, Coffi is now the head of his own original label known as Gentlemen's Club alongside 50 Carrot and Soloman. Together, the trio combines talents as a single unit to unleash proper bass-weight to the masses and instigate some of the rowdiest of crowds on worldwide platforms.
For more on Coffi visit his Soundcloud, Facebook and Twitter.
About Soloman
Hailing from the West Midlands, UK, 22 year old Soloman is merely a new comer to the bass scene, but in the time he has been involved he has caused a major stir. Gaining support from the scenes most respectable artists including Skream, Caspa, 12th Planet and Datsik. Soloman picked up on producing music in 2011, and, after several months, chose to concentrate on dubstep. three years later, Soloman has already had two North American tours and played in every corner of Europe. Soloman is also the co-owner of music label Gentlemens Club alongside fellow producers Coffi and 50 Carrot.
For more on Soloman, visit his Soundcloud, Facebook and Twitter.