By Blogbot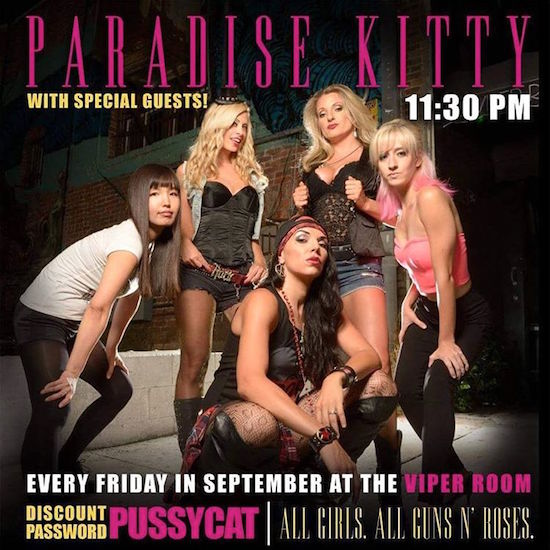 This Wednesday, Sept 2nd on SuicideGirls Radio, hosts hosts Moxi and Bradley Suicide will be joined by LA's all-female Guns 'N' Roses tribute band, Paradise Kitty, who will be previewing their brand spanking new residency at the Sunset Strip's notorious Viper Room.
You can listen – and watch – the world's leading BYOB radio show live on Wednesday nights from 8 til 9 PM at our state-of-the-art all digital home: TradioV.com.
If you have questions for the SG Radio crew or our guests, you can call in during the live broadcast at: 1-855-TRV-inLA (1-855-878-4652)
For updates on all things SG Radio-related, like us on Facebook and follow us on Instagram and Twitter.
**UPDATE**
ICYMI: Watch our show feat. Paradise Kitty here or in the player below.
About Paradise Kitty
You can't call yourself a rock & roll fan unless you have grabbed a cold one, kicked up your heels, closed your eyes and dove head first into Guns 'N' Roses' masterpiece Appetite for Destruction. If you are a REAL rock fan, I can guarantee that you have done this more times than you can count and you quite possibly lost your virginity to it as well. Selling over 18 million copies, Appetite has become the soundtrack to some of the best times of our crazy lives.
Paradise Kitty is an LA based band of five girls who grew up loving Guns 'N' Roses. Listening alone couldn't satiate these kittens. They decided to pay musical homage to the infamous sunset strip kings. When Pri (lead guitarist) contacted Rachael Rine (drummer) about putting together a G'N'R tribute band, they agreed they had to find the best match for each player. They needed girls who could really cop the unique swagger and feel of Axl, Slash, Duff, Izzy, and Steven. They found exactly what they were looking for in Caroline Cirone (bass) and Hisako Ozawa (guitar). With Jenna Syde (vocals) leading the helm, these kitties are ready to kick in your door, blow off your roof, start a riot, and vandalize your hearts. Welcome to the jungle of Paradise Kitty. This is your proper invitation, also consider it your official warning.
‪Talking of invitations, Friday‬ September 4th is the kick off for Paradise Kitty's residency at the Viper Room. To compliment the ladies, there's a stellar line up; the Guns 'N' Roses-loving kittens will be sharing the stage with Black Lodge, MURSIC and Ithica. Doors open at 8 PM, with Paradise Kitty scheduled to hit the stage at 11:30 PM. The ladies will be jamming the best Guns N' Roses tunes with special guest players until closing time. Use the promo code "PussyCat" to get in for half off!!!