With her idiosyncratic style, DIY aesthetic, and kick-ass attitude, Tank Girl, who made her debut in Deadline in 1988, is without question a proto-SG. I was therefore jolly chuffed to receive a spiffy, glossy bound copy of her latest adventure, Skidmarks. Written by Tank Girl co-creator Alan Martin and drawn by the awesomely awesome* Rufus Dayglo, the gzillion thrills a minute plot is basically Wacky Races for an audience with a penchant for punk rock, smelly chicks (Tankie rolls with a pungent aroma), on-fire farts (see previous) and esoteric references.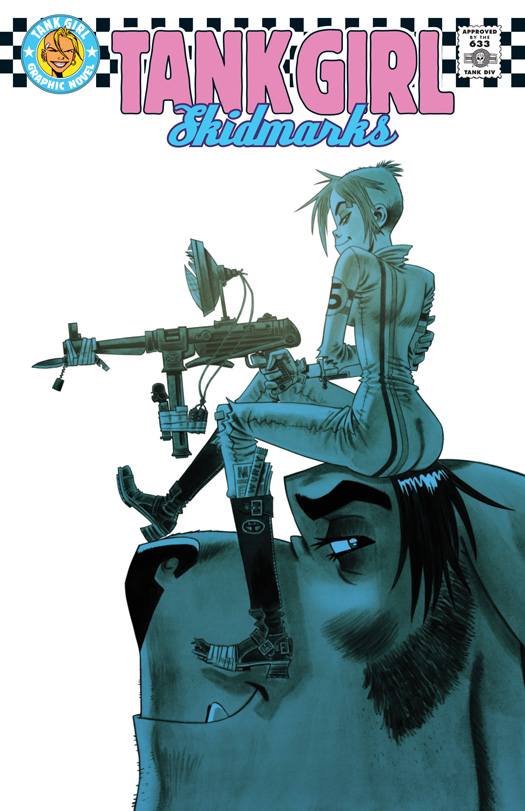 Having grown up in a universe somewhat similar to Martin and Dayglo's, these seemingly random and bizarre nods to popular culture perhaps make more sense to me than most. However I was particularly confused and disturbed by a reference to Genesis, the well-shite** British band that was once fronted by Phil "I-Dumped-My-Woman-By-Fax" Collins. If Tank Girl had been kicking their collective butts, or nuking the entire world supply of We Can't Dance albums, I might have understood. However the band's inclusion in a non-painful, non-violent, and non-deadly context seemed, quite frankly, the far side of wrong.
Then I turned another page, and, thanks to an essay Martin had helpfully included in Skidmarks, much about life, the universe, and Tank Girl suddenly became clear:
FRIENDS, ROMULANS, CRUNCHYMEN – IF YOU HAVE REACHED THIS POINT IN THE STORY THEN YOU ARE PROBABLY THINKING ONE OF THREE THINGS:

1. THAT WAS TOTAL SHITE

2. THAT WAS PARTIAL SHITE WITH A FEW FUNNY BITS AND SOME NICE DRAWING

3. I LIKED IT BUT I DIDN'T LIKE IT. IT WAS GOOD BUT IT WAS SHIT. I AM
ENLIGHTENED BUT CONFUSED.

HOPEFULLY MOST OF YOU WILL FALL INTO THE FINAL CATEGORY, AND, FOR THOSE OF YOU THAT DO, WE FEEL YOU ARE OWED SOME KIND OF EXPLANATION.

THE COOL-CRAP-CONTINUUM

AT THE DAWN OF THE FINAL DECADE OF THE 20th CENTURY, AFTER SEVERAL YEARS OF EXPERIMENTATION, A SMALL GROUP OF US LIVING IN WORTHING, SUSSEX CAME UP WITH THIS STARTLING REVELATION: NOTHING WAS ACTUALLY COOL OR CRAP, AND, AT THE SAME TIME, EVERYTHING WAS COOL AND CRAP.

ROUND ABOUT THAT TIME WE COINED THE IMMORTAL PHRASE "SO GOOD IT'S SHIT". ALLOCATING COOL AND CRAP QUALITIES TO ANY THING, ANIMATE OR INANIMATE, CAN ONLY EVER BE A SUBJECTIVE PERSPECTIVE. OUR PERSONAL TASTES ARE ALL AT THE WHIM OF EXPERIENCE, PEER PRESSURE, INGRAINED IDEOLOGY, AND IMMEDIATE LOCAL CULTURE.

THEREFORE ONE MAN'S COOL IS ANOTHER MAN'S CRAP.

WITH THIS IN MIND WE SET TO WORK CONSTRUCTING SKIDMARKS, ALWAYS KEEPING OURSELVES IN CHECK THAT ITS CONTENTS WERE NEITHER TOO COOL, NOR TOO CRAP.

WE HOPE THAT THIS BOOK GOES SOME WAY TO HELP FREE IMPRISONED SOULS FROM THE BONDAGE OF CULTURAL AND IDEOLOGICAL ENTRAPMENT.

IN MAKING CRUMBY COMICS OUR ONLY WISH IS THE SALVATION OF THIS PLANET AND ITS INHABITANTS.

WE THANK YOU.
TEAM TANK GIRL.
cool-crap-continuum (C.C.C.) (c) Wakeham, Whiting, Dillon, Taylor, Martin 1990
Since reading Martin's Cool-Crap-Continuum manifesto, I've begun to reassess the world according to its terms. Hipsters are so cool they're clearly crap; sherry (the fortified wine, not an SG) is so spectacularly naff it can only be drunk in public by the coolest of the cool; then you have pretty much the whole Silverlake zip code, which became so painfully trendy at one point that no one who really knew what's up could be seen within a 7 mile radius of Sunset Junction (fortunately that tragically-hip situation is now somewhat rectified). As for Justin Bieber, I'm still trying to figure out his precise place in the continuum, or if he's just the exception that proves the rule***.
The Cool-Crap-Continuum is reprinted by kind permission of Tom Green, who said I could – honest. Tank Girl and all related characters (c) 2010 Alan Martin and Jamie Hewlett. All Rights Reserved.
The trade paperback of Tank Girl: Skidmarks, which collects together the 4-issue Skidmarks mini-series for the first time, is out now from Titan Books. A trailer for Bad Wind Rising, the forthcoming shocking new saga, which sees Tank Girl kicking Booga to the curb, is available to view on 'ver YouTubes.
* Throwing luv n' pencils right back at ya.
** "Shite" is a British colloquialism for the word "shit," which, when correctly pronounced, rhymes with the word "kite."
*** Seems there's no beating the crap out of that underage tool.