by Aaron Colter
Hey gang, guess what? I found this crumpled envelope that had the Top 5 Breweries list scrawled onto it in red marker. You don't care, but it means one less piece of shit I have in the fuck-pile that is my living space. So, here they are, as previously promised:
1. Goose Island
With a variety of Belgian-style beers, the Chicago brewery has won me over this year. The Pepe Nero's rich darkness, the Demolition's crisp flavor for a decent price, and especially the rich Sofie were all very nice for an American company. Unfortunately, Goose Island was sold earlier this year to the multinational giant Anheuser-Busch. Like Portland's Stumptown Coffee selling to an investment firm, only time will tell if a dip in quality happens to either company.
Stumptown tried to dodge news of the sale at first by denying it, but, like Senator Anthony Wiener, finally had to come clean. Giant figures, companies, and individuals, need to learn that American will tolerate a lot of things, but by and large we don't like anything weak. Come out balls swinging, "Shit yeah, I sold that company. Gettin' paid." Or in the Senator's case, "Hell yes, let's see your dick. College. Pussy. What don't you understand?"
Anyway, fuck 'em all.
2. Lagunitas
With beer names like Little Sumpin' and the Jobless Recovery Ale, the California company wins points for cleverness, and overall has solid beers. Nothing too crazy, but usually hop-heavy like many West Coast beers, it's pretty much a sure bet that anything from Lagunitas will be excellent. If you can find it, the Bling Pig IPA is the best in its class.
3. New Belgium
The Fort Collins, Colorado company claims to be completely powered by wind energy since 1998, which is pretty damn rad. I've been a sucker for their Lips of Faith series, twelve different limited beers which have to be inspired by The Flaming Lips considering their groovy designs. Not all of the beers in the series are stand-out, but that's almost part of the fun. If you care to spend a little more, but still under $15, for a large bottle of something new, it's a fun way to get drunk.
4. Caldera
Based in Ashland, Oregon the brewery cans its own beer in aluminum, which is actually pretty nice if you're looking to bike or be outdoors. The standard IPA, Amber, and Pale Ale are all top-notch. Not a ton of interesting things going on, but as far as smaller-batch beer staples go, Caldera is unbeatable.
5. Anderson Valley
The company in California also ships their beer in aluminum cans instead of bottles, and is equipped with a solar power system at their headquarters. Their IPA is very good, but not as good as Caldera's, and their summer ale is too vanilla-flavored to be a dynamic brew. The Amber, however, is the most expressive I've ever tasted on tap. Immediately order if you find it available at your local pub.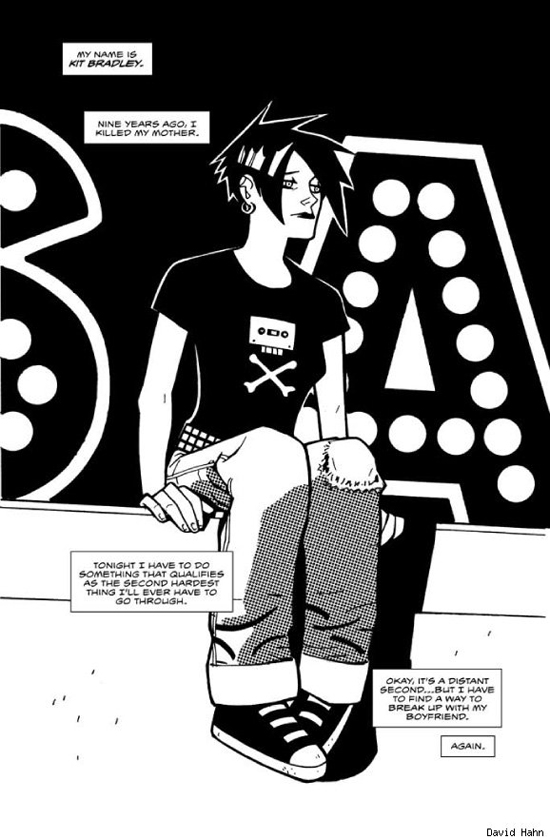 One last thing, David Hahn the artist of the Suicide Girls comic has a new series starting called "All Nighter." It's really good, you should buy it, or you can read the whole thing for free.
***
If you have something that you think I might like that others might like too, please email youmightlike [at] gmail [dot] com.
What I'm reading: Hellboy – The Fury, Isle of 100,000 Graves, Dethklok [Hardcover Edition]
What I'm listening to: White Pepper by Ween, Smoke Ring For My Halo by Kurt Vile, Thao & Mirah
What I'm drinking: The beers listed above.