by Aaron Colter
The last couple of posts have been, let's say, overtly political. (That sounds better than calling them giant fucking tantrums about those in power and the idiots of the world.) So this week, you lucky bastards, it's just a list of cool shit reminiscent of my first post.
You're welcome.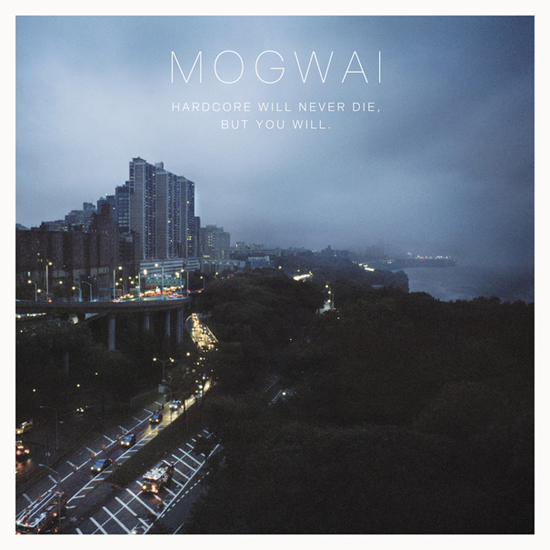 Mogwai's Hardcore Will Never Die, But You Will
First, this album might have a better name than 2006's I Am Not Afraid of You and I Will Beat Your Ass by Yo La Tengo.
Tangent – if you've ever seen the band live you'll know that sometimes they just come out, have the audience request songs, and answer questions between playing them. Once, in Bloomington, Indiana, someone in the audience wanted to know why they named their album such a thing. Ira Kaplan looked at the guy near the front row like he was crazy for asking the question.
Tangent inside another tangent – LSD makes everything better. But not too much. Just a drop'll do ya.
Back to Mogwai – WHAT A FUCKING AWESOME NAME FOR AN ALBUM!
Also, Mogwai is like the cool Radiohead. Oh, you haven't heard? Well whatever, I'm sure Applebees has perfectly decent food. And also, Come on Die Young is great no matter what anyone else says.
***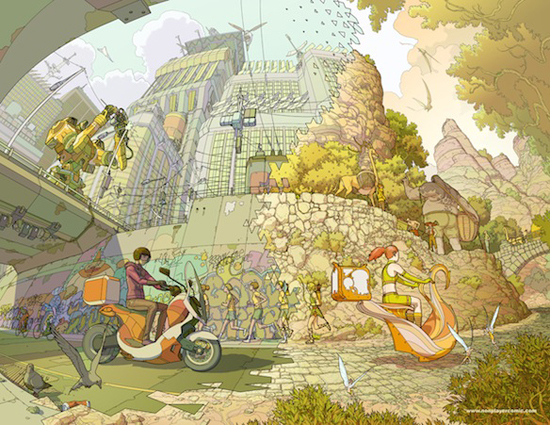 Nonplayer
So this dude from Seattle, Nate Simpson, quits videogames to make a comic so that hopefully, one day, it'll become a movie. Wait, wait! It's good. I swear. It's so goddamn beautiful and smart that you'll want to weep. I conducted an interview with the creator a couple days ago, check it out, there are lots of pictures.
Yeah, I just promoted my own shit on this blog. Get over it.
***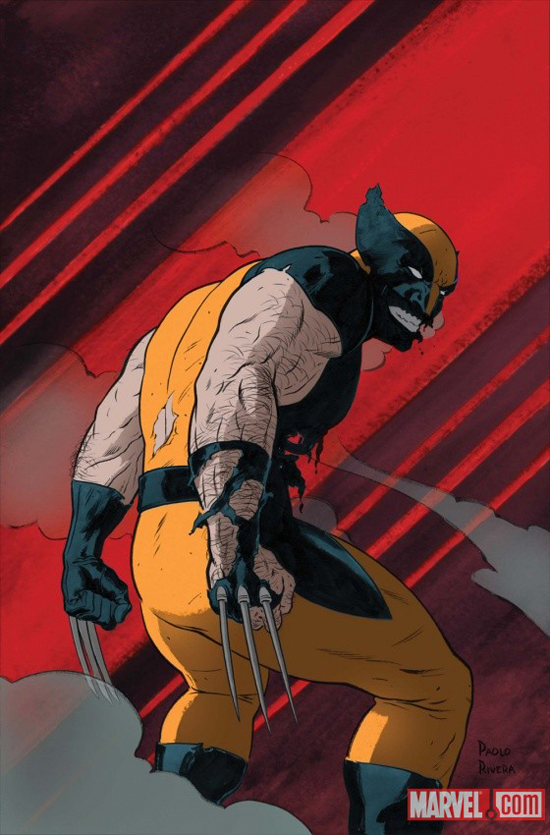 Paolo Rivera's Cover to Wolverine #5.1
Finally. Rivera draws a Wolverine long-too-absent from most variations – in that his is a realistic hero. Yes, Wolverine can regenerate, but not to the point most writers in the Marvel Universe have taken the character lately. The most favorite seems to be where Logan, a.k.a. Weapon X, is decimated to the point of an adamantium skeleton that magically regrows into an entire person a few panels later. I know it's comics and Wolverine is a mutant, but I didn't realize breaking the law of Conservation of Mass was one of his powers. Also, notice how in Rivera's Wolverine the character's claws are appropriately sized in proportion where he could still bend his arms and have three solid, indestructible metal knife-like sheets embedded in the frame work of his being. Jesus Christ! Go back to art school you hacks! All I ever did was pose nude for figure classes in a drafty studio in the middle of a Midwest winter, and I still seem to know more than some people who draw superhero comics these days.
***
Vice Magazine's Coverage of Libya
I know, I know. It's Vice, destroyer of all things good. But stop being a hater and read the story. Plus the photos are incredible. The magazine has been doing some pretty fantastic reporting these days. Think they'll give me a blog?
Well, that's it. Sorry. If you're really hungry for awesome content look at the bottom of this post and others, I list three beers, music, and books I'm reading that you might like too. Hey! That's the name of this fucking blog post! Fuck!
***
If you have something that you think I might like that others might like too, please email youmightlike [at] gmail [dot] com.
What I'm listening to: Rolling Papers by Domo Genesis, Live from the Banana Stand by The Nextdoor Neighbors, Teen Dream by Beach House
What I'm reading: Vic Boone, I Want You #1 & #2
What I'm drinking: Scottish Style Ale, India Pelican Ale, Tsunami Stout