by Aaron Colter
Portland, Oregon's Stumptown Comics Festival, featuring poster image by Brandon Graham, was a lot of fun. I was able to pick-up quite a few incredible books, many of which I've yet to read. The festival itself had awards for some of the best, the recipients of which are listed here.
I've narrowed down my Top 10 choices, so far. All of these artists are independent creators, many don't even have a publisher. So, please support them by purchasing their fine books.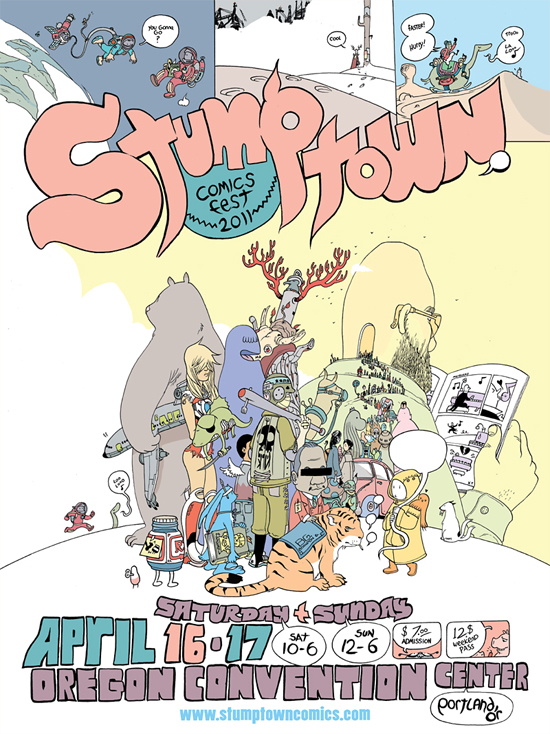 10. Pussy Fuzz by Catherine Peach
Imagine a Dirty Pair but with cats, who are police that fight criminal bunnies. It's adorable, a little naughty, and overtly charming.
9. Abstracted Comics by Pat Aulisio
A complexly beautiful short piece that isn't as much a comic as it is an art pamphlet.
8. Night Animals by Brecht Evens
Two stories from a Belgian cartoonist that is like Where The Wild Things Are for adults. The printing quality of the book is superb, making the rich colors all the better.
7. Sleeper Car by Theo Ellsworth
A fantastic journey into world of the absurd.
6. Flesh and Bone and Too Dark To See by Julia Grförer
Flesh and Bone was nominated for an award at the show, and Grföfer debuted Too Dark To See, which was a surprising treat. The books are dark and haunting in the best way, like a creeping feeling that crawls up your spine and into your heart as you read.
If you've ever ridden public transportation on a regular basis, you need to get this book.
4. Brilliantly Ham-Fisted by Tom Neely
A book of comic poetry that is intentionally self-deprecating in a way that is smart and deep. Or maybe it's shallow, and you can't tell because you're face-down, drowning.
3. The Sixth Gun by Cullen Bunn and Brian Hurtt
If Hellboy was more of a pop-western that took place during the Civil War and was more about the bad guys than the good ones. You love this book, even if you haven't read it yet.
2. The Incredibly Fantastic Adventures of Maureen Dowd: A Work of Satire and Fiction by Benjamin Marra
Imagine if the creators of the film Black Dynamite decided to make a comic about how the Bush Administration used any means necessary to try and cover up the Valerie Plame scandal. If that sentence made sense to you, you will fucking love this comic.
1. The Scout and Utu by Malachi Ward
Jeremy Atkins of Seen All Over tipped me off to The Scout, saying it was the best $5 I would spend at the festival. He was right. I went back and bough Utu. I wish I would have bought every copy of everything at his table just so I could pass it out to people on the street. It's that good.