by Damon Martin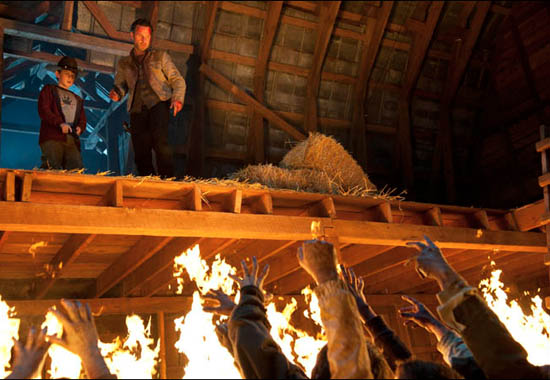 The Walking Dead will begin principle photography again this May in Georgia, with Season 3 set to debut most likely in October 2012, but that doesn't mean fans aren't already clamoring for more information. The Season 2 finale left a lot of jaws hitting the floor after Herschel's farm and house were stormed by walkers, and the group fled for cover hoping to stay together and find refuge from the zombie apocalypse.
The Walking Dead's executive producer and show runner Glen Mazzara has let a few secrets out of the bag surrounding the next season of the popular AMC drama. One of the most anticipated aspects will be the continuation of the close of the final episode of last season in which a cloaked and hooded figure carrying a sword and two armless, jawless zombies came out from nowhere to lop the head off an attacker, and save Andrea, who was left behind amidst the madness at the farm.
Fans of the comic book realized pretty quickly that this katana wielding badass was Michonne, a pivotal character in creator Robert Kirkman's zombie opus. Now Mazzara, who revealed the casting behind Michonne just after the season finale, lets a little bit more information slip about a character that he says will be extremely important to The Walking Dead:
"Michonne is one of the lead characters in the graphic novel, so we're excited to finally introduce her. She is a loner. She's a kick ass character. She's very dynamic and we really see her as a very, very important addition to the cast. She's a significant character and she'll be carrying a lot of story, so we're excited about her…

"We're also excited about (Denai Guerrera) who is the young actress who is going to play this role, so we're lucky to have her and look forward to seeing what she does with it."
While the show has deviated from Kirkman's source material on several occasions, as well as introduced new characters that were never actually in the comic books, Mazzara looks at Michonne as a piece that comes from the page straight to the screen. From her shadowy entrance cloaked in darkness to what they have planned for her in season three, Michonne will be a pivotal part of the group when they pick up later this year. Mazzara explains:
"She comes from the comic book. She feels like she stepped off those pages into the show. I think that's exciting. That's a challenge for us but, you know, knowing me as a writer, I think I'm going to keep it real, keep it grounded because if it doesn't feel real I think the audience will not be able to put themselves in the immediate circumstances of the story…

"I think our show is successful because people watching say, oh, I'd be dead now or I'd kill that guy or I'd shoot him in the leg and get away. I think that's what's fun about the show. We're very consciously trying not to keep the show too serialized, not have an overdeveloped mythology so that it's accessible to people in the way that a good horror movie is. I find the best horror movies to be very simple and that's something that's important and so I think overall my entire intention of the show is to keep the show grounded, real and Michonne is going to be a great challenge."
Another major character that will be introduced in Season 3 is the brutal villain known only The Governor. Portrayed by veteran British actor David Morrissey, The Governor is the leader of the town of Woodbury in the comic books, and was rated No. 86 by IGN in the greatest villains in comic book history. Mazzara says that The Governor and his town of Woodbury will be a big part of Season 3, but the prison that was introduced in the closing scenes of Season 2 will also be a major player this year and it will roll into Season 4 as well. Mazzara said:
"I do see that prison as a significant storyline for Season 3 and Season 4. I do think that's a major story line. I know we were on the farm for longer than perhaps people wanted. There were reasons for that. I think what we want to do is make sure that that prison does not become claustrophobic. I think the farm played a little claustrophobic for people. The farm — now that the entire landscape has fallen to the zombie apocalypse and zombies are literally at the gate of the prison — if you see the graphic novel, that prison is really, you know, a very, very small, safe corner and there's a lot of danger around. So it won't feel like we are bottled up in the same way that we were in — on the farm in Season 3 let's say…

"So I do think that prison is a significant storyline. But we're interested also in opening up the world. You know, the governor has a world of (Woodbury). There are other factors out there in the world, other groups. So I think that Rick's group is really stumbling into a much larger world."
As a whole, The Walking Dead has tackled some tough subjects head on thus far through two seasons, but readers of the comic books know that The Governor gets his wickedly evil reputation through his deeds and heinous self-serving behavior. There are some extremely brutal scenes therefore played out in the comic book, but would the show runners at The Walking Dead on AMC be able to work those particular aspects into the show, or are some things just taboo?
"I know what you're referring to and we have to put our own spin…I would say this, there's no place we won't go…Everything is on the table. This is a cutting edge cable drama. I'm comfortable with that material and we answered a lot of these questions on The Shield when I worked there, so I'm comfortable dealing with very, very edgy material."
Some other interesting plot points that Mazzara revealed about possible Season 3 moments include the introduction of more characters from the comic books such as Tyrese. We're also likely to discover what happened to Morgan and Duane (the characters introduced in the first episode that helped to save Rick). The re-introduction of Michael Rooker's character Merle Dixon (Rooker also confirmed his role previously for Season 3) is also much anticipated.
Season 3 may still be a month out from shooting, and several months away from debuting on AMC, but it looks like there are plenty of surprises in store for fans when the show returns later this year.
Related Posts:
NEW SG Interview: The Walking Dead's Michael Rooker – Merle Is Back
NEW SG Interview: The Walking Dead's Irone Singleton aka T-Dog
The Walking Dead Season 2 Finale Recap: And Hell Followed Them