by Blogbot
There's been a lot of talk around the SG office about what to get our men for Valentine's Day. Girls are pretty easy to buy for; flowers, chocolate, Champagne, lingerie, fragrance, candles, and jewelry may lack originality, but that's not always a bad thing. However shopping for the man in your life is a little harder. Turns out there's a reason for that: What they really want can't exactly be bought in a store.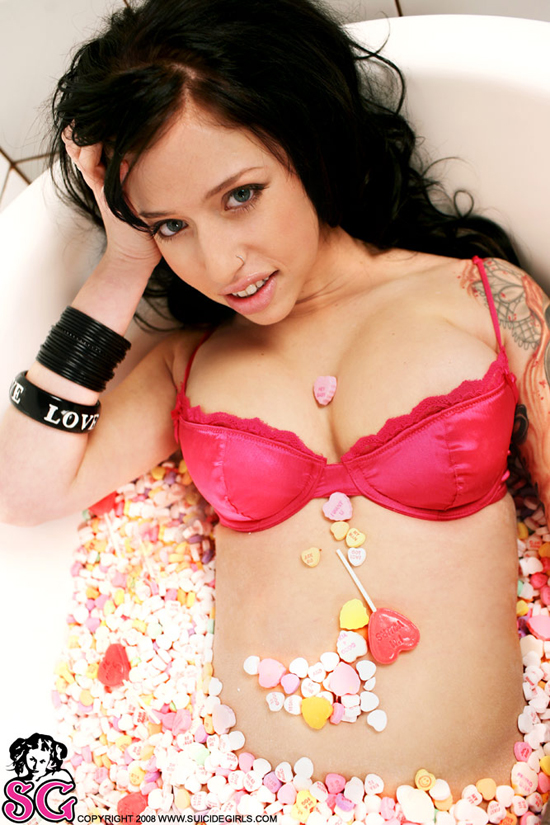 [Sash in Sugar Lips]
After posing the question to our friends on Tumblr, an overwhelming 63% of male respondents said they wanted "sex" for Valentine's Day. While the women who posted seemed to share our concerns ("I wish I knew! I have no idea what to get my man!!!"), many of the guys thought it was kinda dumb that we even had to ask ("That's a silly question if I ever heard one. Sex of course!").
About half of those who wanted sex were happy to get laid any which way, though others were more specific about their desires. 20% of those who wanted sex, were hoping to get it from an SG (perhaps the next best thing is a gift membership). The most requested sex act was predictably a blow job, but some guys also wanted a little extra on the side. A steak was one requested accoutrement (isn't that what March 14 is for?). More bizarrely, another respondent want their BJ served up with a "ham, cheese & tomato sandwich" – do you want pickles with that?
The second most requested thing from those wanting (to quote Borat) sexytime, was that it be "kinky" in some way (approx. 9% of those who wanted sex). One guy requested a "sexy woman clad in a latex bodysuit, stockings, gloves and heels," while others had fun ideas about exactly what they wanted to do with various SGs. However the awareness of reality vs. fantasy was also in play, with one guy acknowledging that in fantasy he wanted "a threesome," but in reality he'd be happy "to lay around all day with my one and only."
While the majority of men wanted pleasures of the flesh, 9% of responders were happy just to enter into the spirit of the day. "Hugs, kisses and pure love," wrote one romantic soul, "My girl beside me, kissing me," said another. One guy said he'd "be happy with a hug and a card," but it was apparent that there was no pleasing some on Valentine's Day.
Close to 11% of men wanted to get rid of Valentine's Day altogether. "Cause the majority of men hate holidays," reasoned one such curmudgeon. Seems the pressure of expectations is a downer for some. One hater said he'd rather "not have to worry" about what to get his girl. Another summed it up well when he said he didn't like feeling "as if he was expected to do something," but would rather "do something because he wanted to, knowing it's not expected."
However the guys that complained about the stress of what to get their girls should spare a thought for the 7% of men who just wanted someone to share the special day with. "I never had a girlfriend on that day and wouldn't expect anything anyways," wrote one lonely-heart. A second just wanted his best friend to realize that he's "the right guy for her." And a third simply asked for "a girl that's into me."
But if you're lucky enough to have someone special to share Valentine's Day with, the good news in these economically depressed times is that expressing your love/lust/affection needn't cost a thing – in fact your man would probably rather it didn't. Indeed very few guys even wanted anything that cost money (just 6%), with "roses and a lap dance" and "a dozen man flowers (12 pack of beer)" being among the more material requests. So while many detractors complain about the commercialization of St. Valentine's Day, we can categorically state it should be the least of your concerns come Feb 14th (though you might check what kind of cheese your man wants with his ham).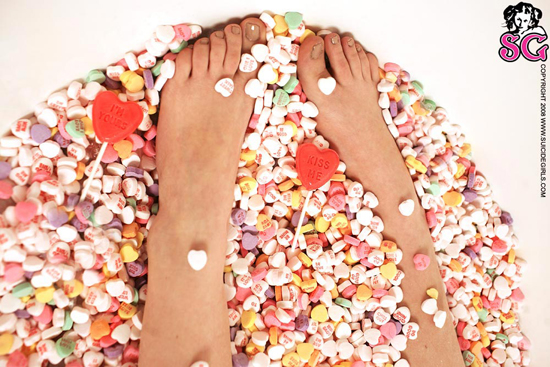 [Sash in Sugar Lips]